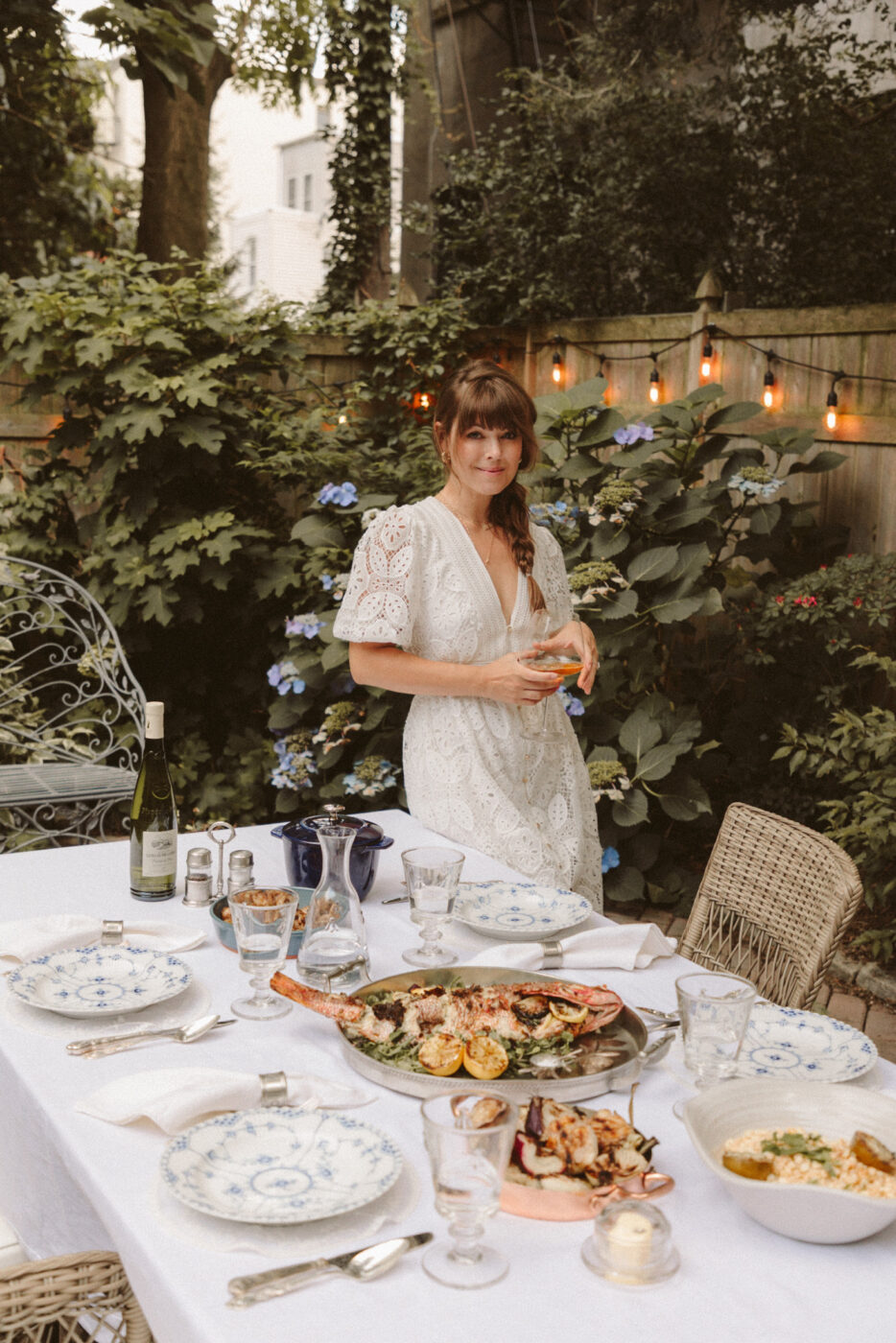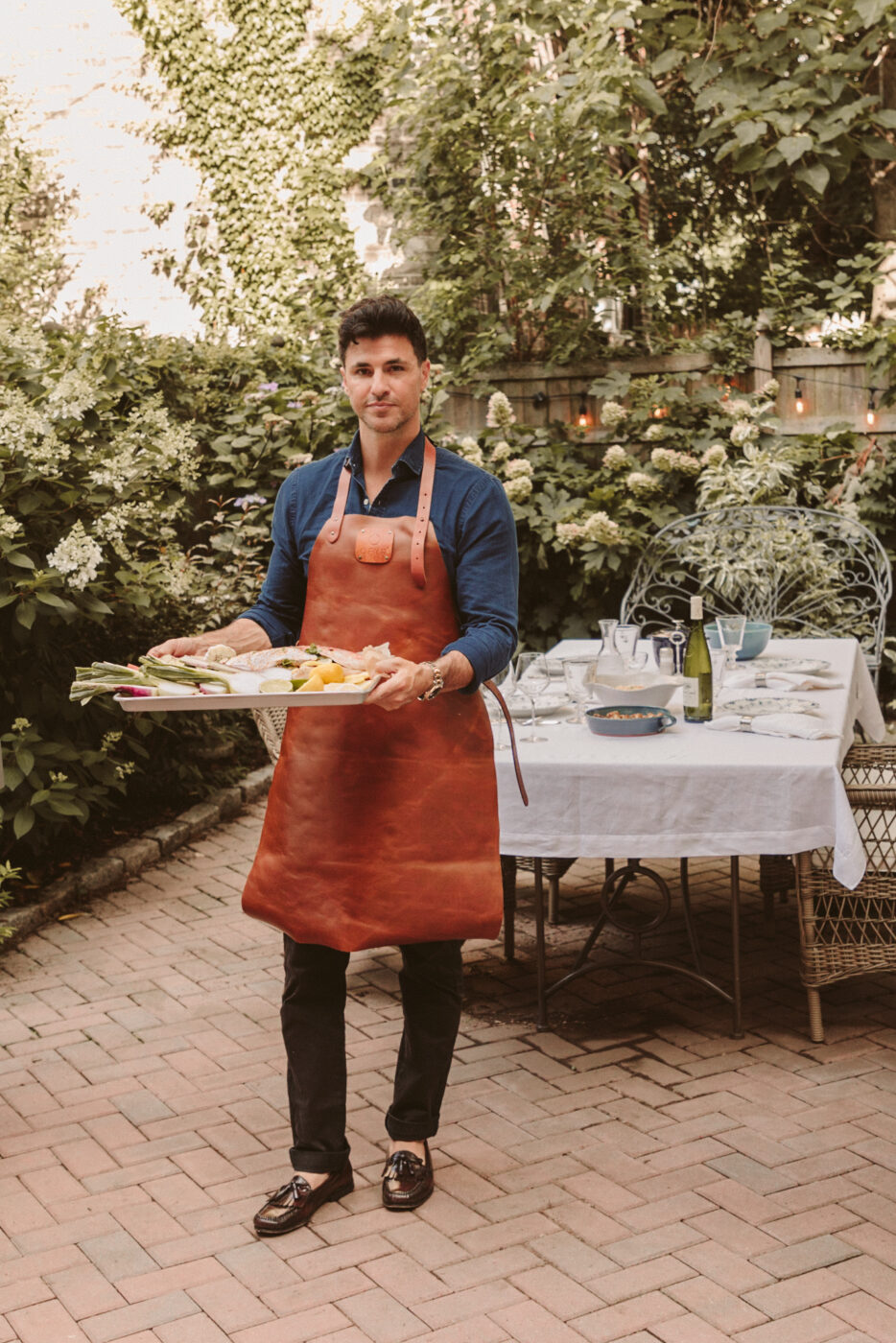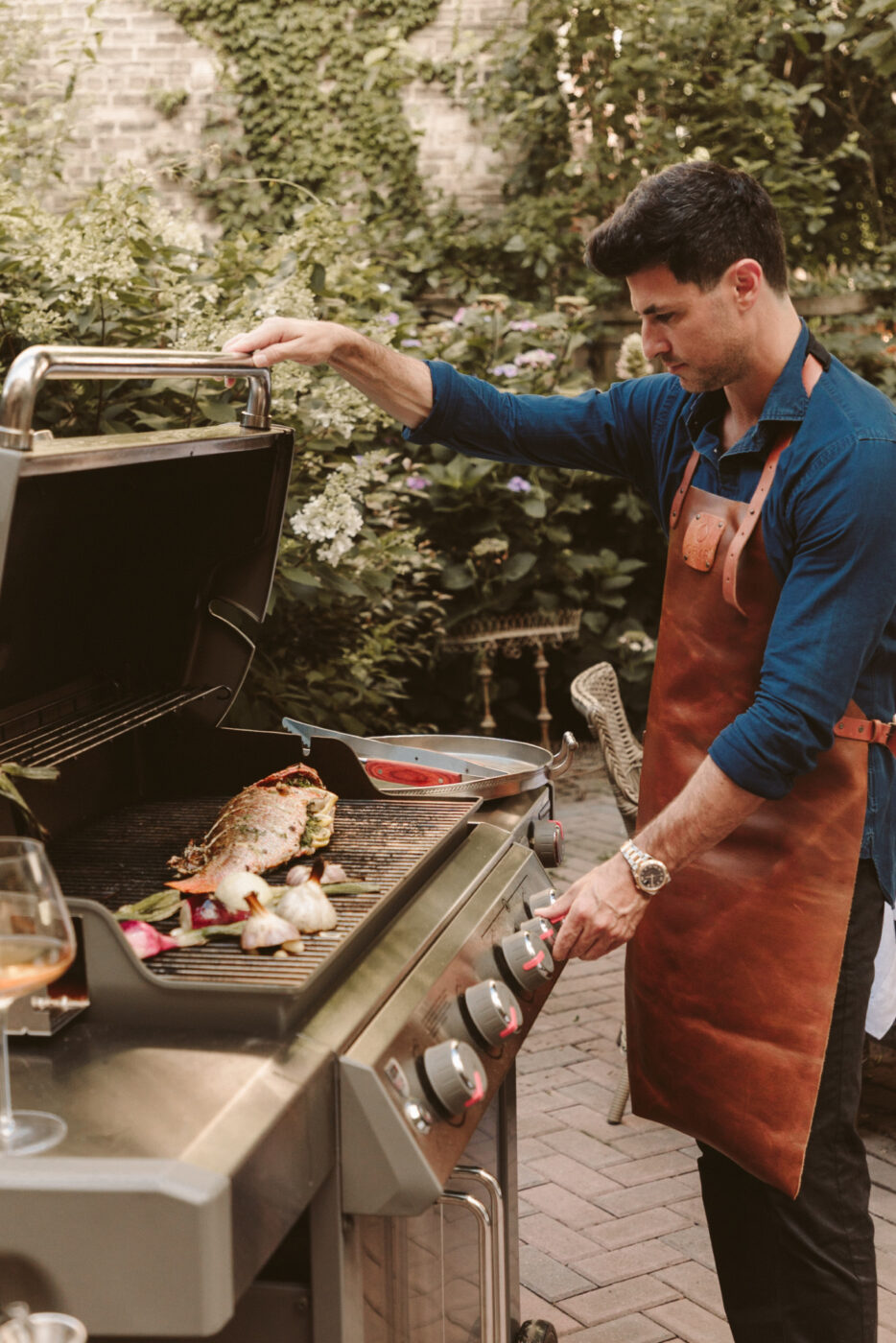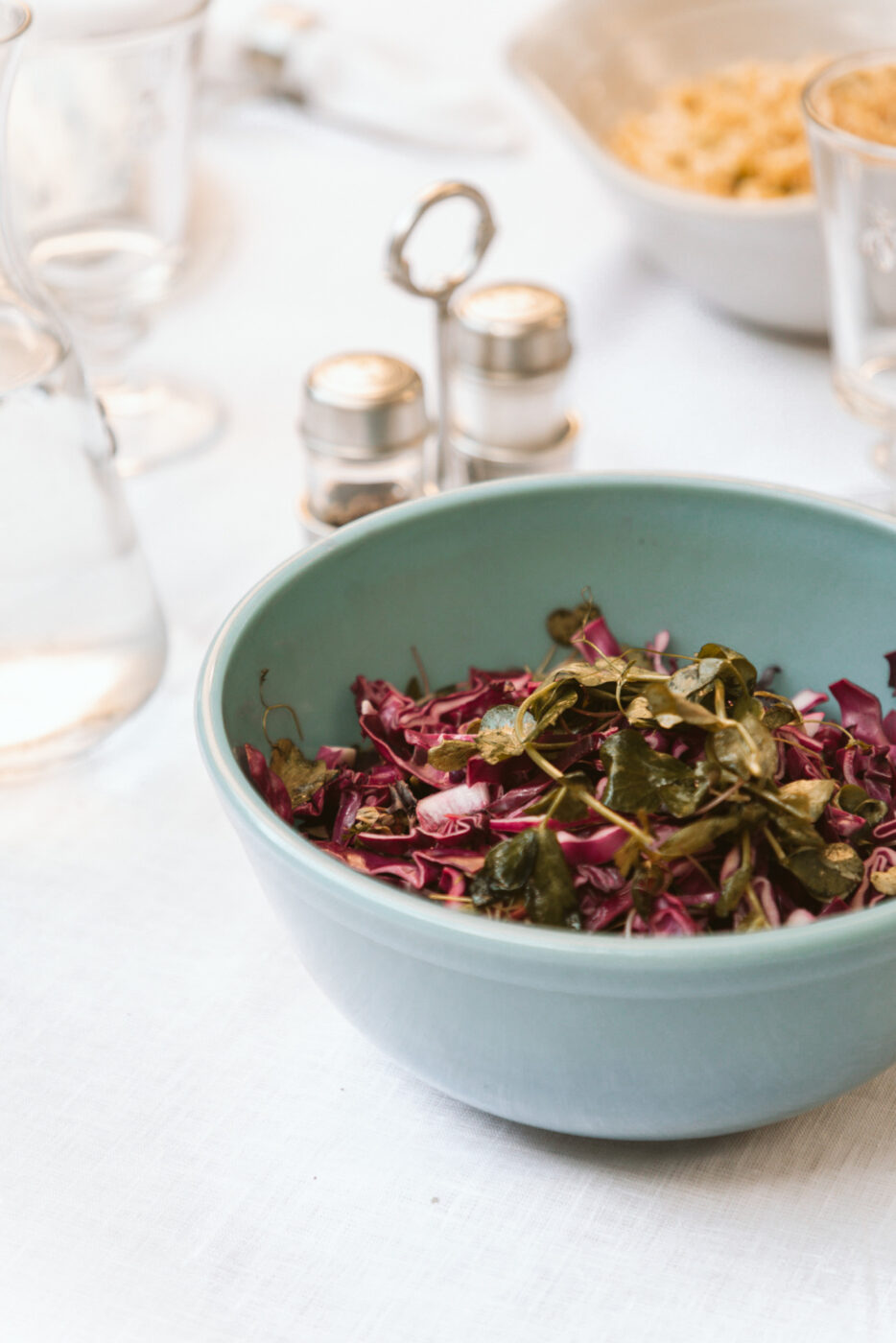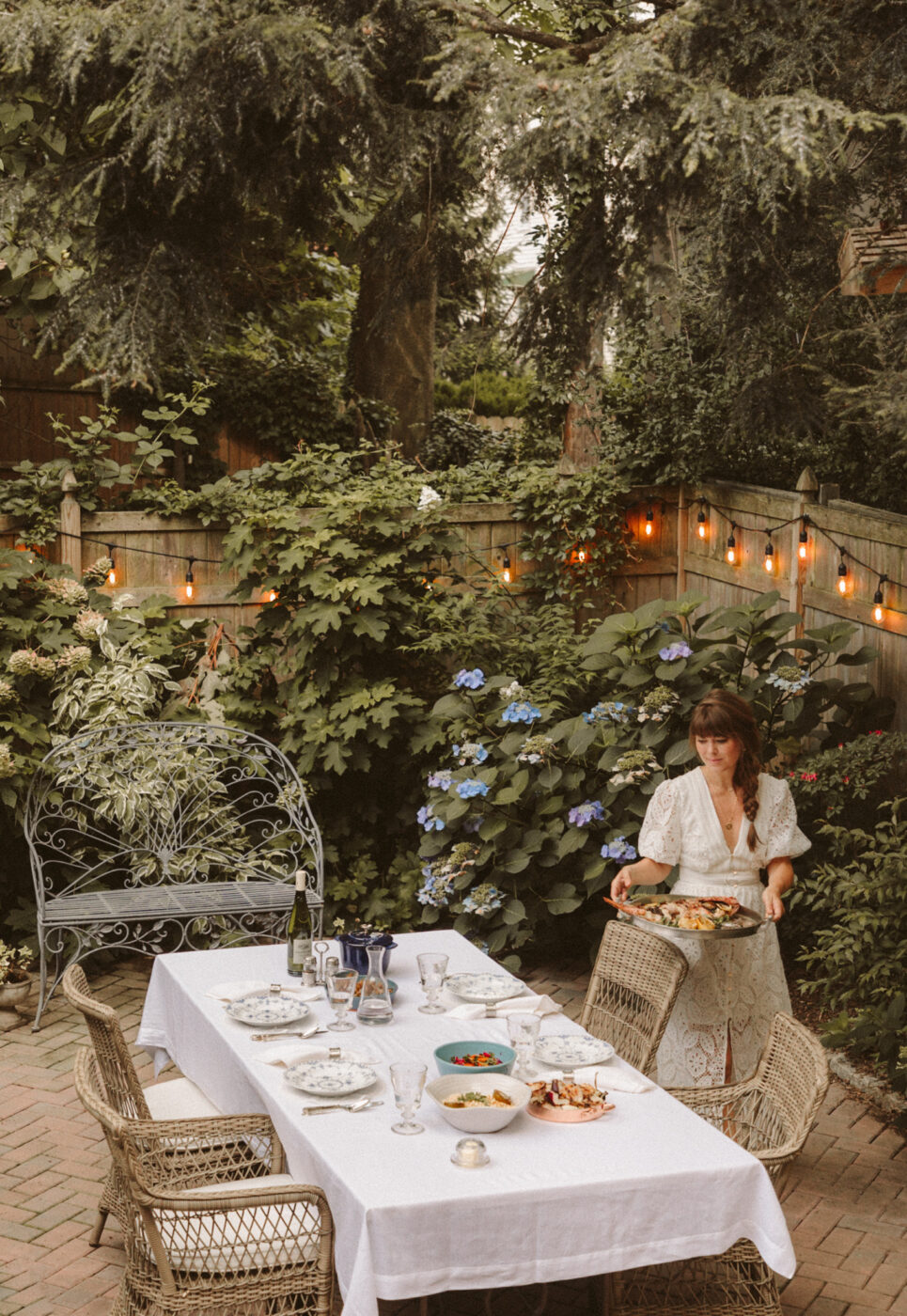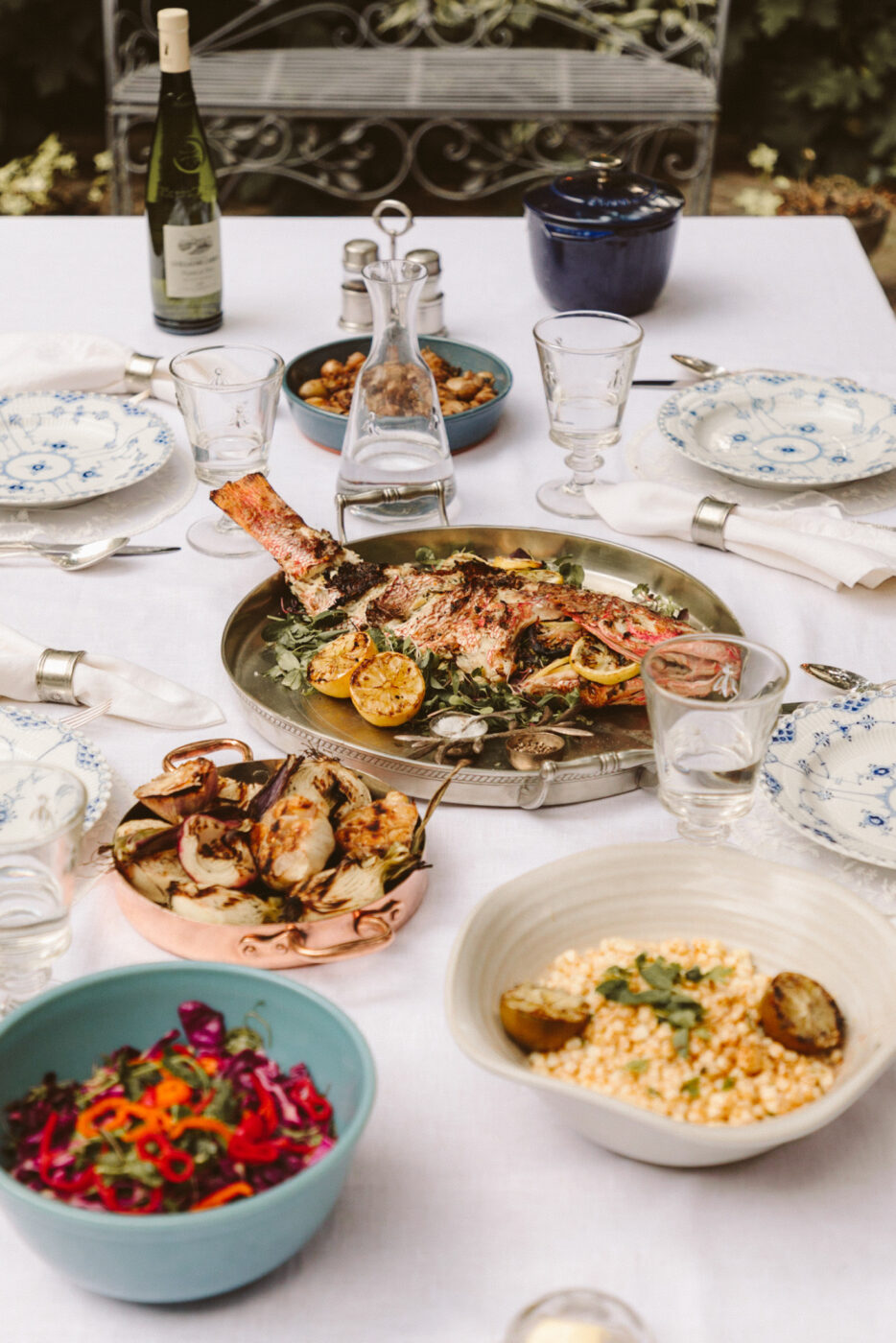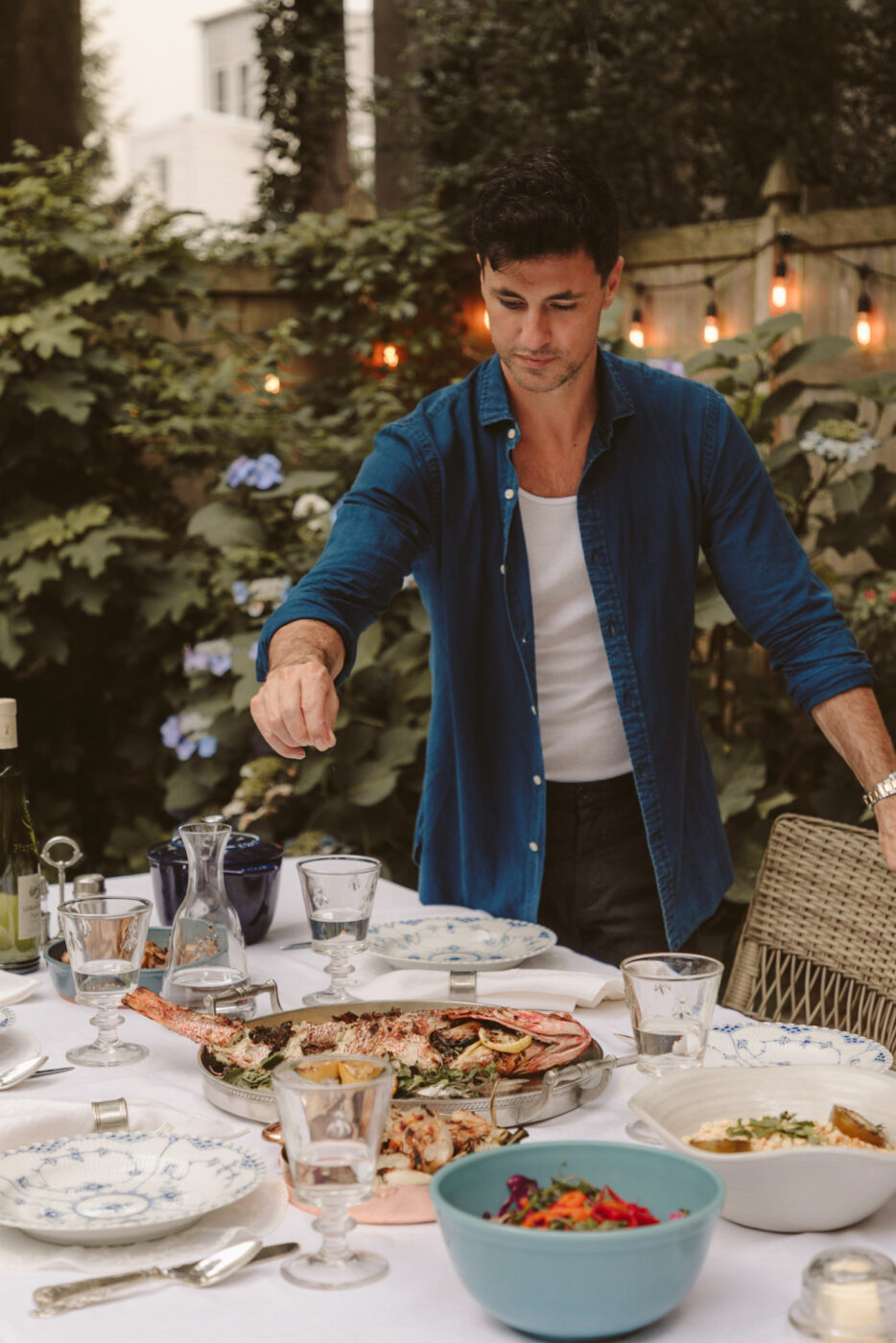 ****GIVEAWAY CLOSED // CONGRATULATIONS TO OUR WINNER @MELANIEWMALONE****
Nothing says alfresco summer entertaining quite like a family-style grilled fish, farmers market fresh corn salad and an extra crispy cabbage slaw!
Saturday mornings mean one thing our home, a family stroll to the farmers market in the park that's just across the street. They have the best farm-fresh produce. Especially this time of year. A few weeks ago, however, a new fish vendor made his debut and inspired this entire meal. Freddie has always been so adventurous with his cooking, and for this, I am very grateful. So when pointed at the two-pound (whole) red snapper and looked at me with inquisitive eyes, I nodded instinctively and I told him I'd not only be documenting the experience, but I'd also be taking the opportunity to do what I love doing best, creating a beautiful tablescape to complement this bold and delicious dish. Paired with fresh microgreens, a garlic rub, and lemons, this red snapper is at the top of our family favorites for its flavor and ease.
You may remember a few months back; we took a trip to Montauk where Freddie and I cooked and entertained for my in-laws. The lobster dinner was excellent however, I'd have to say that the tablescape remains one of my favorites for its curated assortment of found objects, vessels, and tableware, all from Weston Table. Remember these insanely unique oyster plates?
Since then, Weston Table has been my go-to for all things home and lifestyle. Their beautifully curated marketplace is uniquely one of a kind, and I'm always finding pieces to add to our home. If you know, you know!
We love them so much that we wanted to bring you the opportunity to have a few pieces of theirs in your home with a $1,000 Weston Table Digital Gift Card Giveaway. Starting today, Sunday, August 8 to Friday, you can enter to win by following the steps below. And don't forget to set your calendar because on August 20, at 4 pm EST, Weston Table and I will be selecting one winner who will receive the grand prize!
But if you find yourself perusing Weston Table in the meantime, they've kindly offered my readers 10% off with the promo code WTJENNY – so dont forget to use this at checkout! And for all the products we used here today, you can shop them here or in the scroll below.
TO ENTER TO WIN;
1. Follow @jennycipoletti, @weston_table and @fredcip
2. Tag three friends you'd like to entertain with in the comments of THIS Instagram post
3. Last but mostly not least, sign up at HERE
Now, for the yummy stuff, the recipes! Hope you enjoy as much as we did!
Family Style Lemon, Garlic & Herb Grilled Red Snapper
2 lb Red snapper (scaled, gutted, cleaned)
10 Cloves of garlic
2 Bulbs of garlic
1/8 Cup fresh parsley
1/4 Cup olive oil
2 tbsp Sweet basil
1 Cup of mixed micro greens
1 1/2 Lemons thinly sliced
2 Red onions
2 White onions
Salt and pepper to taste
Preparation
Slice on an angle 4 cuts on each side of fish (8 total)
In a mortar and pestle mix 6 cloves of garlic , 1/8 cup fresh parsley, 1/4 cup olive oil, 2tbsp sweet basil. Once you crush and mash the mixture to a silky consistency, spread in between the slices and the outside of the fish.
Stuff fish with 1 cup of mixed micro greens that include cilantro, 6 cloves crushed garlic and 1 1/2 lemons thinly sliced. Drizzle inside with olive oil and sprinkle 2 tbsps of salt (save some micro greens for garnish)
Sprinkle fish with 2 tbsp of salt on each side
Drizzle with olive oil on both sides about 1/4 cup total
Before placing on grill, make sure the grill has been pre heated to max heat and brush the grate with oil.
Grill fish over high heat, uncovered, until lightly charred and it releases easily from the grate about 10 minutes. Turn fish over and cook another 10 minutes.
Transfer fish to a platter and let stand for 10 minutes. Drizzle with oil, lightly salt.
Use left over micro greens as garnish along with 2 lemons cut in half and grilled face down until slightly brown and grill marks are present.
I also cut 2 bulbs of garlic , 2 red and 2 white onions in half coated in olive oil and seasoned with salt and pepper onion and grilled face down for 10 minutes until grill marks are present
Cold Red Cabbage Slaw
1 Head of red cabbage
1/2 Red onion
1/4 Cup micro greens
1 Lime
1/4 Cup of olive oil
Salt and pepper to taste
Preparation
Cut head of red cabbage in half, then quarters and thinly slice
Peel and chop 1/2 red onion
Add cabbage and onion to bowl
Top with 1/4 cup micro greens
Squeeze one lime over slaw
Drizzle 1/4 cup of olive oil
Season with salt
Lightly toss to coat the slaw
Dutch Oven Potatoes & Onions
10 Ratte potatoes
1/2 Cup of olive oil
1 White or yellow onion
Salt and pepper to taste
Preparation
Cut 10 Ratte potatoes in quarters at an angel (can sub with yukon gold, or red bliss potatoes)
Add 1 /4 cup of olive oil to pan or skillet
Add potatoes and cook on medium heat stirring occasionally for 20 minutes until the potatoes begin to soften and brown
Cut 1 white or yellow onion into strips
Add onion to pan with another 1/4 cup of olive oil (can sub butter)
Mix together and cook stirring occasionally for another 10 minutes until onions soften and brown
Season with salt and black pepper once cooked
Chili Lime Corn Salad
6 Ears of corn
1 tbsp Butter
1 Lime
Salt and pepper to taste
Chilli powder
Micro greens
Preparation
Peel off the husks by pulling down toward the stem-end and remove any remaining silks
Boil a large pot of water big enough for all corn to be submerged
Add peeled corn on the cob to water
Cover and boil on medium heat for 6-8 minutes
Remove corn and let cool for 10 minutes, pat dry
Cut corn off cob and add to bowl
Add 1 tbsp butter
Squeeze 1 lime over corn
Season with salt and black pepper once cooked
3 tbsp chilli powder
Garnish with micro greens
GIVEAWAY DETAILS:
NO PURCHASE NECESSARY TO ENTER OR WIN. Giveaway begins 08/08/2021 at 9 AM EST and ends 08/20/2021 at 4 PM EST. Must be eighteen (18+) years to win. Winner will be chosen by 5 PM on 08/20/2021 and notified via email (winner has 24 hours to respond or another winner will be selected). Prize is non-transferable, non-refundable, and is not redeemable for cash. Giveaway is open to residents of 47 of the contiguous United States (excludes Rhode Island, Hawaii and Alaska). Giveaway is not sponsored or endorsed by Instagram. By entering the sweepstakes, I agree to sign up to receive newsletters and special offers from Weston Table and Margo & Me.