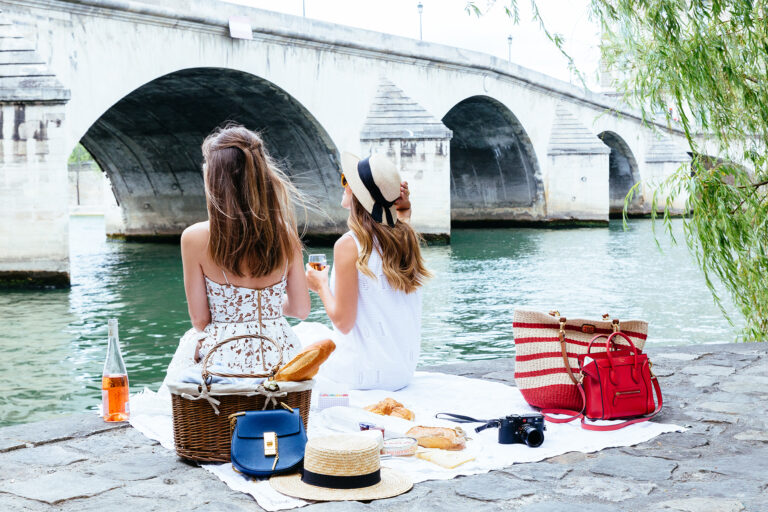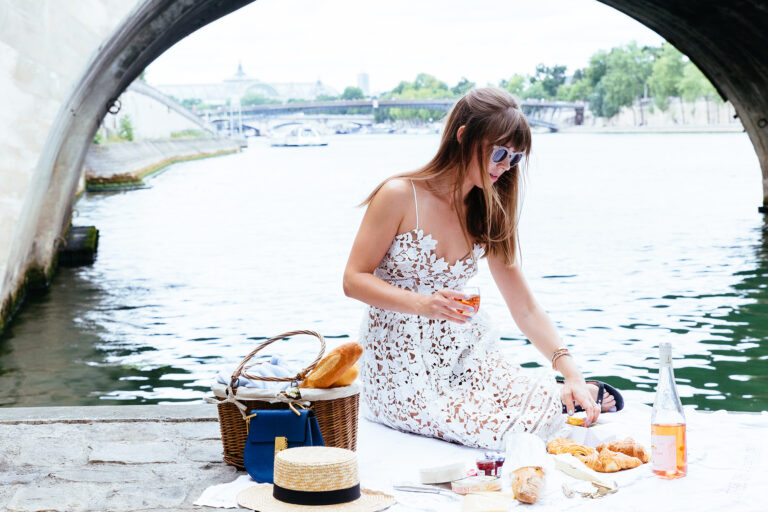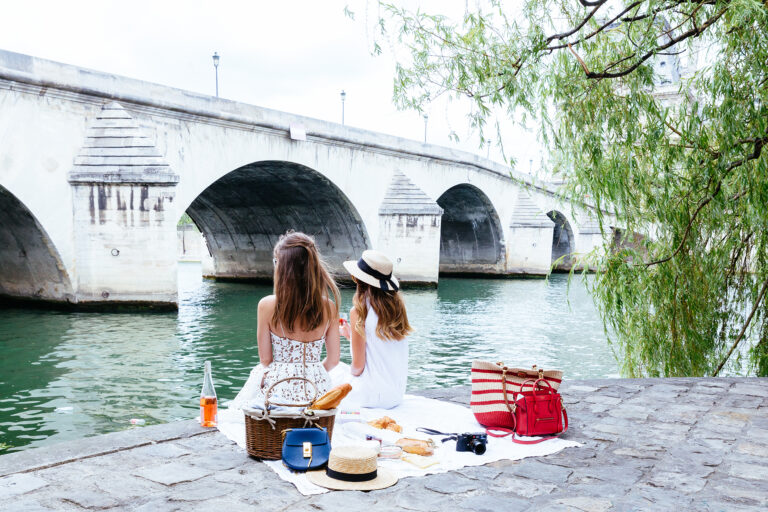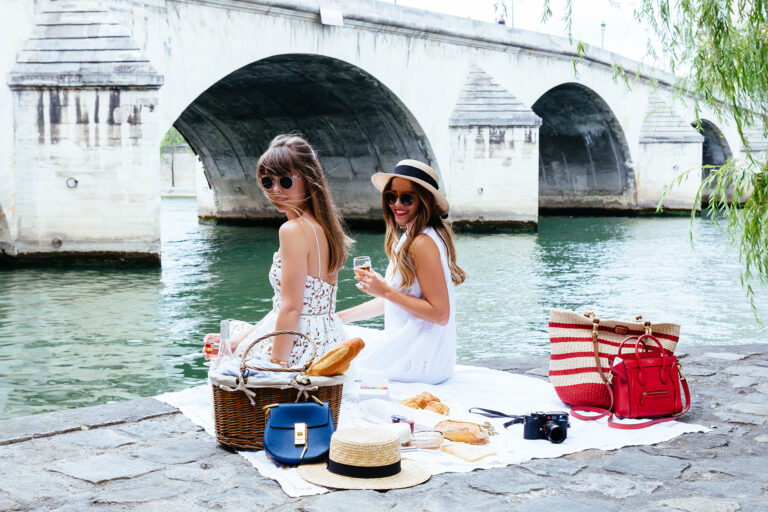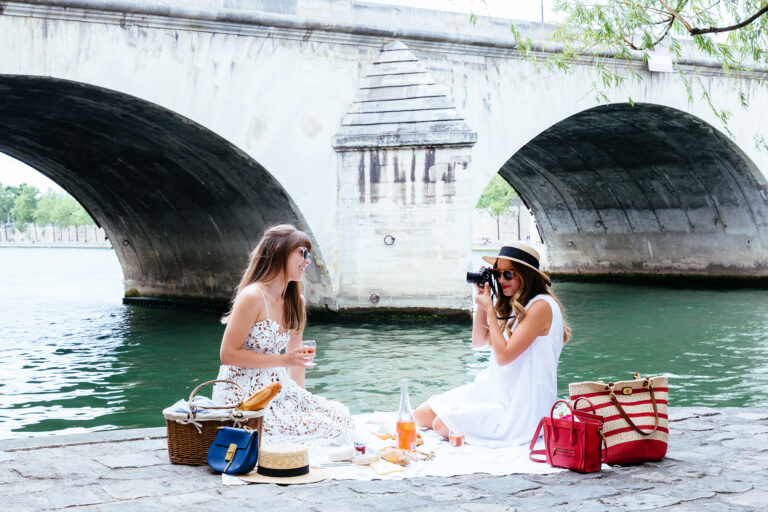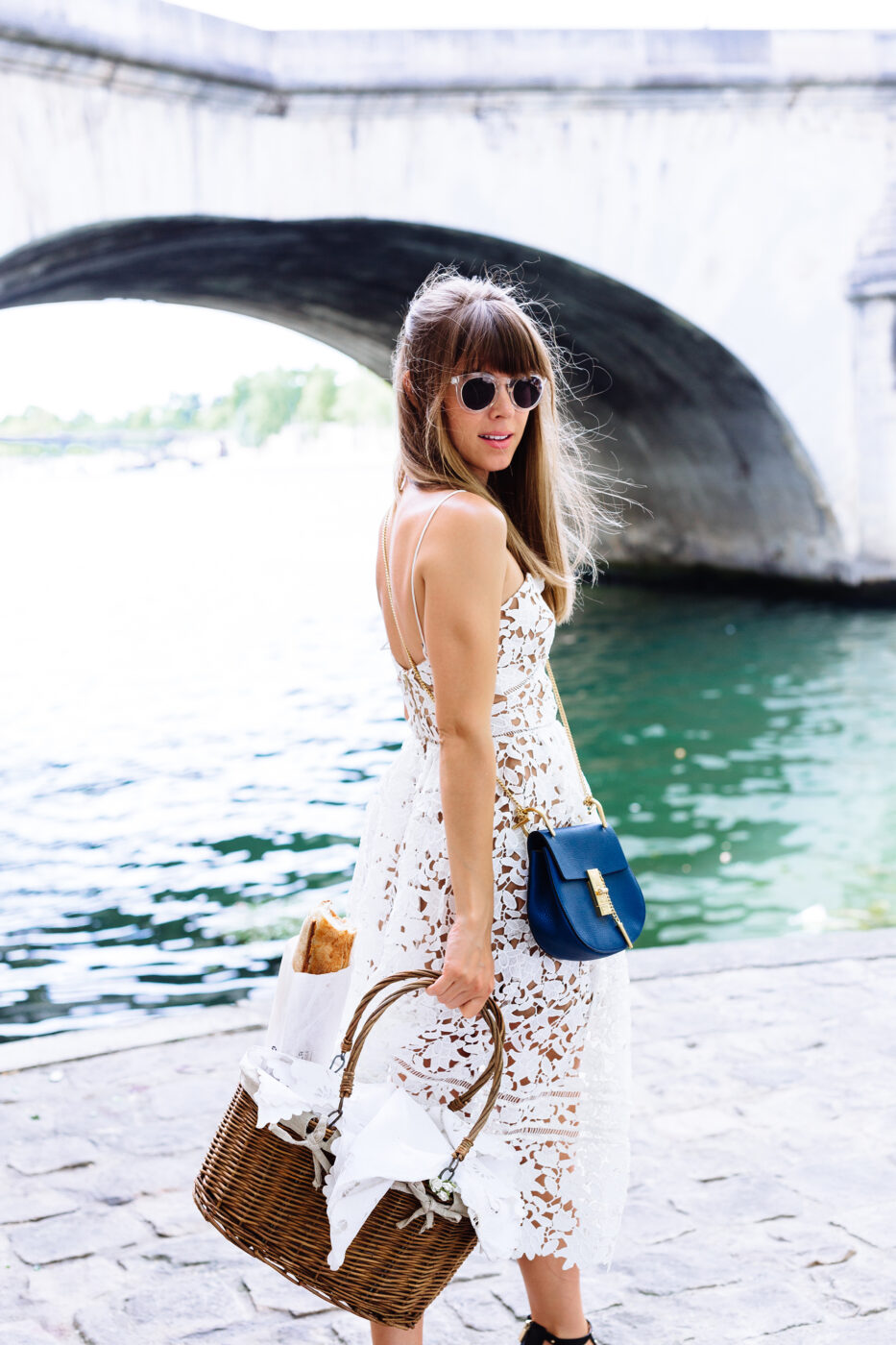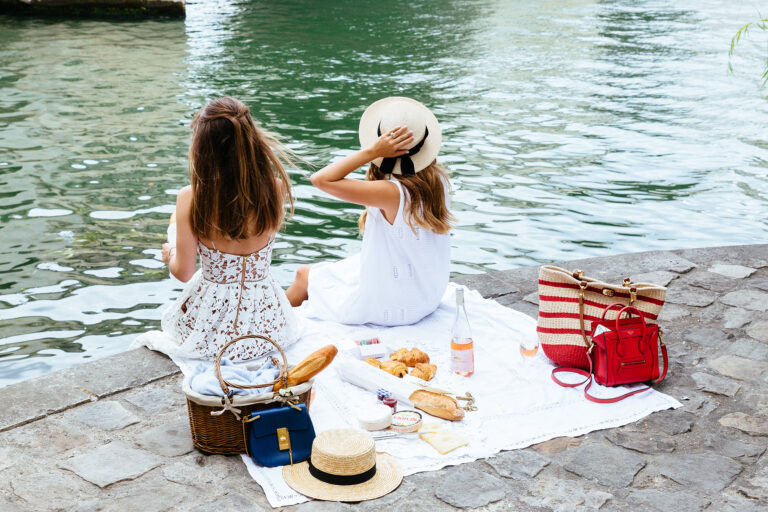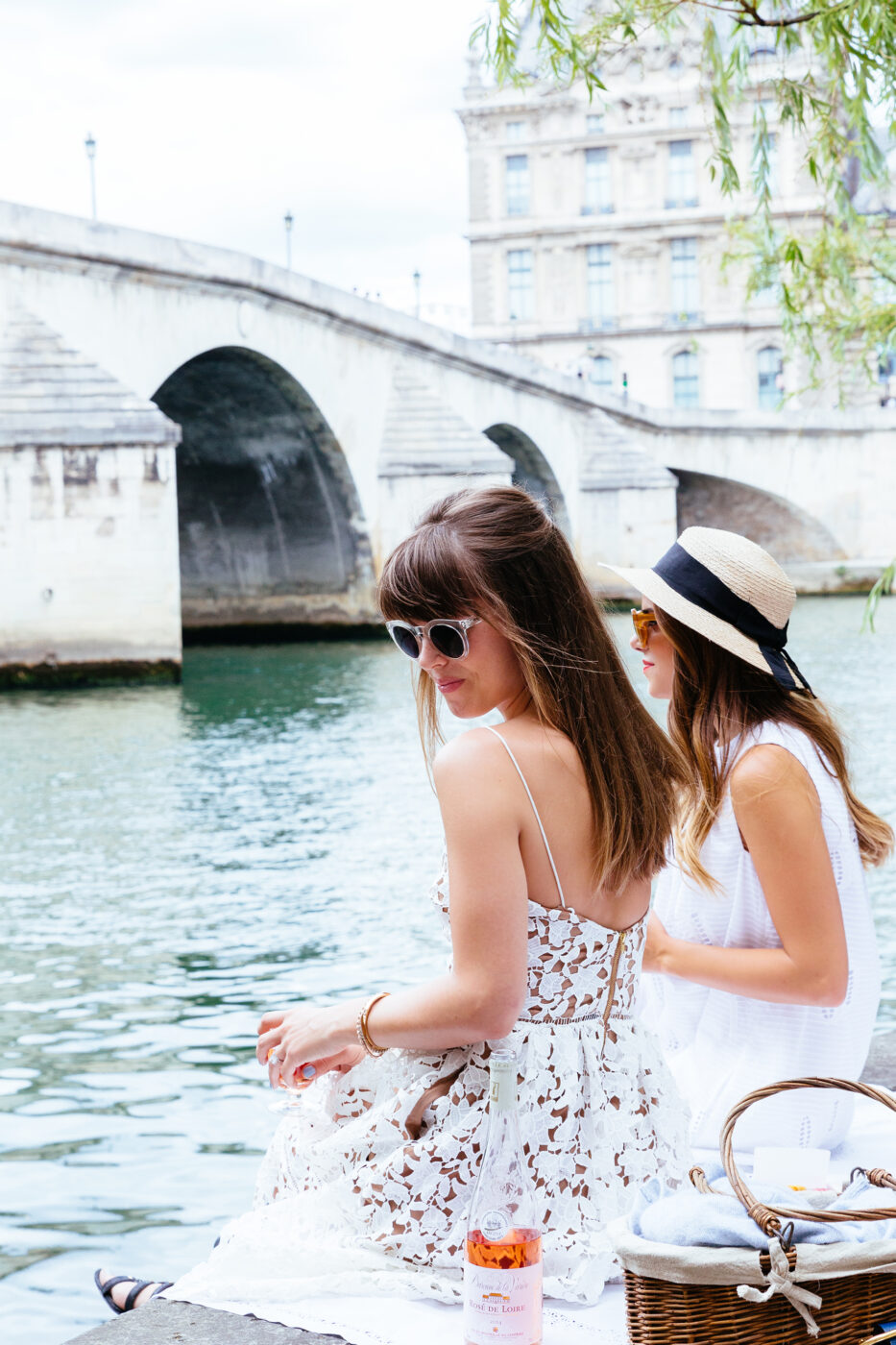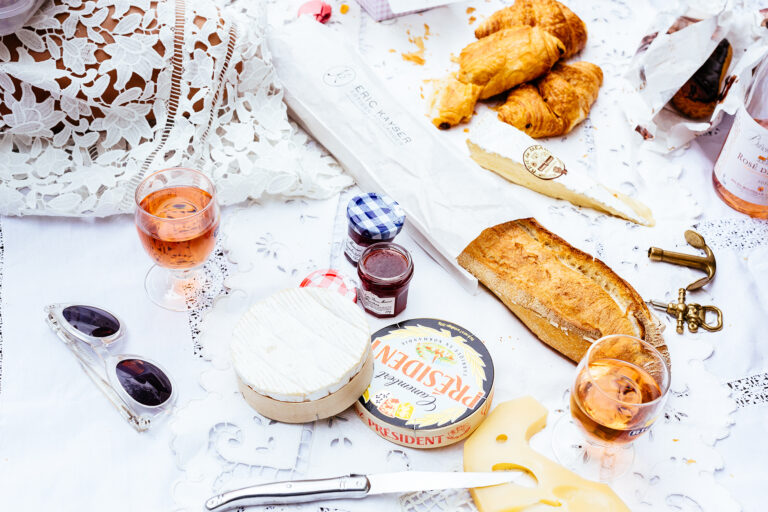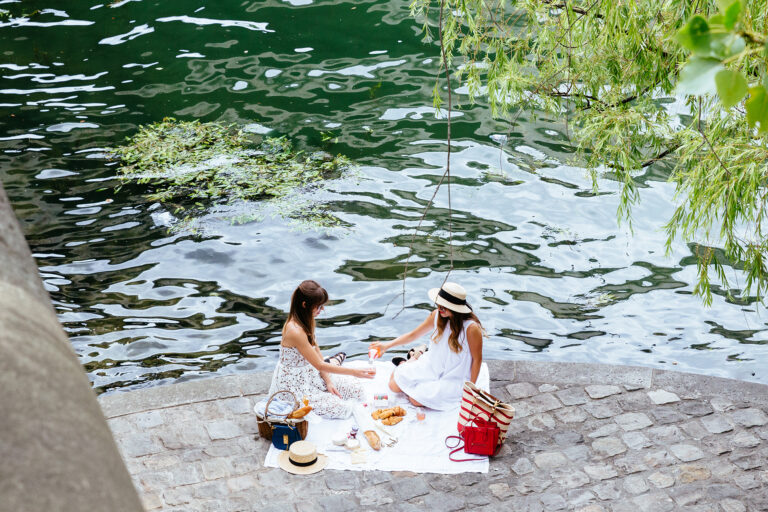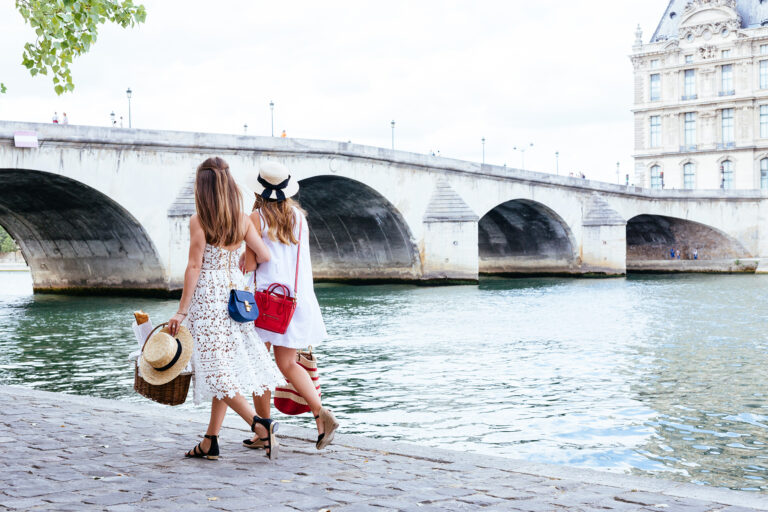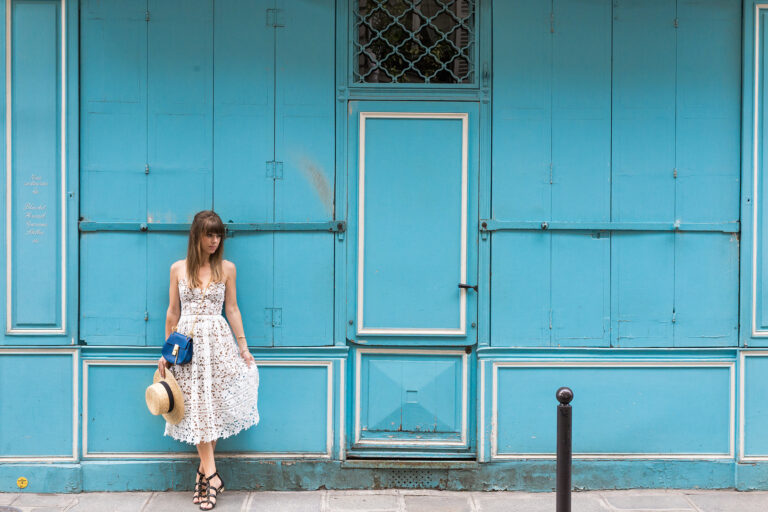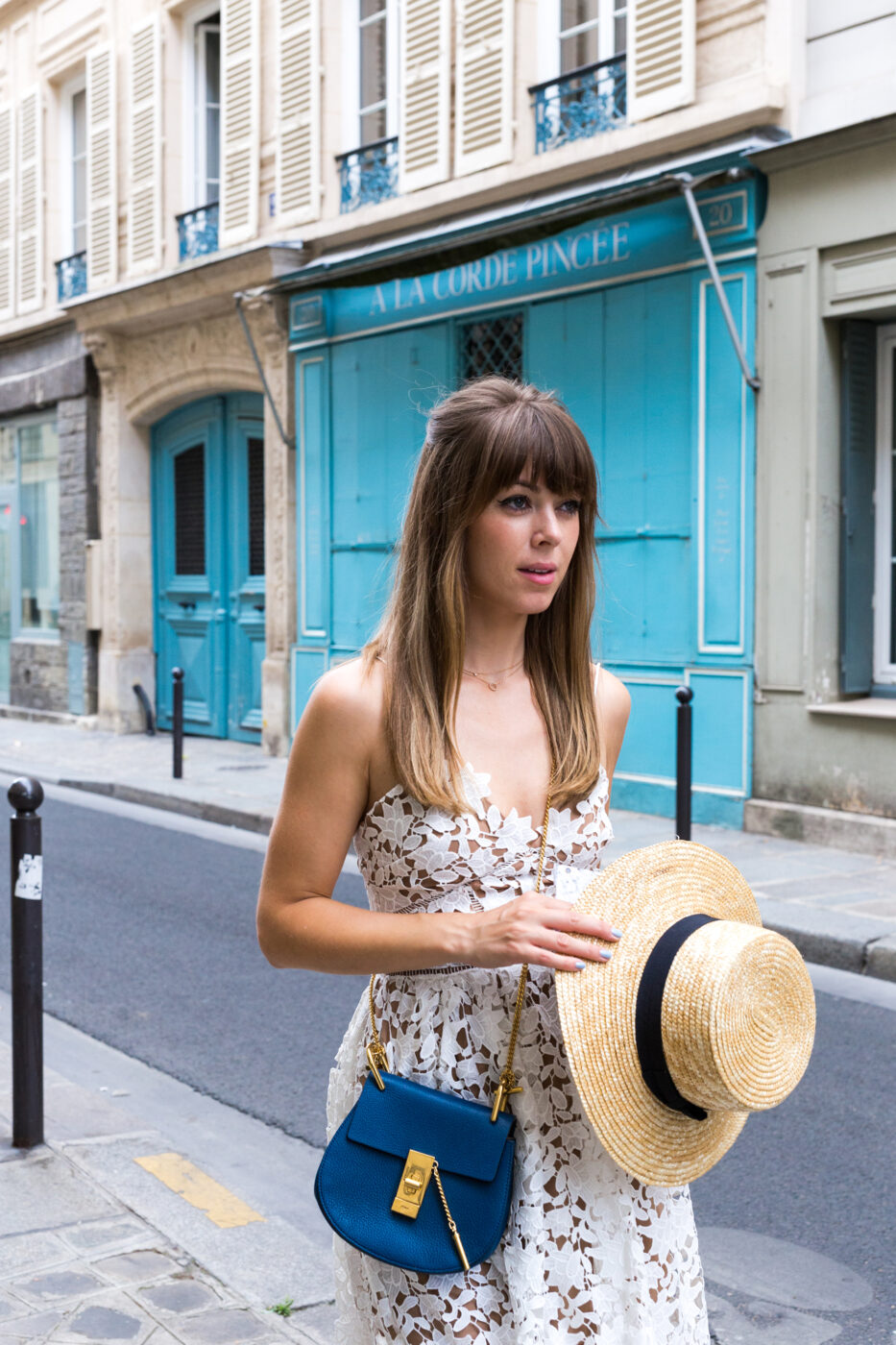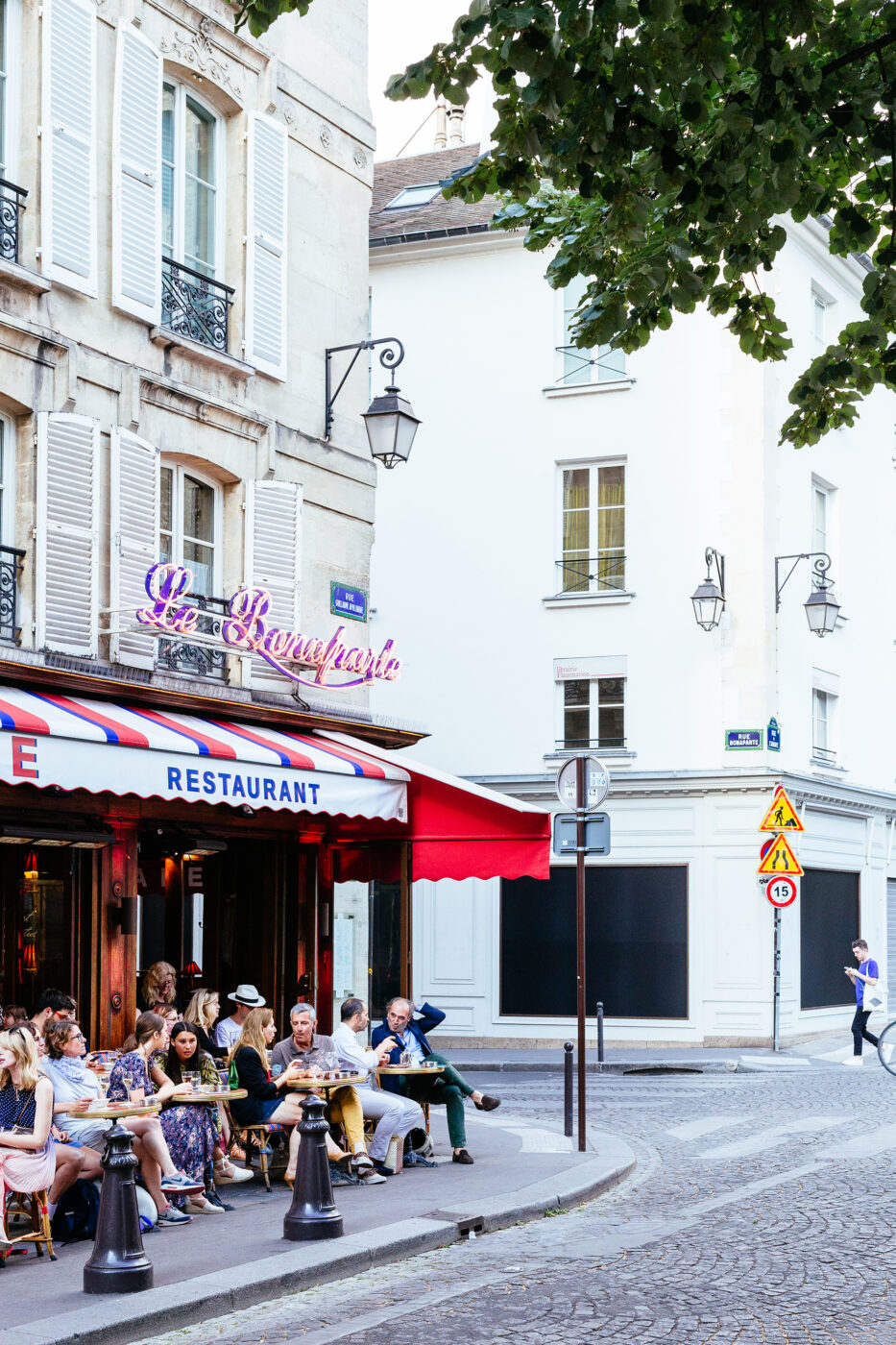 It's crazy to think that this time last year, we were jetting off to Paris in preparation for the wedding of our dreams. We arrived just before Bastille Day (for those of you who are unfamiliar with Bastille Day, it's basically the equivalent of America's Independence Day – fireworks, military parades, you name it!) and decided what better way to celebrate the return to our very favorite city than with an epic picnic along the banks of The Seine?
It was mid July and our closest friends and family were traveling from all over the world to share in this momentous occasion with us. We couldn't have been more excited if we tried. We decided to celebrate the arrival of our dear friends Julia, of Gal Meets Glam, and her husband Thomas by enjoying an afternoon picnicking along Paris' most romantic river. I'll never forget this day as long as I live – the air, the people, the food – it was all just so trés parfait! I even saved a little snap to share with you!
When it comes to the French, Picnicking is so much a part of the everyday culture of the city. Love birds, sisters, and close friends are always watching the sunset over the Canal St. Martin with a bottle of rosé or feasting on incredible cheeses from their local fromagerie at the Jardin du Luxembourg on their lunch break. The trick is to find those hidden treasures so you feel like you're really a Parisian. Without further ado, here are some of my favorite places to host your own personal picnic in Paris:
The Seine
Perhaps the most famous place to picnic in Paris, The Seine runs through the entire city of Paris and has plenty of room for lounging on warm summer afternoons or late night adventures.
The Canal St. Martin
In the tenth arrondissement, the Canal St. Martin is where all of the Bobo's (Bohemian Bourgousie) spend their time. Pop into your local boulangerie at the corner of Republique for a fresh baguette and Nicholas for a perfect bottle of Bordeaux.
Jardin du Tuileries
One of my favorite parks in all of Paris – It's just a skip away from the Louvre, the Champs Elysees, and the Musee d'Orangerie. When you finish your picnic, pop into Angelinas for their world famous chocolat chaud (the best drinking chocolate you'll ever have).
Ile St. Louis
Directly behind the Notre Dame is a little island called Ile St. Louis with tons of little cafes, bistros, and Berthilon – the best ice cream shop in all of Paris. Find a place to sit along the picturesque cobblestone streets.
Quai de la Tournelle
there are tons of places to sit along the Seine, but this little slice of heaven is undoubtedly one of my favorites, and you can't beat the gorgeous view of Notre Dame at Sunset.
Place des Vosges
Is there a most beautiful square in Paris? It was built in 1612, making it the oldest square in Paris! Victor Hugo used to spend his days here.
Square des Batignolles
Although there are tons of quaint little parks in Paris, this is definitely one of my favorites. There are a number of different lush, green nooks to picnic with your family or friends. Also, there is cute little pond that runs throughout the park so you can feed the ducks!
But what to pack? Take a look at some of my favorite picnic packing essentials below and enjoy a perfect summer afternoon that's fit for the French!
TO WEAR

TO ACCESSORIZE

TO PACK

Photos by Fred Cipoletti.