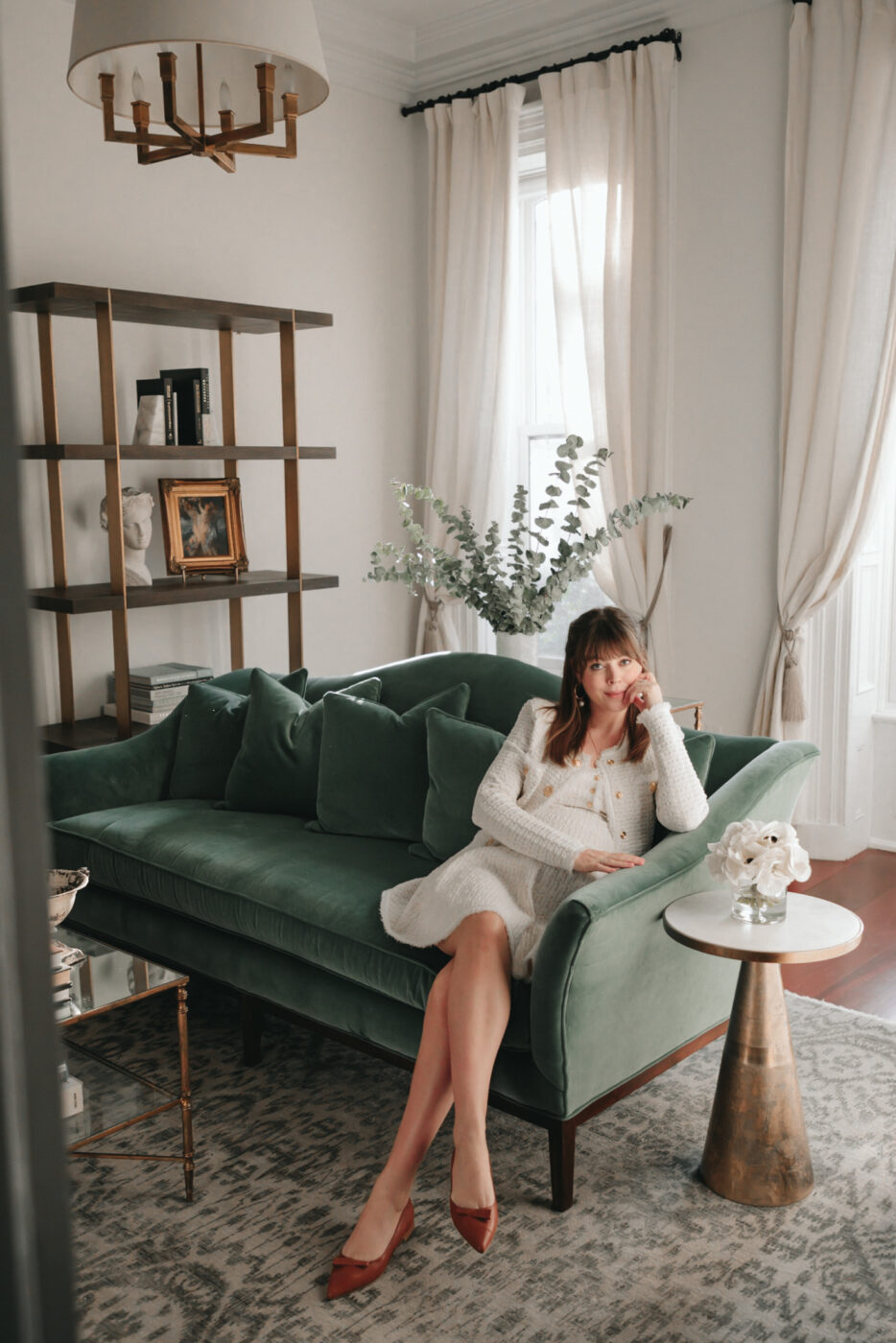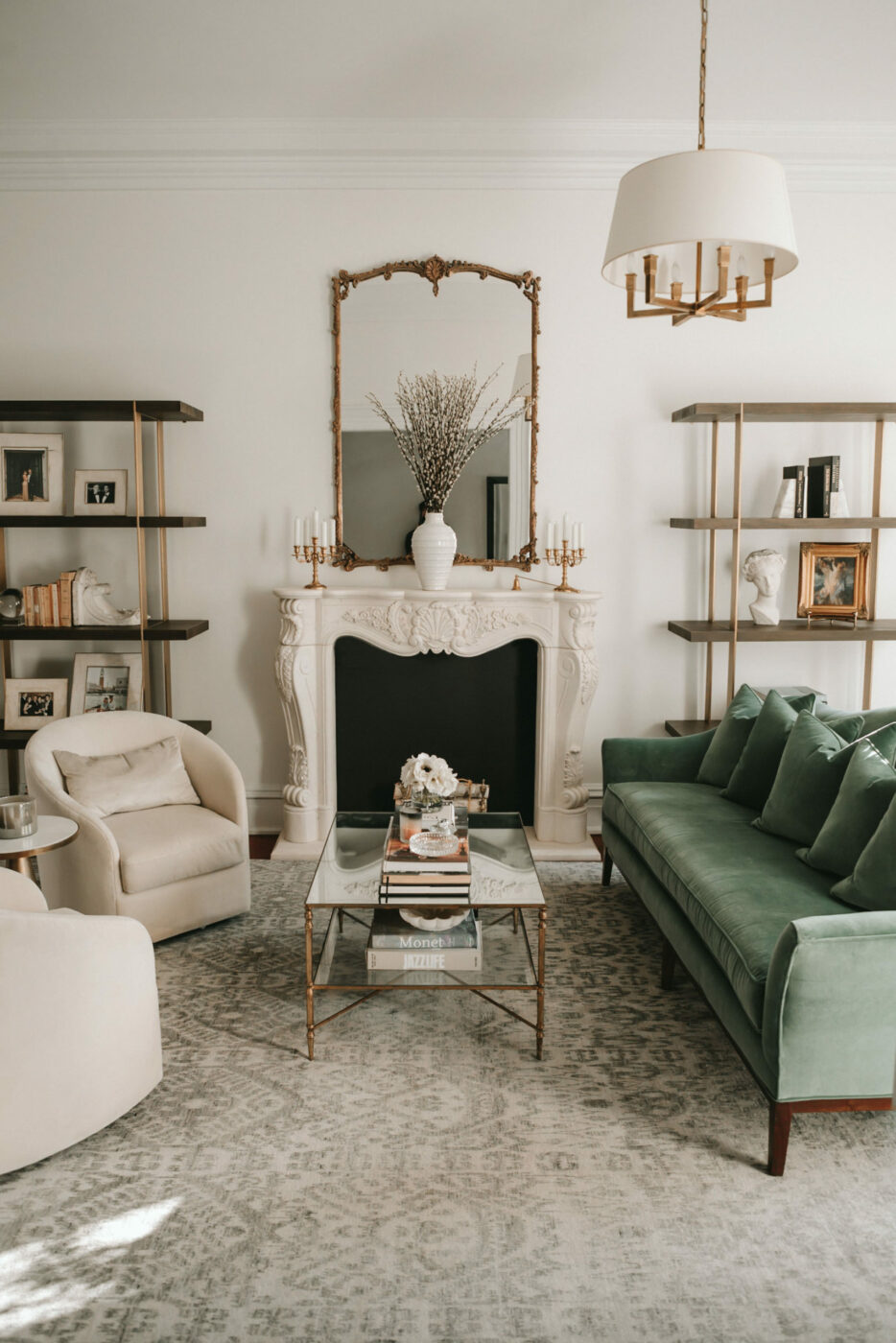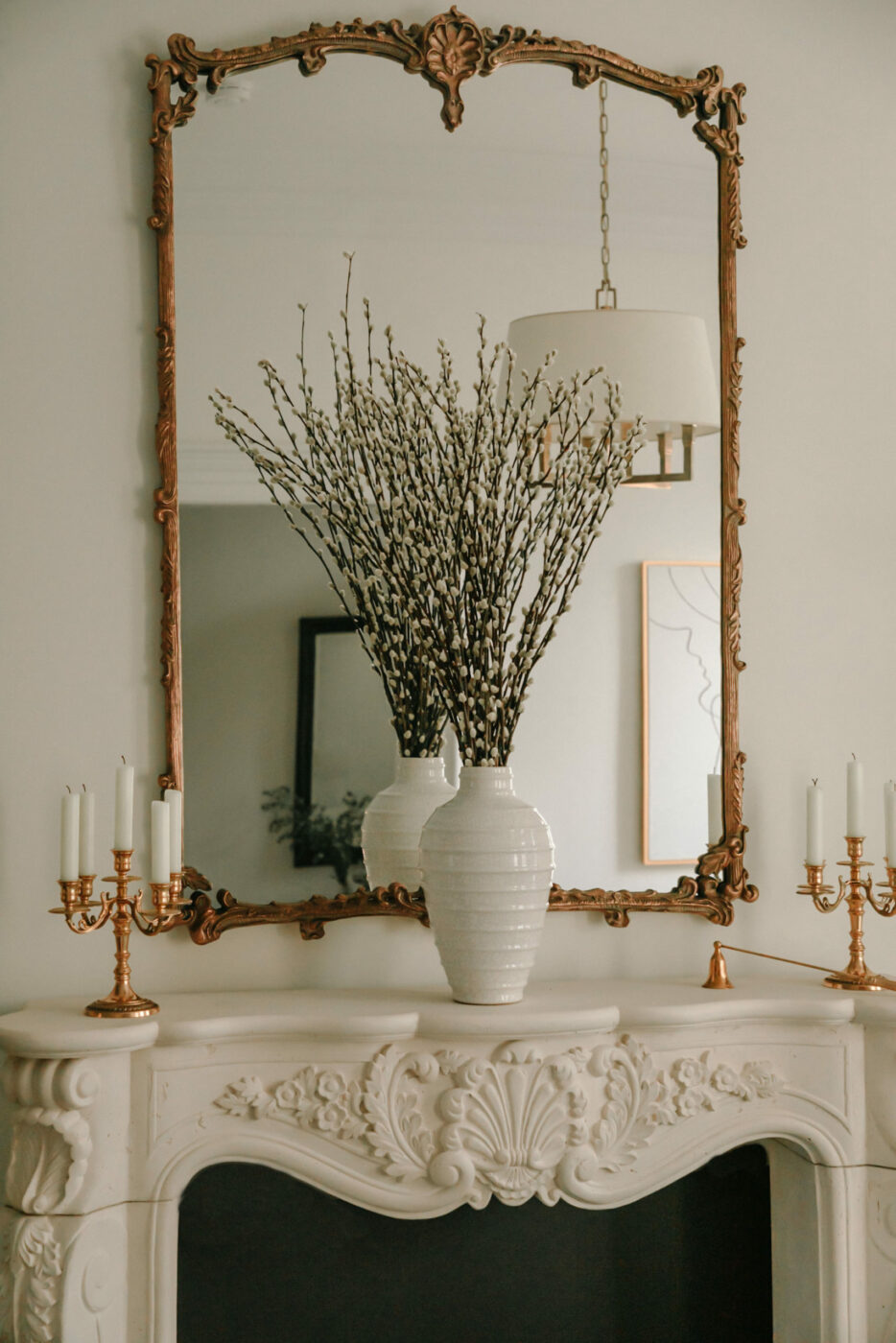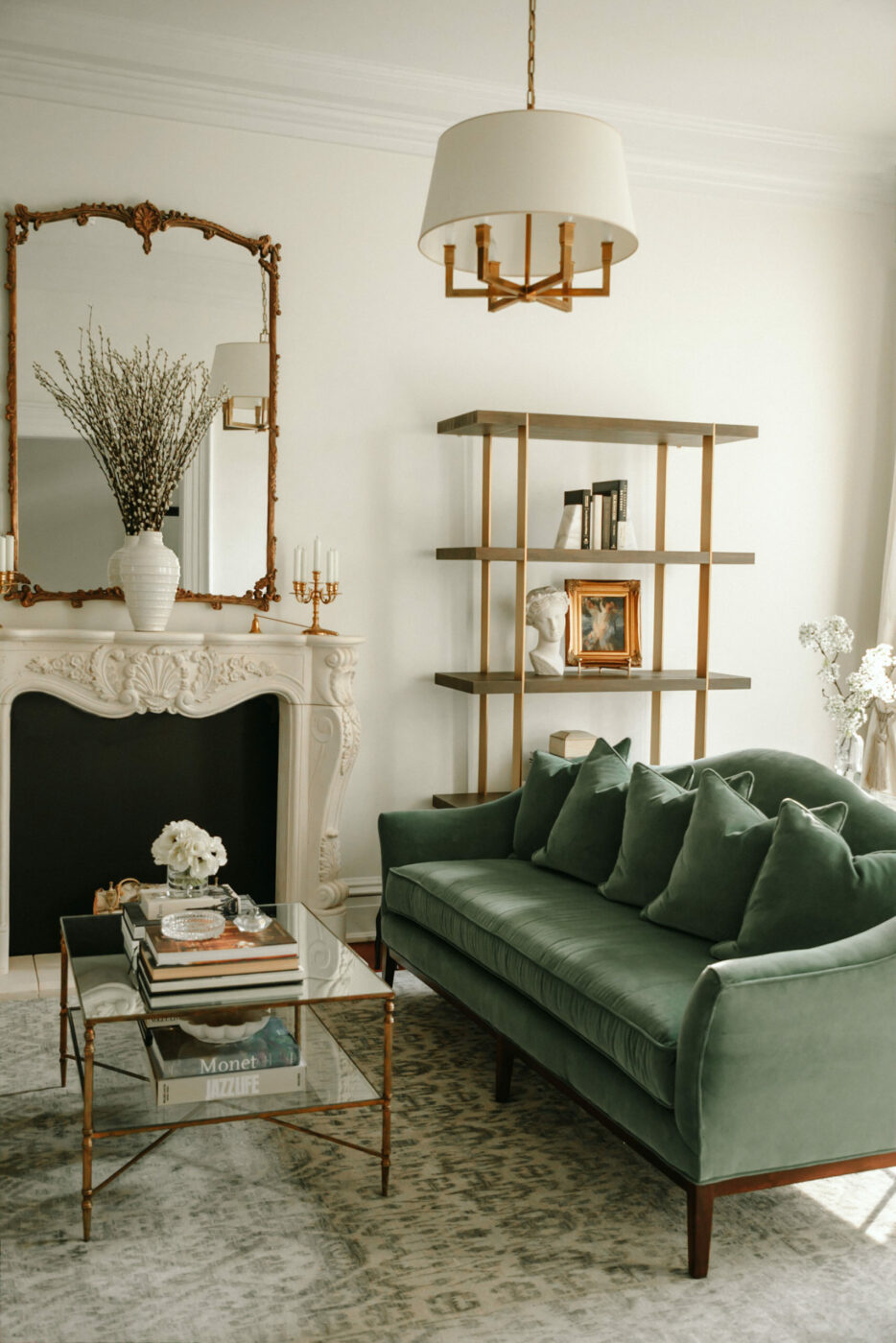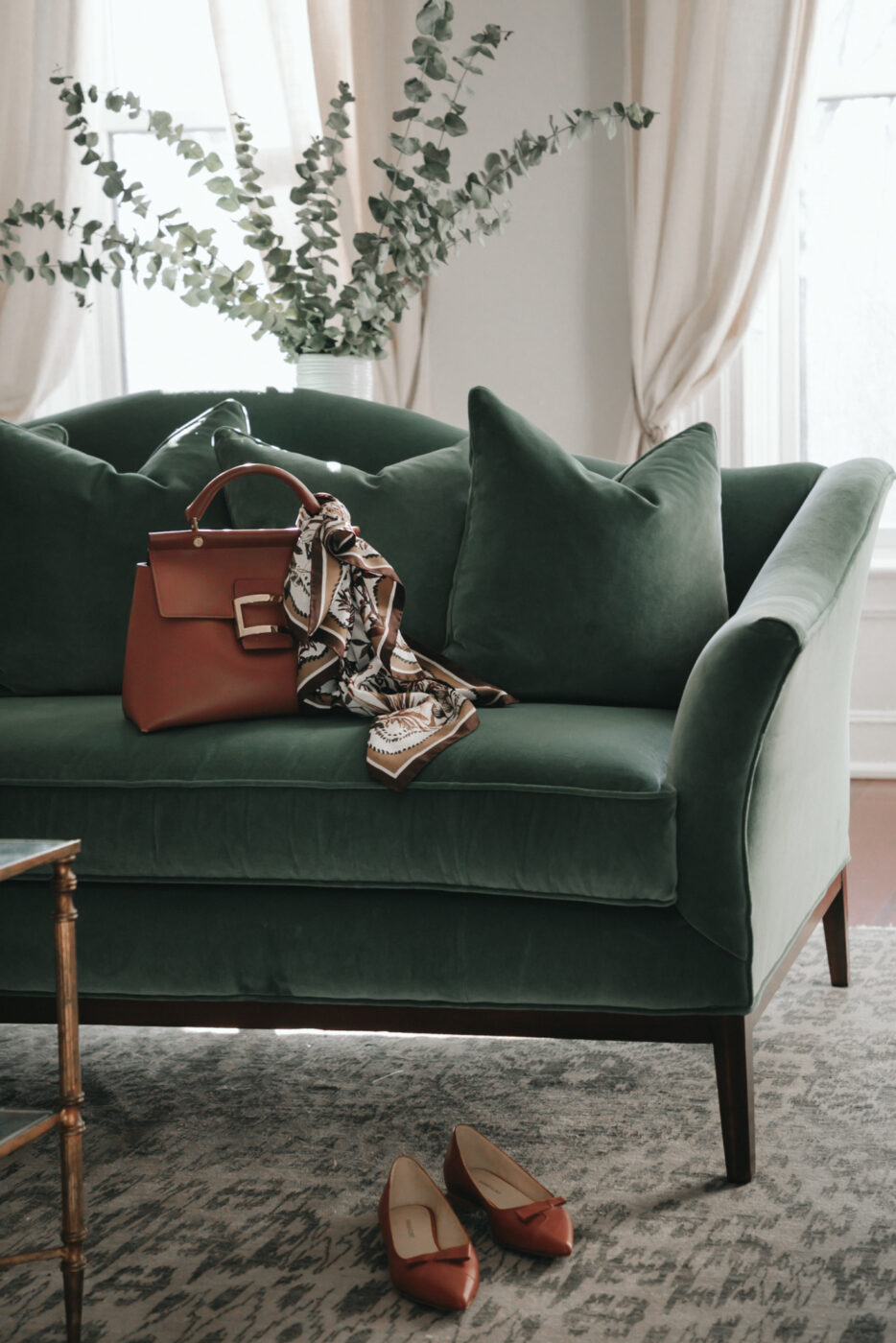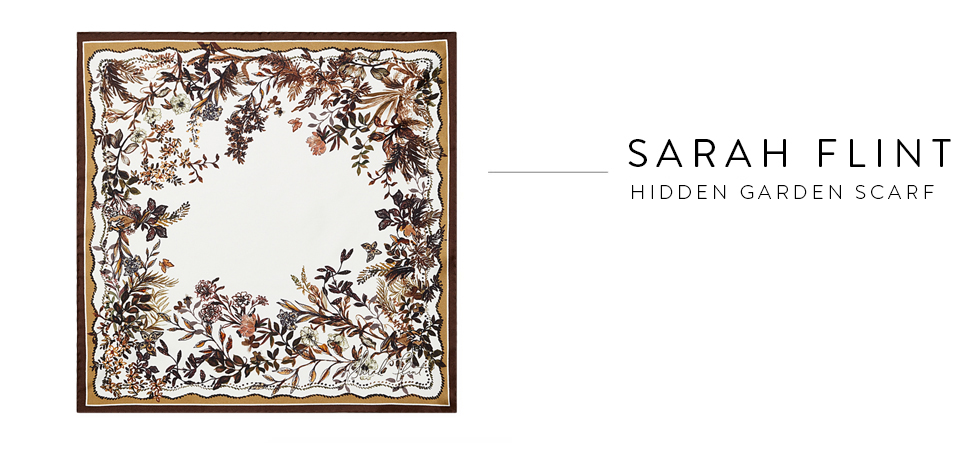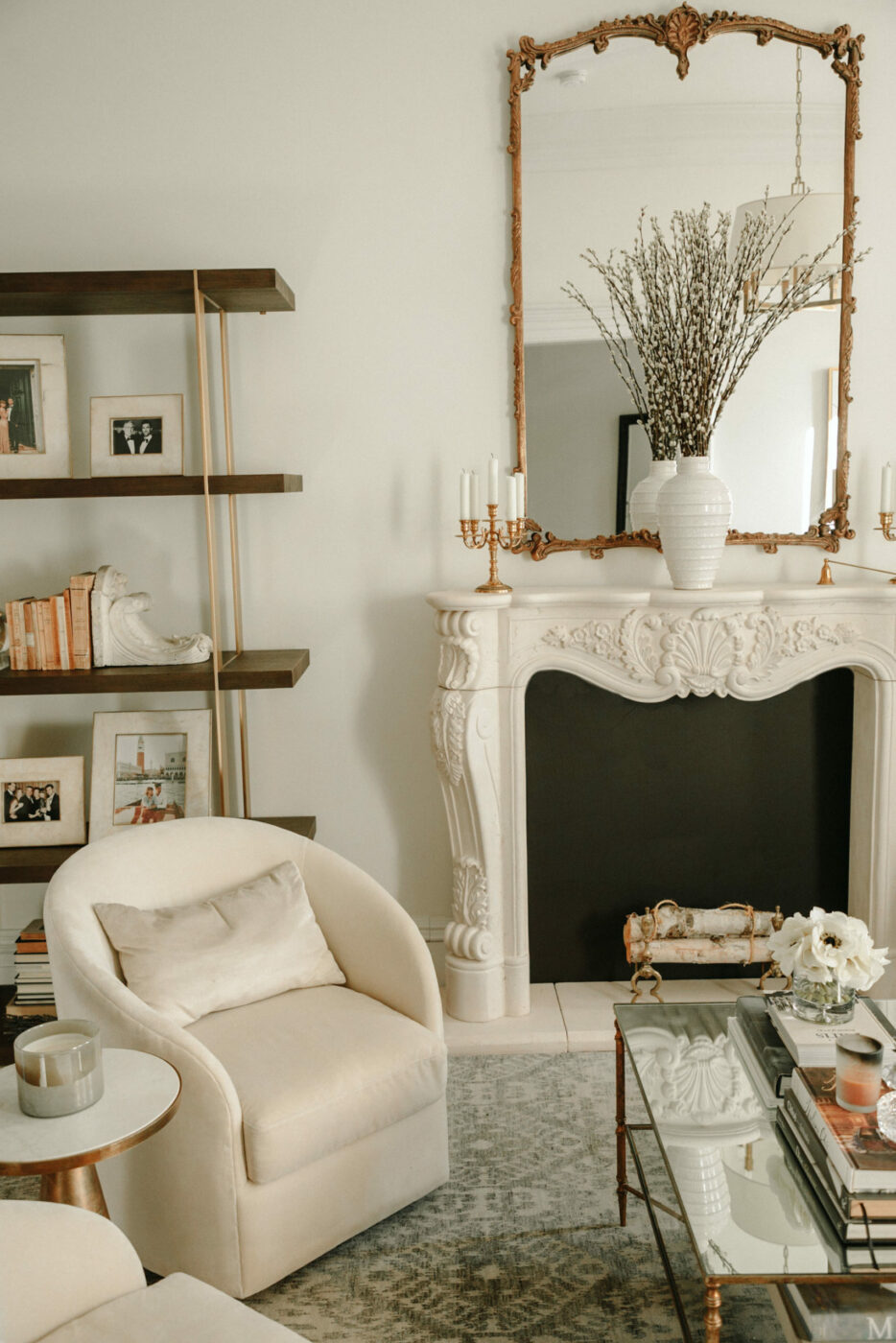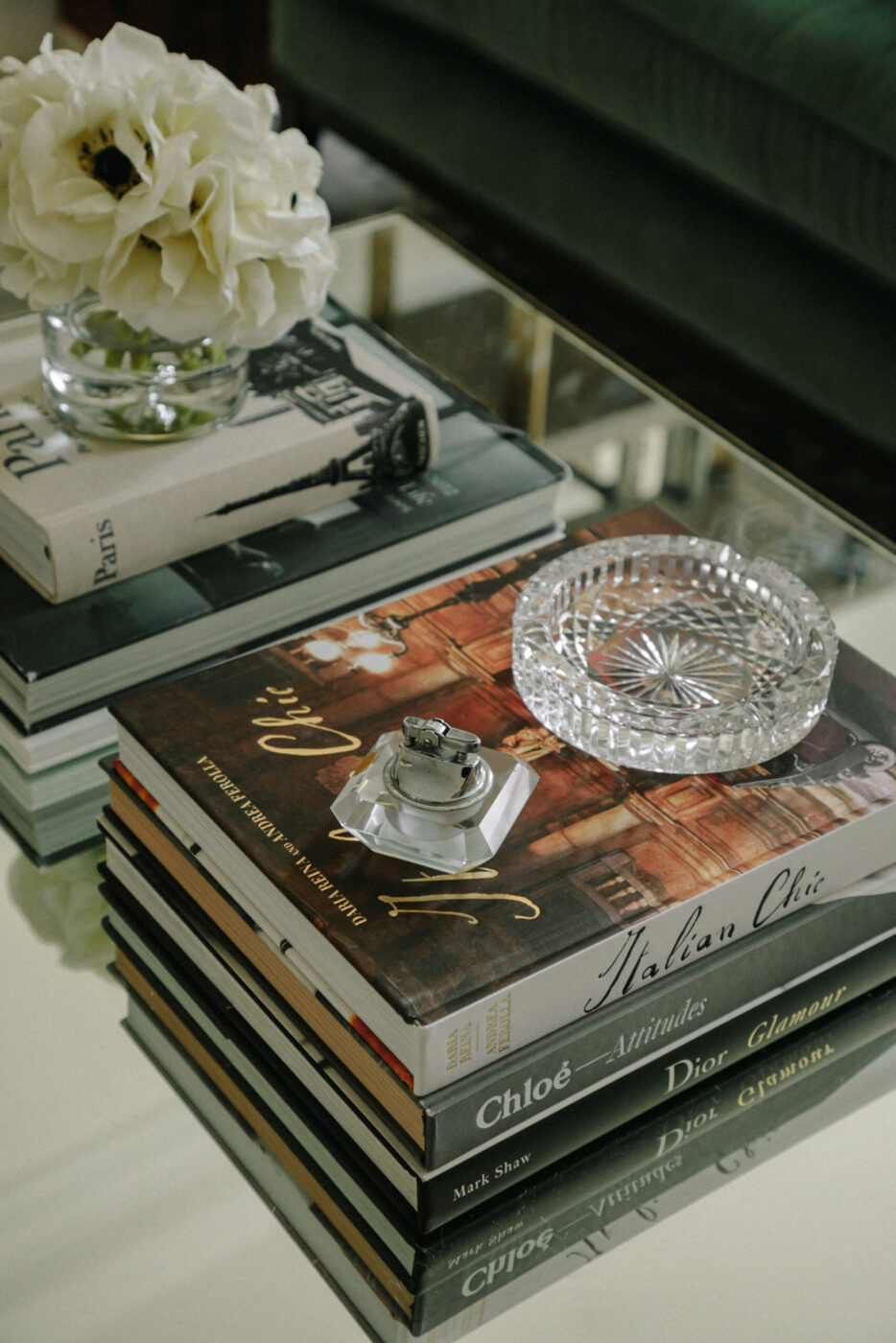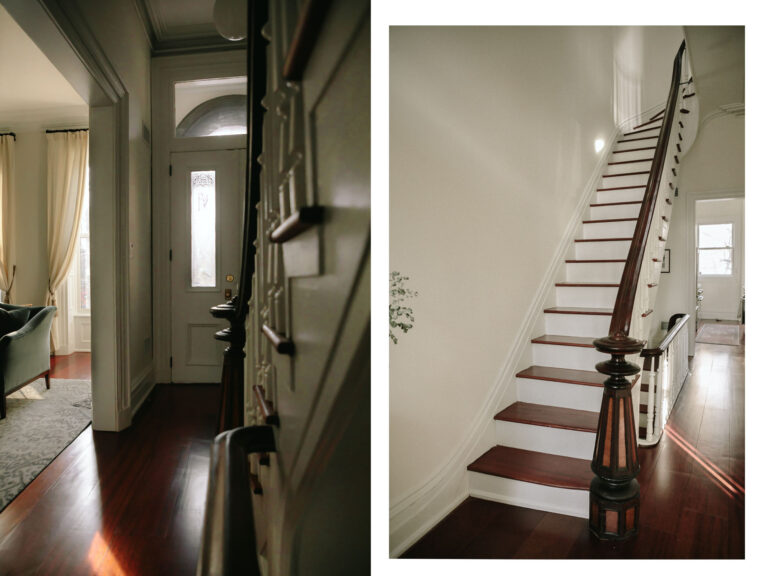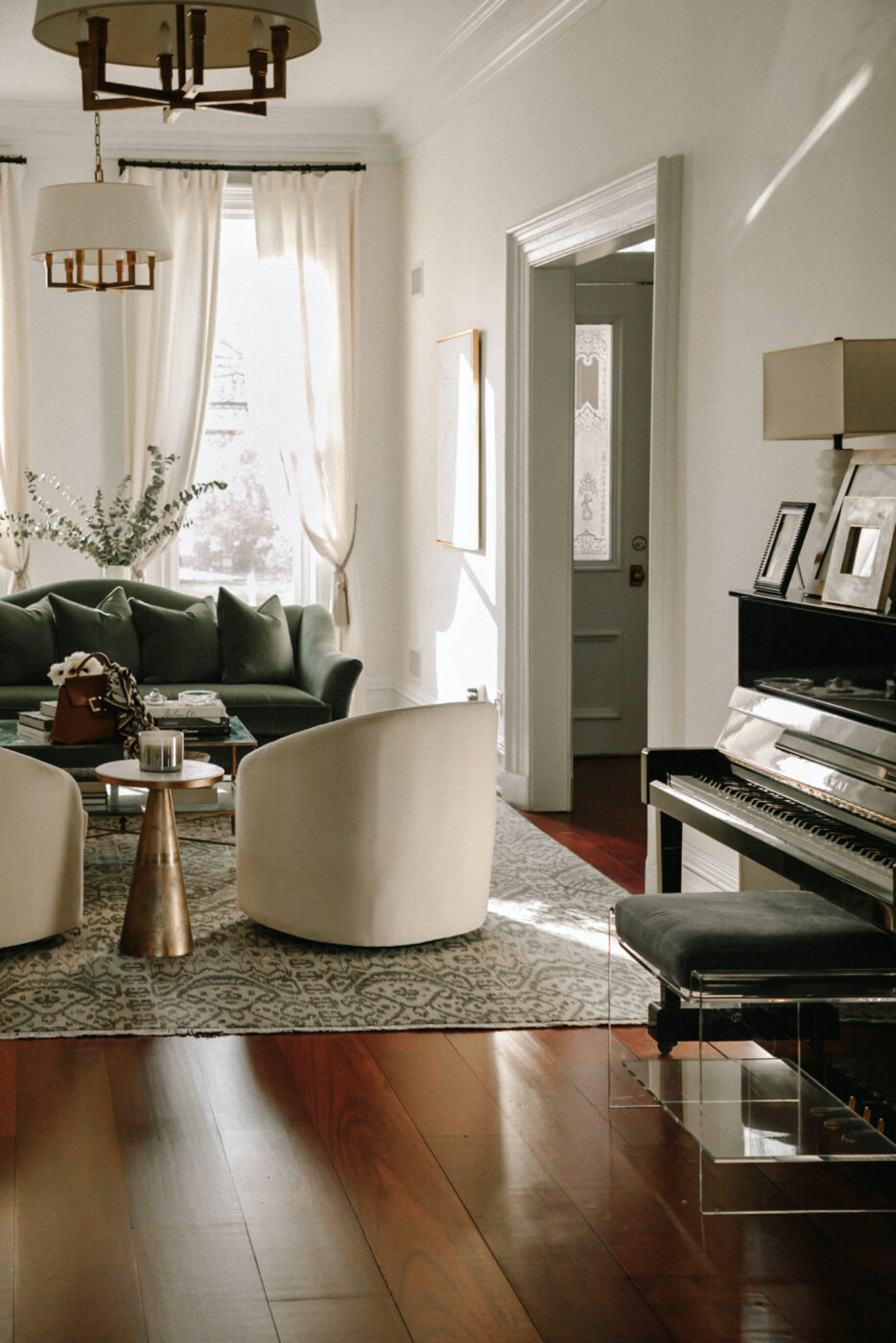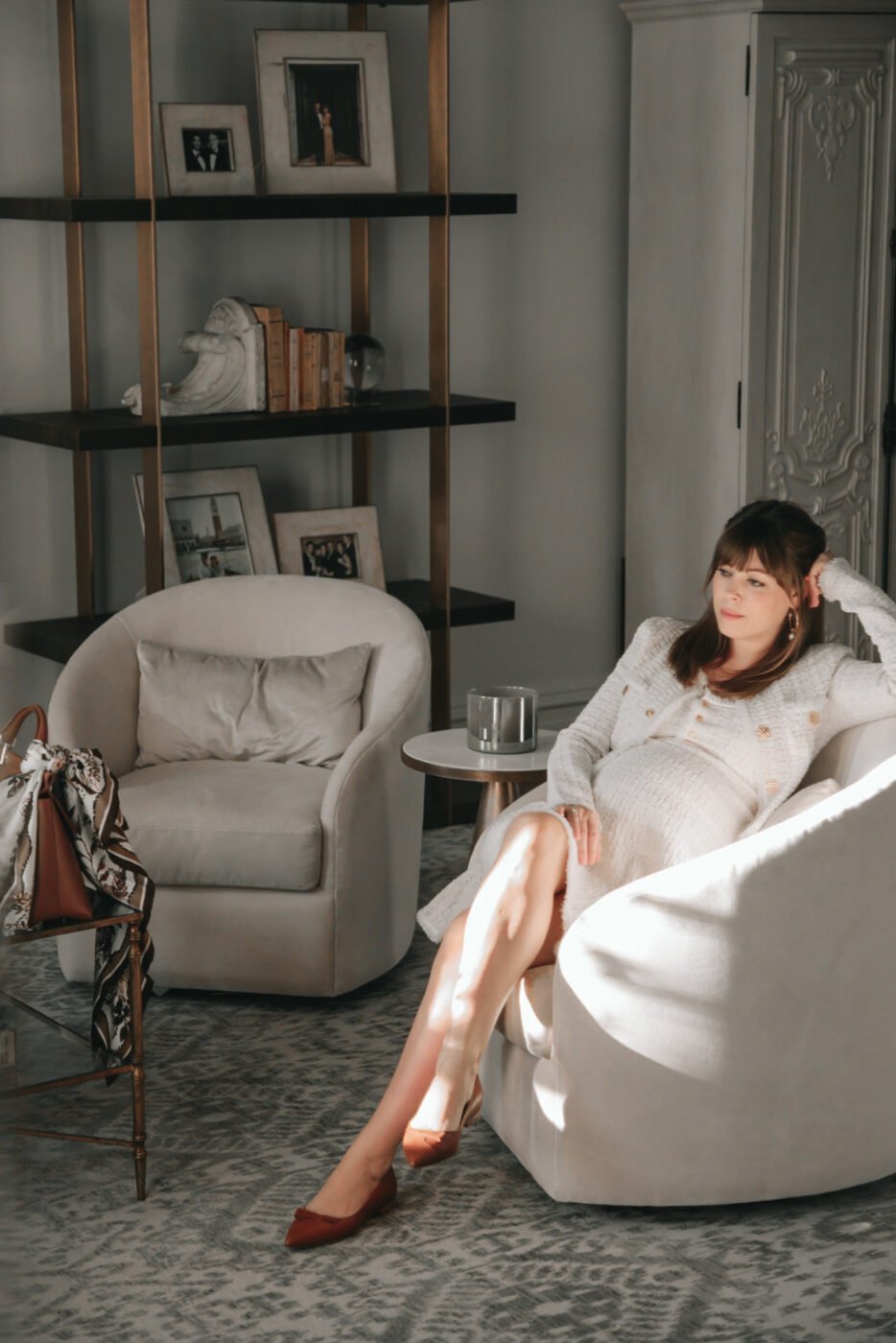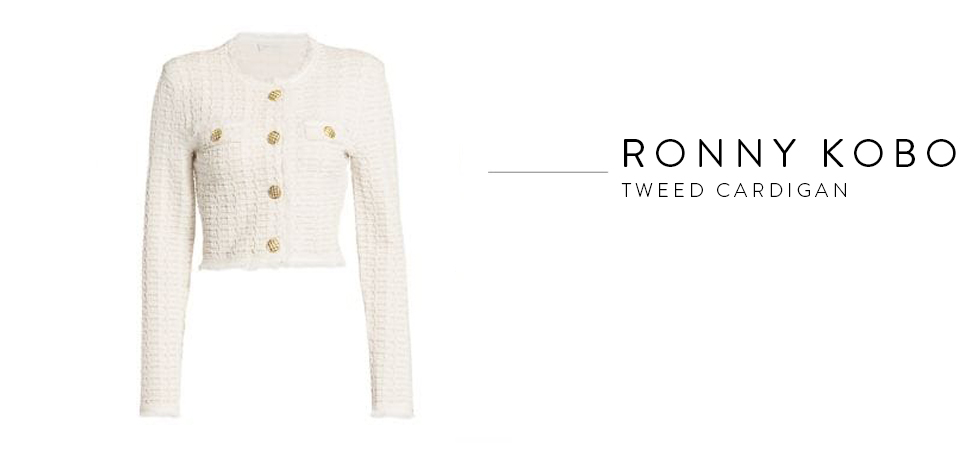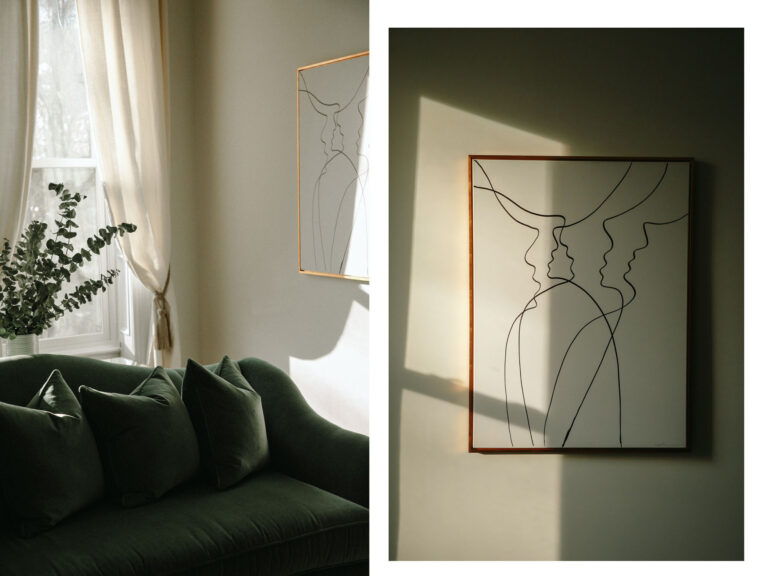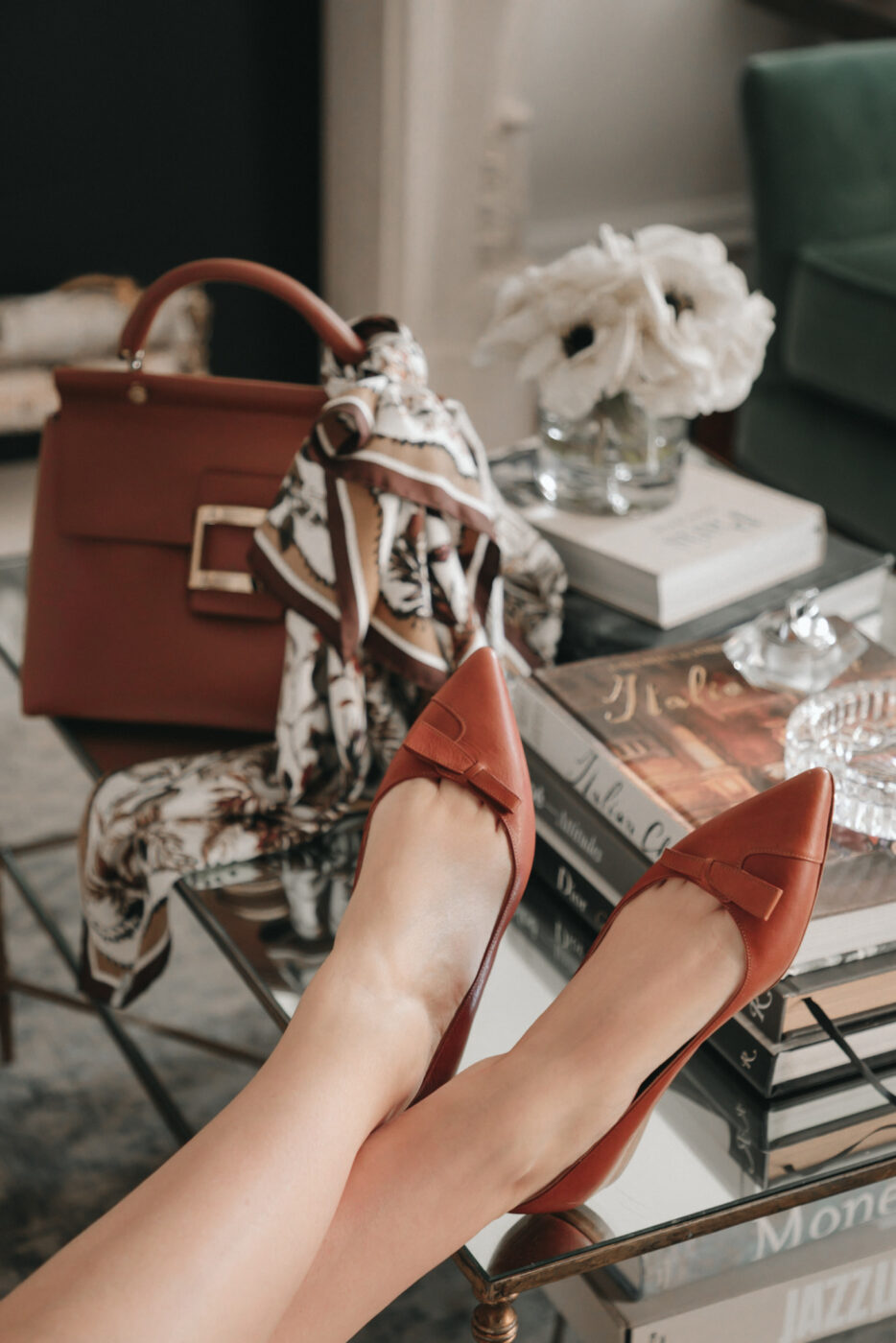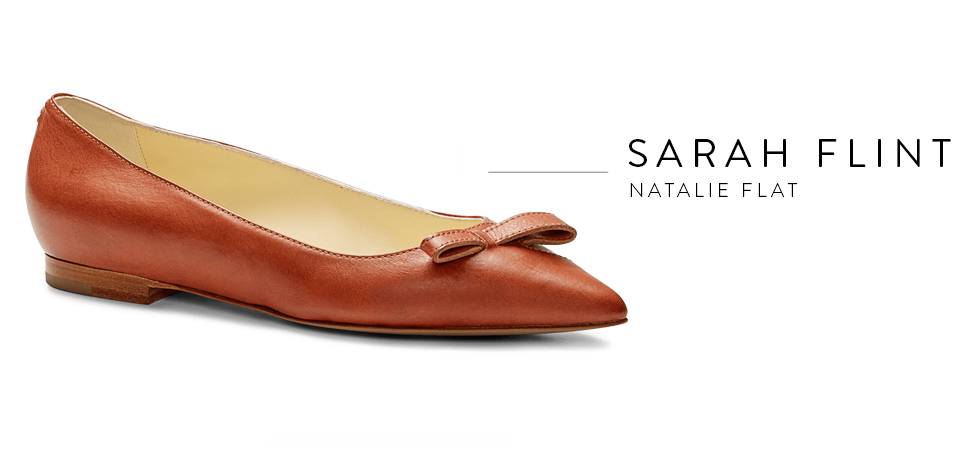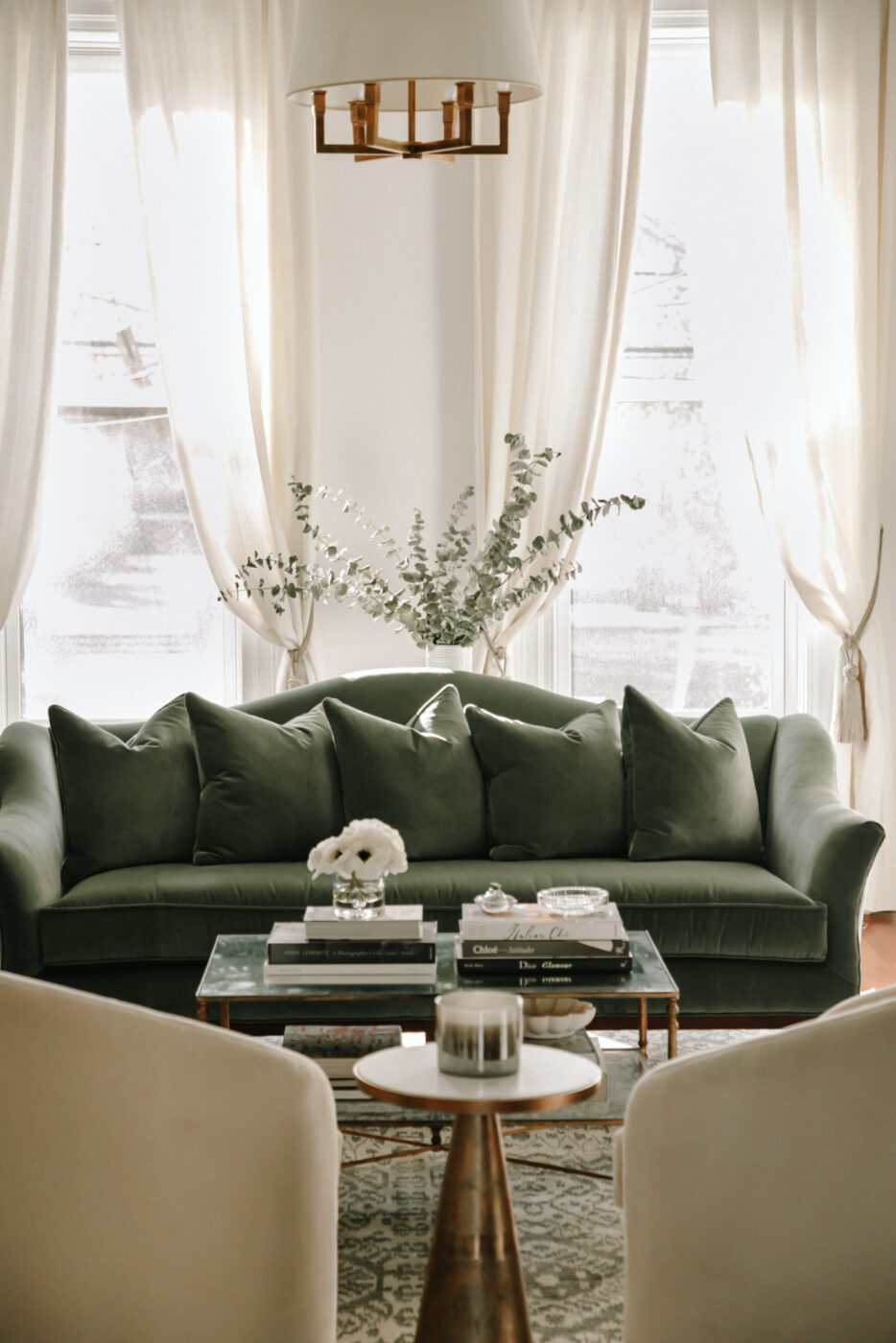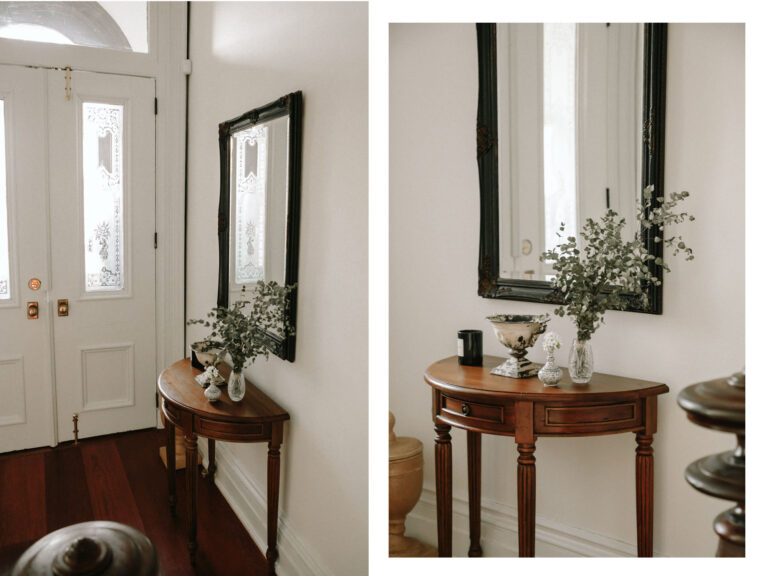 Home Tour Living Room Reveal
Never has function been so necessary in all of our lives. I don't know about you, but I can't remember the last time I put on a pair of heels. Never-mind not leaving the house at all, but pregnancy, in general, is the only thing that's informing my wardrobe at the moment – and that means one thing, comfort!
As I've been sharing each space with you throughout my home, my looks have also been representative of each of the spaces. When designing our living room, I wanted each piece to feel sophisticated yet unfussy. Similar to my sentiments about getting dressed at the moment. Admittedly I'm playing a bit of dress up and daydreaming of what I would be wearing if I was heading into the city for an afternoon meeting in the Spring; A sweet dress, scarf on the bag, and comfortable slip-on's al la Sarah Flint.
Sarah Flint's 'Natalie' flat is one of those classic ballerina silhouettes that never simply never goes out of style – what we like to call a wardrobe staple. But what I love most about these flats is a design theory I not only appreciate in footwear design but also interior design; and that's when tradition meets modern. The asymmetrical bow on the pointed toe creates just the right about of balance without feeling too obvious or too over the top – wouldn't you agree? The 'Natalie' flat comes in eight different colors, leather, suede, and a beautiful limited edition silk-blend jacquard print.
Take a look at each of the different styles here and use my promo code SF-JENNY, which will give you $50 off your purchase if you find something you love – perfect timing for mothers day and if you're not sure about a shoe, you can never go wrong with a beautiful silk scarf. This Sarah Flint Hidden Garden Scarf comes in two different colors, the chestnut as pictured here and also a beautiful floral blue.
I've always felt as though there is an innate synergy between interiors and fashion. From color pairings to shapes and materials, each element informs the other when styling a look to wear or a room you will be spending your days. And these days, now more than ever, as I become a mother, I put far more consideration into what's functional, comfortable, and stylish for moms and mom's to be as I know so many of you are. Not just in what I wear but also in my home.
I should refer to our living room as our formal living room. As the parlor level of the brownstone, we wanted to preserve the space for what it was traditionally used for; entertaining. Later this week, I will reveal the kitchen, which you will see opens up beautifully into the living room space. It's a modern open concept floor plan with all of the traditional elements of the 1920's building in place; high ceilings, crown molding, and wide cherry-wood plank floors. To see the other rooms we've revealed, click here.
The home faces east to west, which means we get beautiful direct sunlight in the kitchen in the morning and a dreamy, romantic light in the living room in the afternoon, creating the perfect setting for an afternoon aperitivo. Much like my look here, the space consists of mostly creams, golds and Sienna browns. To add an element of interest to my look, I added the scarf by Sarah Flint on my bag and for the space, I knew the couch would represent the same. I've dreamed of styling a forest green velvet couch for as long as I can remember – so when I saw this One Kings Lane Eloise couch, I knew it was the piece that would bring the space together. The camelback silhouette, exposed wood base and plush forest-green velvet upholstery gives this classic design a fresh and modern look.
Another element I knew we needed in the space when designing was a fireplace – easier said than done. My appreciation of all things Parisian persuaded my decision to DIY the mantel and mirror combination that Paris Apartments are so well known for. It's an easy way to add architectural intrigue if your space feels like a cardboard box. Domino Magazine recently wrote this feature about how I created the bespoke design feature.
So there you have it! Linked below is the look I'm wearing today in addition to all of the goodies you see throughout the space.
Enjoy and get ready for the kitchen reveal later this week!
LIVING ROOM DETAILS