I'm beyond excited to share our Parisian Garden Theme Nursery reveal today as Part Four to our Home Reveal Series, if you're just now joining, be sure to check out the other rooms in our reveal here.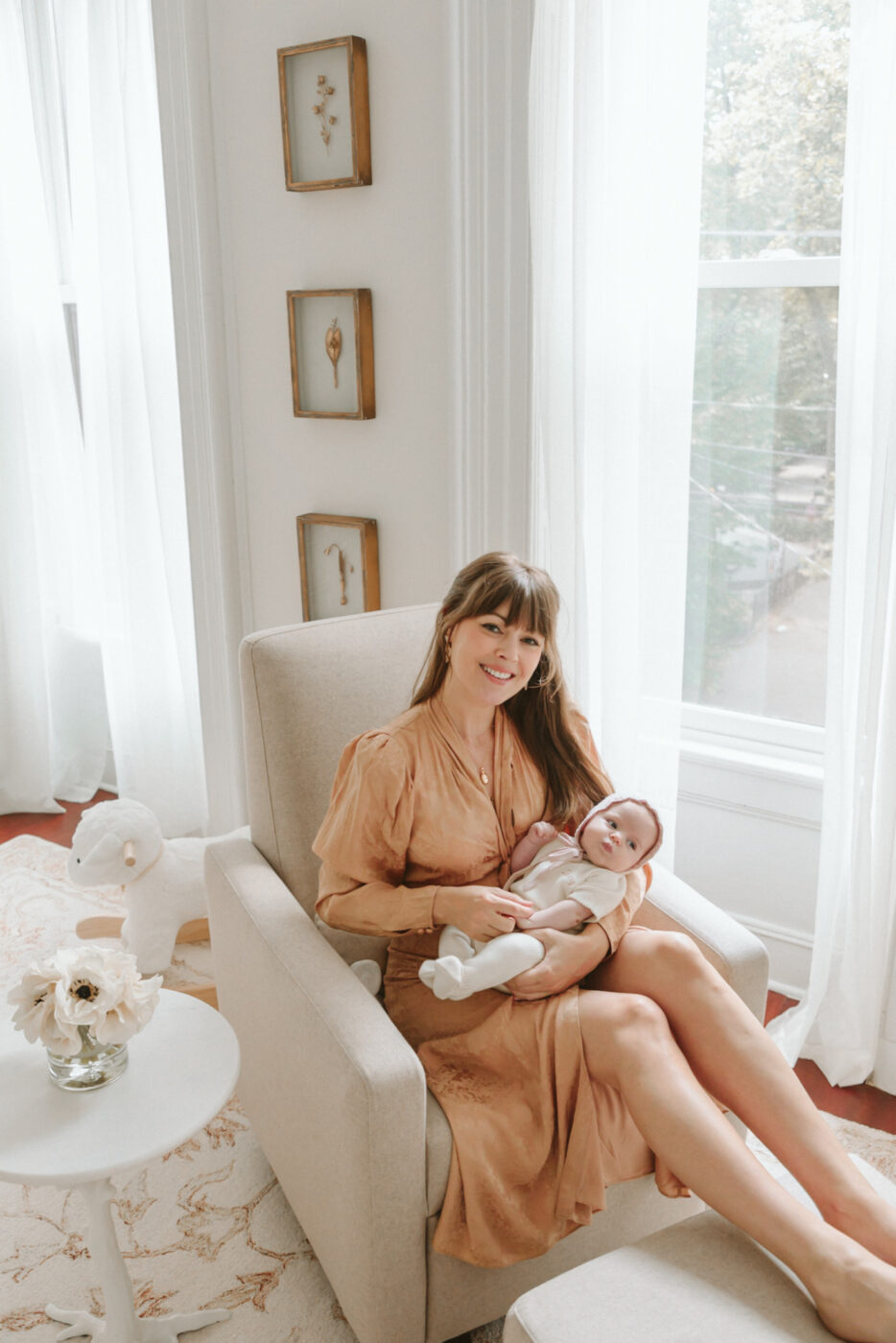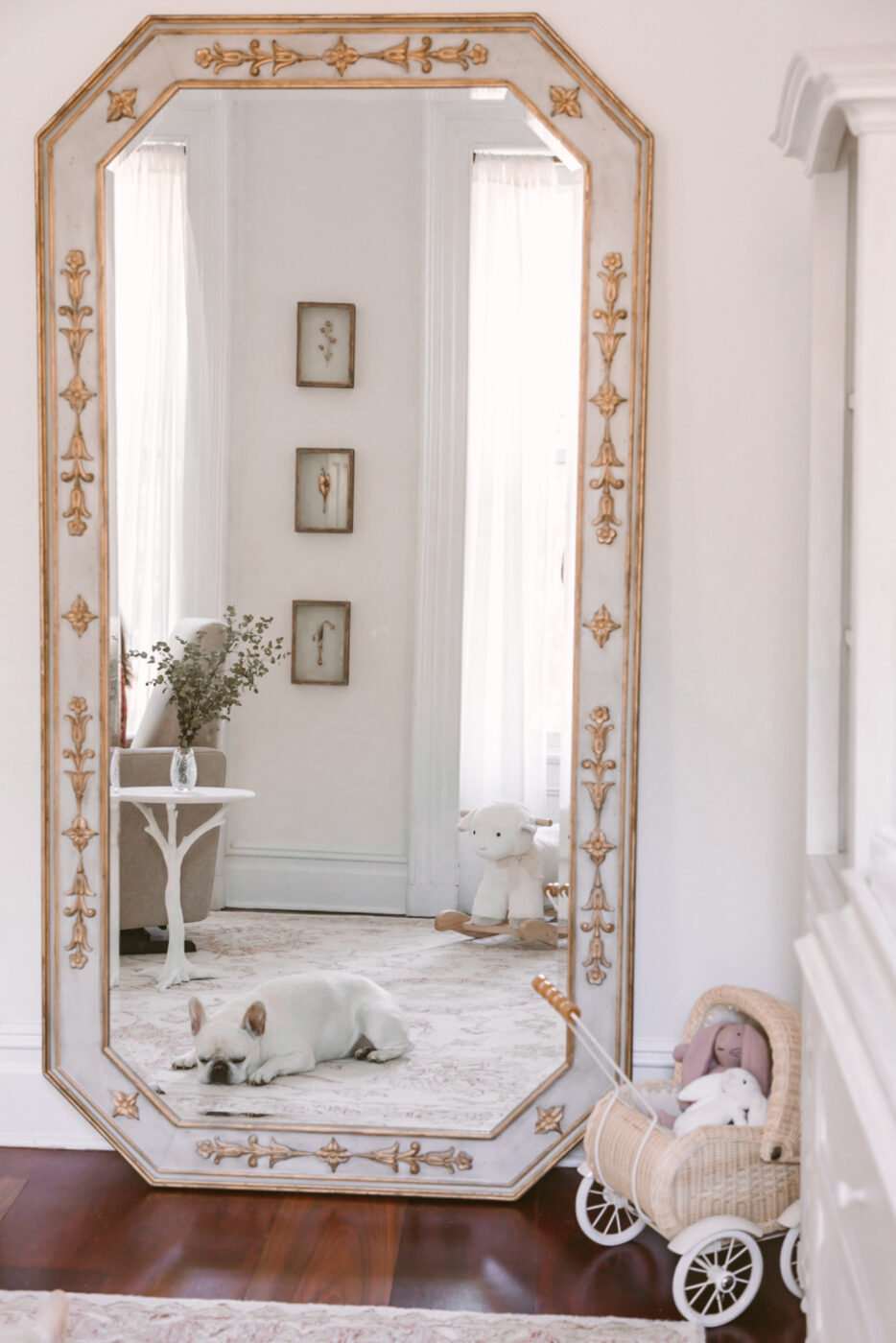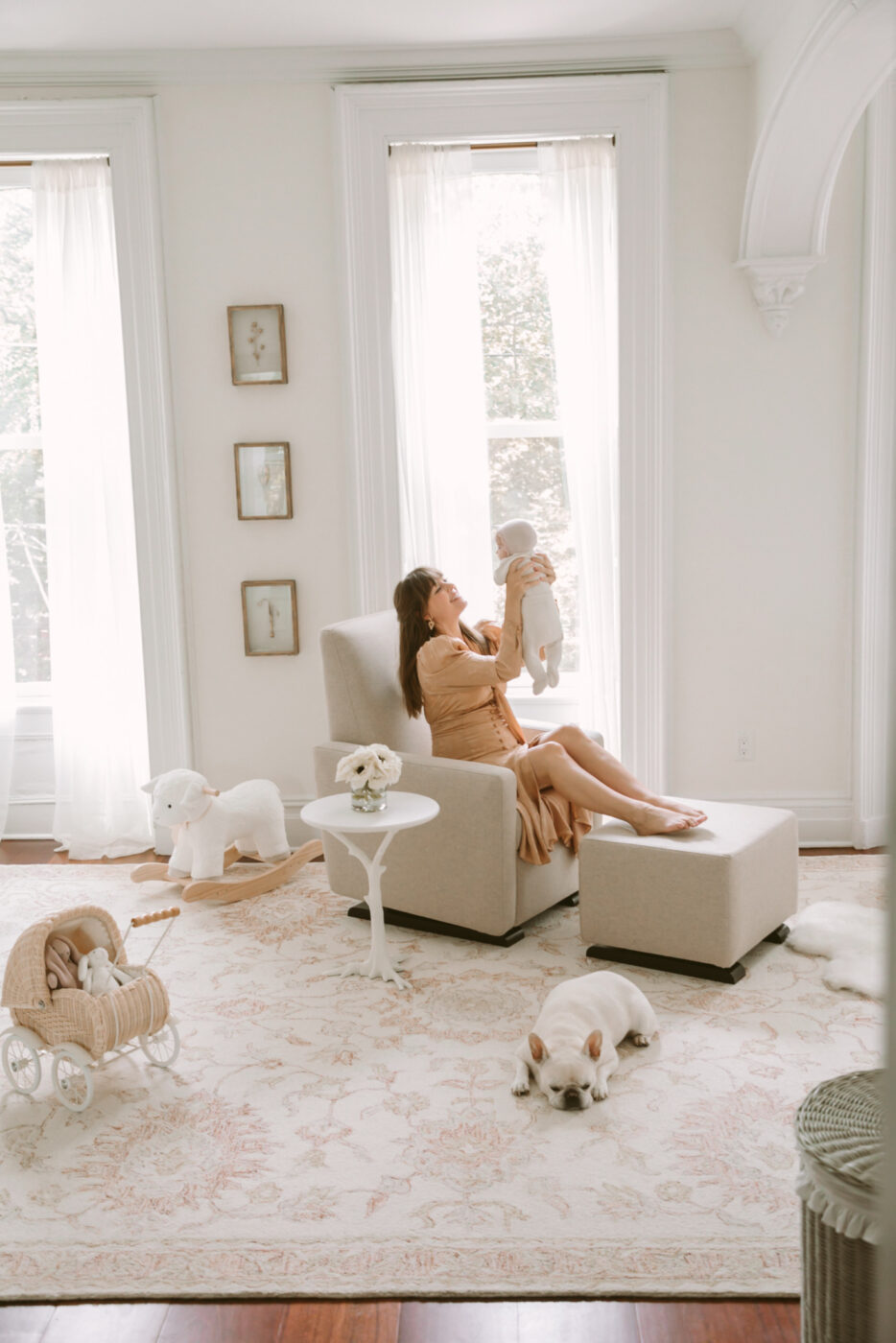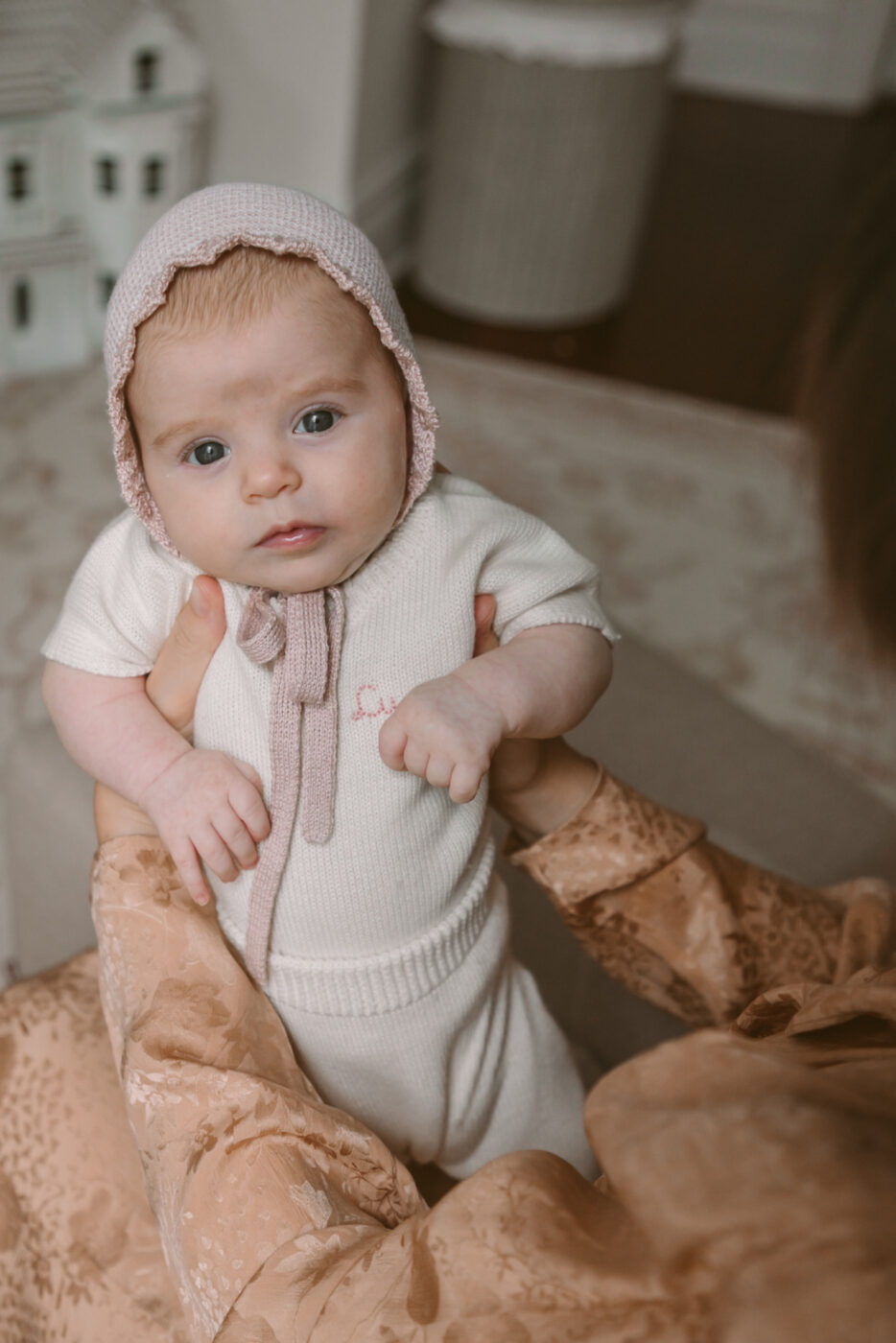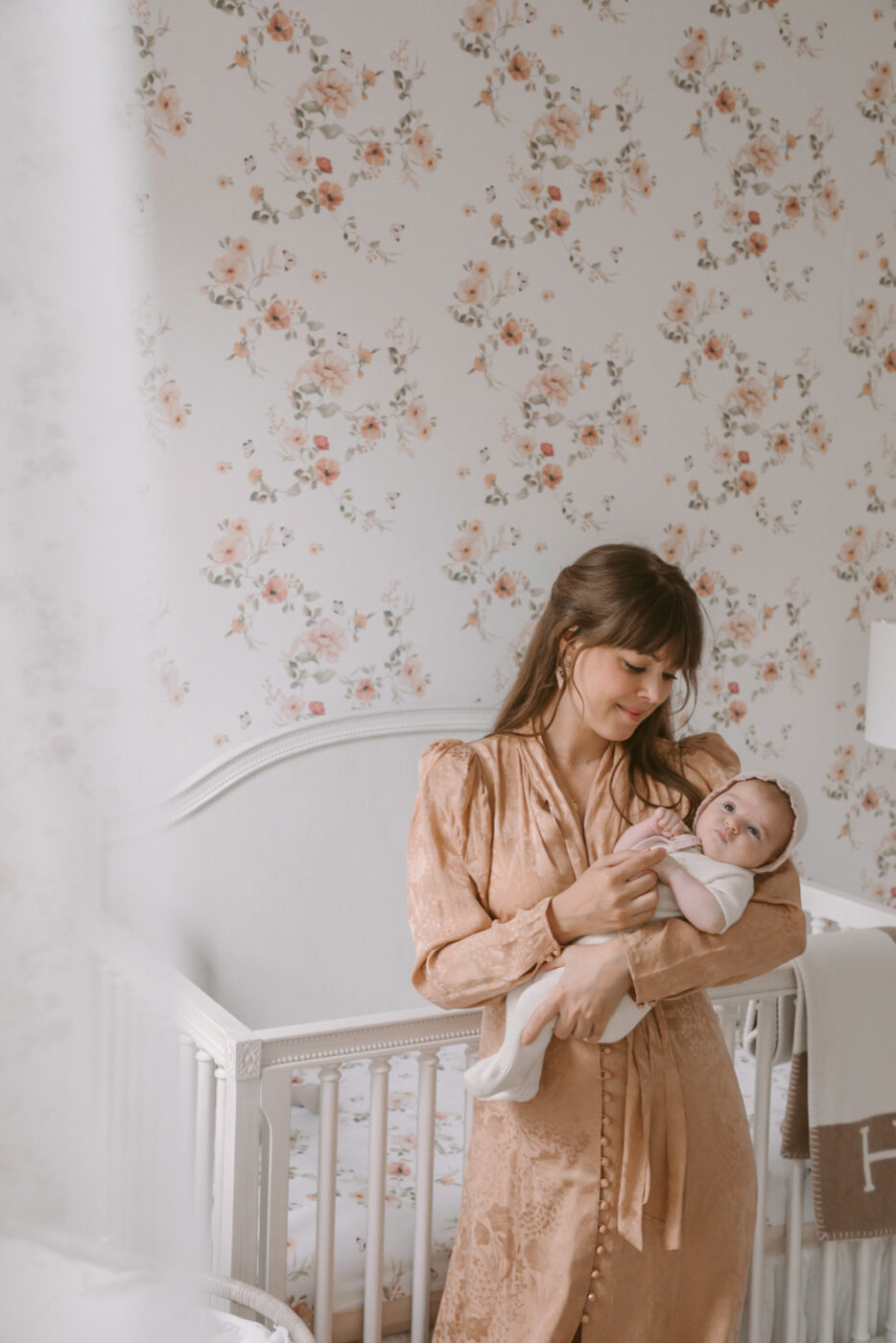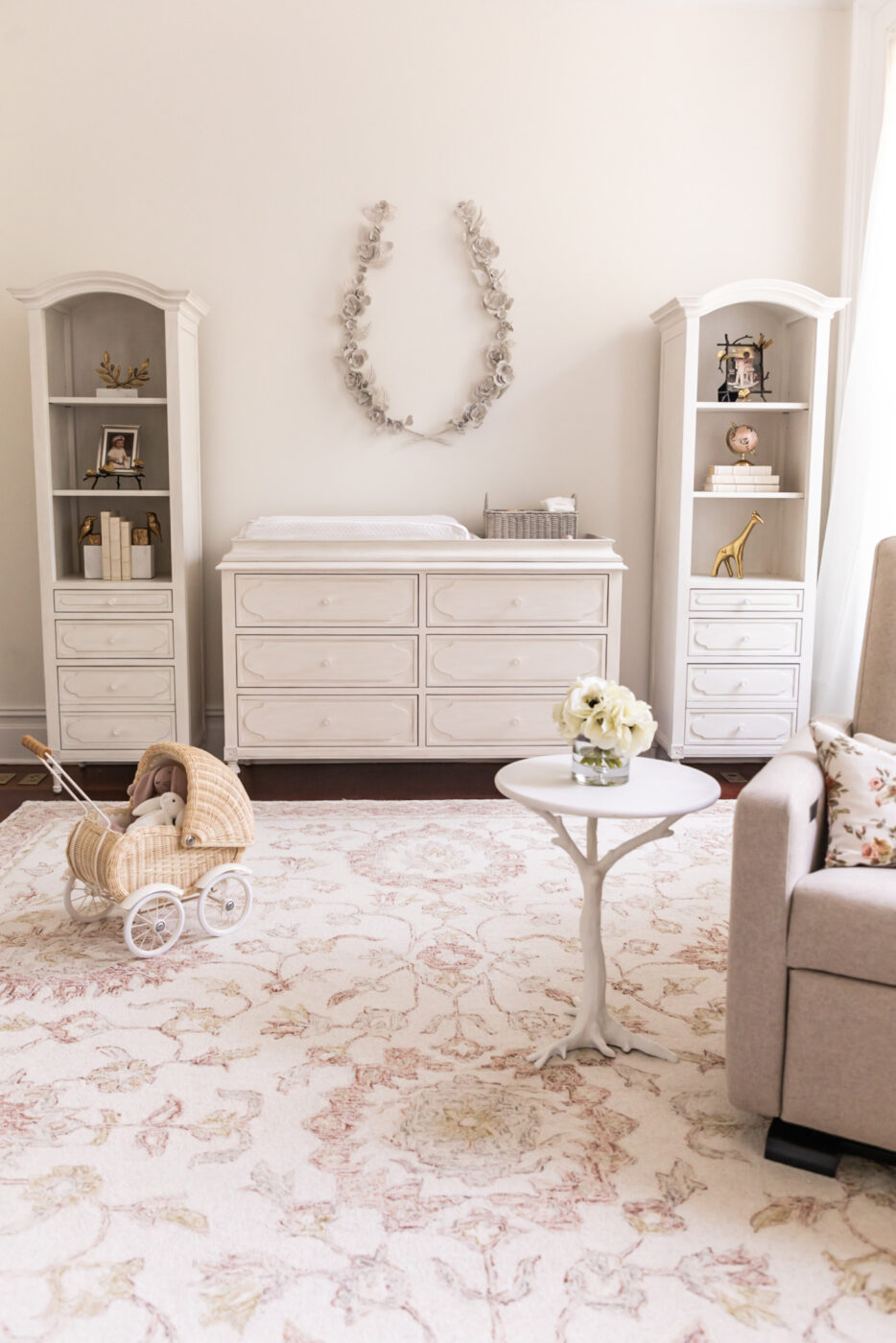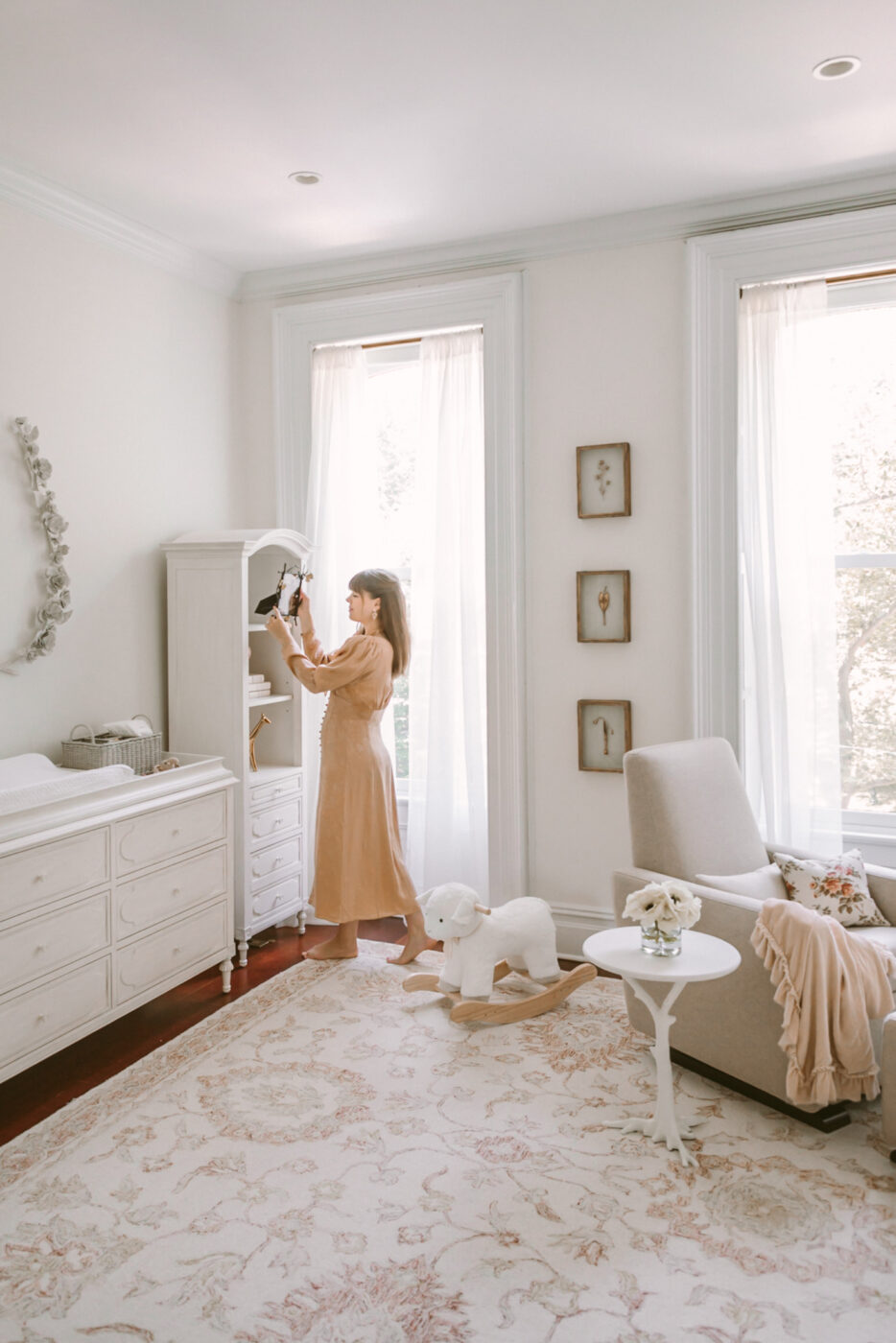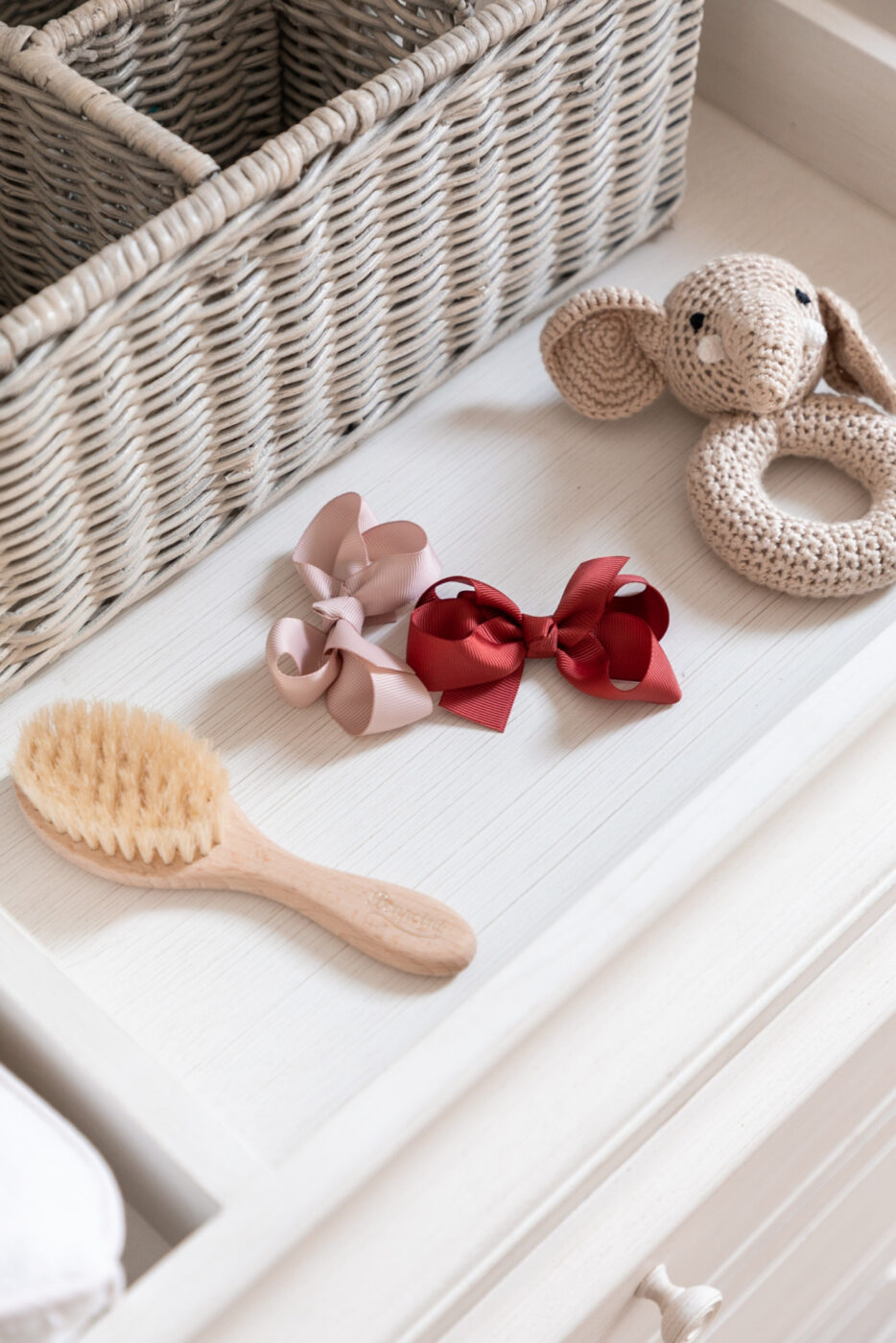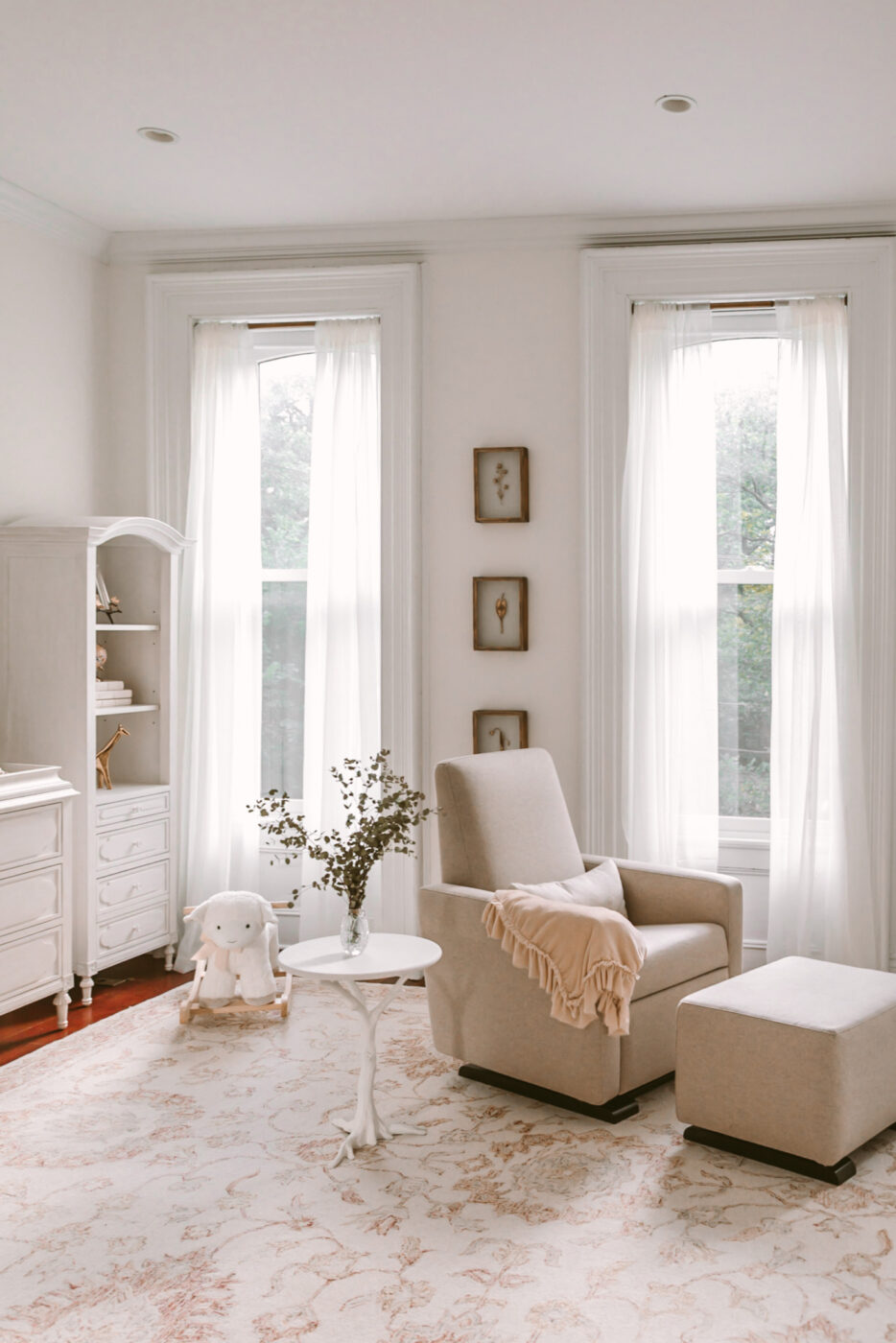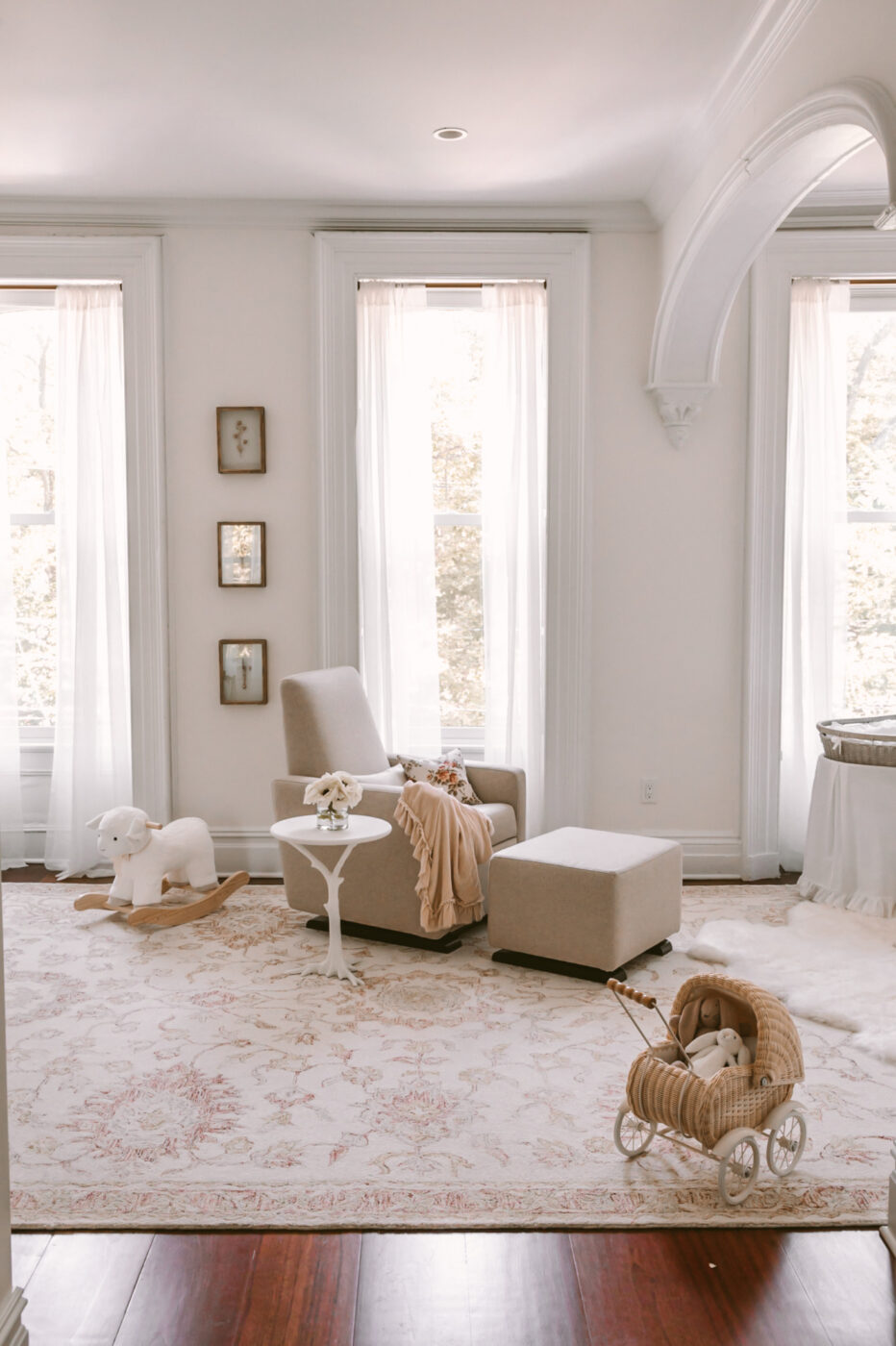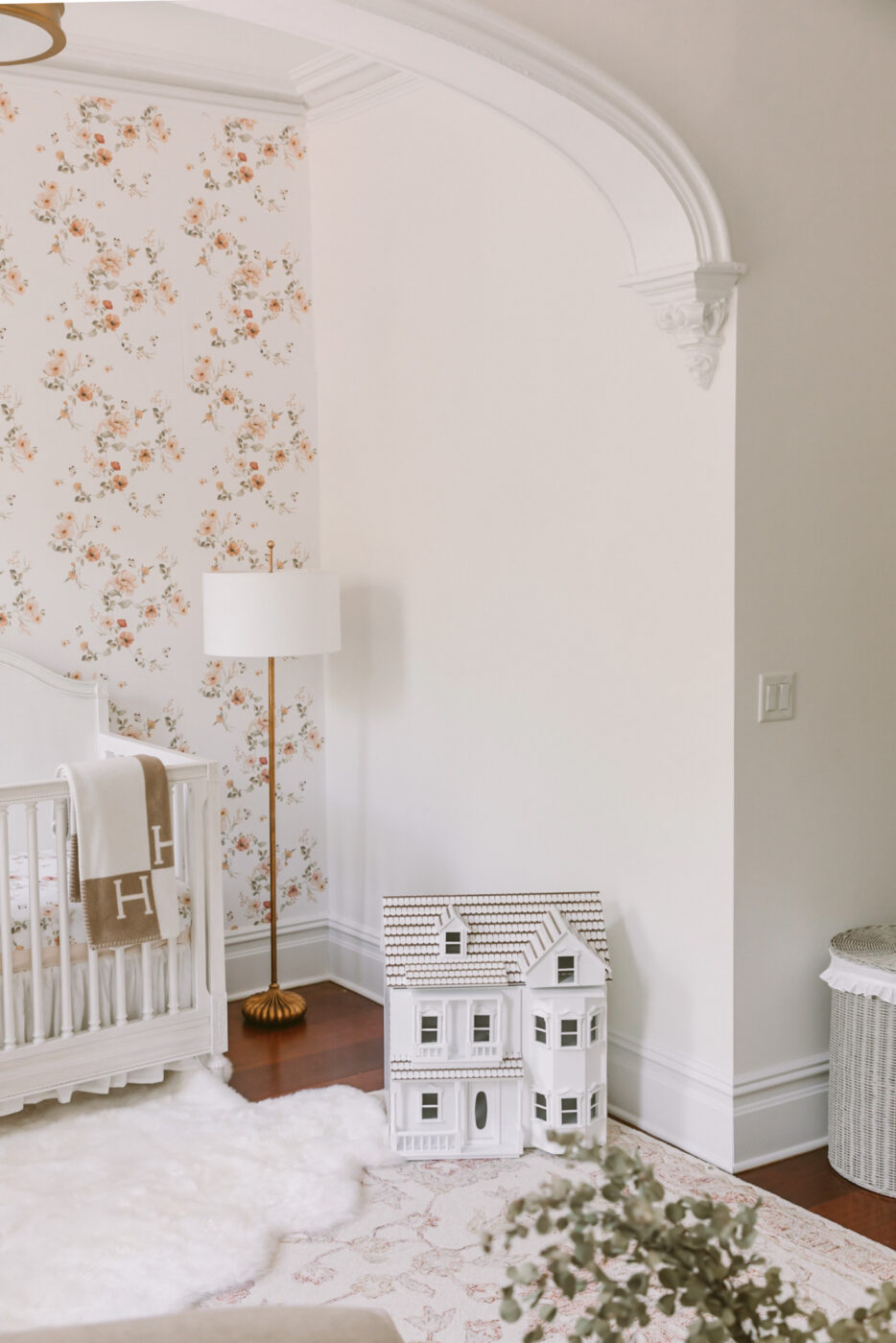 I've always dreamed of designing my daughters nursery. So when we first viewed the brownstone, I knew almost immediately that this room would become little Lucy's. The three beautiful large windows still have the original molding from when the home was built and they face the tree tops of the park, so there's lots of greenery outside that we wanted to invite in! It's how the theme for the nursery was born; A Parisian Secret Garden.
The light in the room is magical, so my goal for the nursery was for it to feel soft, sweet, inviting and romantic. To bring the garden in, I wanted the space to feature a vintage floral wallpaper accent wall behind the arch. I searched for months to find the perfect print and ended up sourcing this from a Polish Designer, Dekornik. With the wallpaper as the foundation of the Parisian Garden Theme, it truly helped to inspire the rest of the pieces in the nursery.
I started decorating when I was about six months into my pregnancy, in late January. I was lucky in that I had the wallpaper installed and I had begun ordering the main nursery pieces prior to the pandemic. However, there were a few key pieces that hadn't arrived yet that definitely put a halt on the completion of the nursery – the dresser being one. I also hadn't found a rug, a rocker or any decorative items for the room. I always imagined I'd be shopping at my favorite boutiques to finish off those charming little elements and planned on visiting a few furniture stores to test out gliders. Being that it's a bigger purchase, I wanted to make sure that I was going to love the way it felt!
However once the pandemic hit, all of those plans suddenly changed and I was having a hard time navigating how to finalize these key pieces in the nursery. It was at that time when I had reached out to Interior Designer Kathy Kuo and her amazing team to help guide me in the right direction. With having completed so many beautiful nurseries in the past, I really trusted that they knew the right designers and brands I'd love.
I can't tell you how grateful I am to have had their expertise guiding me through design during this time! Pandemic aside, if there's anytime to consider hiring an interior designer, it's for your babies nursery! Pregnancy is such a fleeting experience, a time that can be overwhelming with excitement, uncertainty, happiness and the list goes on. The last thing parents should have to worry about is their nursery coming together in time for their baby's arrival. We all know how stressful it is to start the design process, let alone source all the items, order, track and decorate. With a designer like Kathy Kuo, all of these things are done precisely so that you and your partner have one less thing to worry about and one more thing to get excited about!
After our initial Zoom meeting where I shared my Pinterest Board, the space and measurements, the team sent through stunning moodboards and precise schematics that perfectly fit in with the Parisian Garden theme I had been dreaming of. I wanted to share it here as well so you can see how professionally the schematic is done.
They provided plenty of options to choose from and their team was so supportive of ideas I wanted to incorporate as well which is very important when designing a space that is so personal and intimate. After finalizing each item, they placed all of the orders, taking all of that stress off my plate so I could focus on the baby in the final months of my pregnancy. Honestly, having one less thing to worry about meant so much to me and I am so thankful for their help and guidance during that time! And they did all of this remotely! Not only is Kathy an interior designer but she has a beautifully curated online shop where all of these pieces in the nursery came from.
Two of my favorite pieces that play perfectly with the theme are the Kathy Kuo Home tree marble side table and the French Country Mirror. The mirror is a beautiful reminder of our trip Versailles where we wandered through the gardens for hours on end. Until we can one day visit again with our little Lucy, this room will forever remind me of my favorite place.
To shop each of the pieces, I've created the below list for a quick reference. Be sure to use my discount code MARGOXKKH for 15% OFF of the Kathy Kuo site (*standard exclusions apply including the mirror and the glider*)
FURNITURE
RH Baby Crib in Heirloom White
RH Baby Dresser in Heirloom White
RH Baby Book Case Tower in Heirloom White
Monte Glider in Premium Wool Oatmeal
Tree Branch Iron Marble Accent End Table
DECOR
Michael Aram Butterfly Picture Frame Gold
Michael Aram Butterfly Picture Frame Silver
Avis Hollywood Regency Gold Marble Bird Statue
Olive Branch Gold Leaf Marble Sculpture
De'Eric Modern Classic Giraffe Sculpture
FLOOR + WALLS + WINDOWS
Kathy Kuo Home Sheepskin accent rug
Kathy Kuo Home Emmalyn French Country Area Rug