Pregnant and worried about coronavirus? Over the past few days, my DM's have been flooded from you mama's and mama's to be who have kindly been checking in asking how my birth plan has changed amid the Covid-19 crisis and the NYC Hospital policies that are going into place. I wanted to touch base with each of you here to give you a little insight on what's been going in our home (besides making apple pie, of course).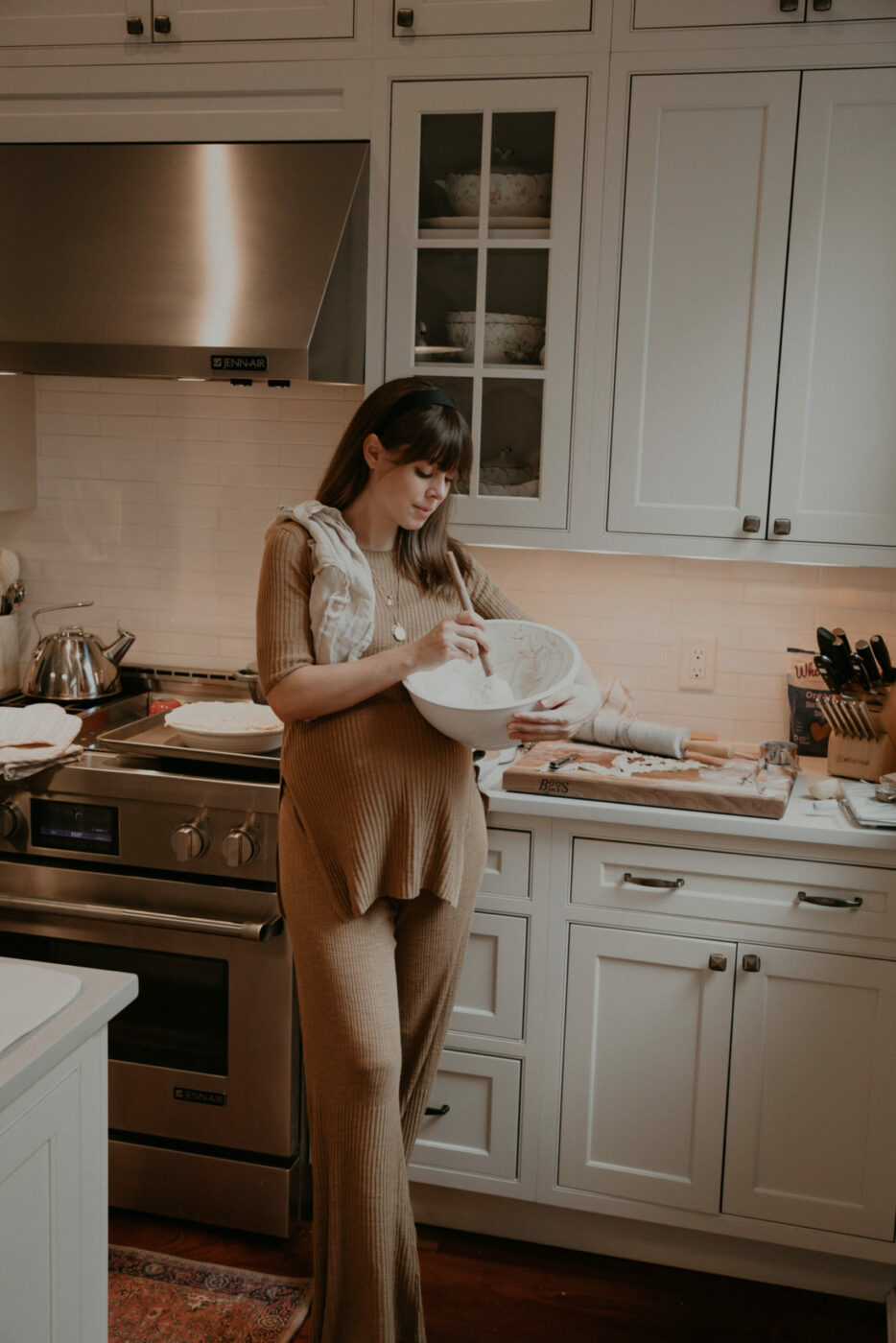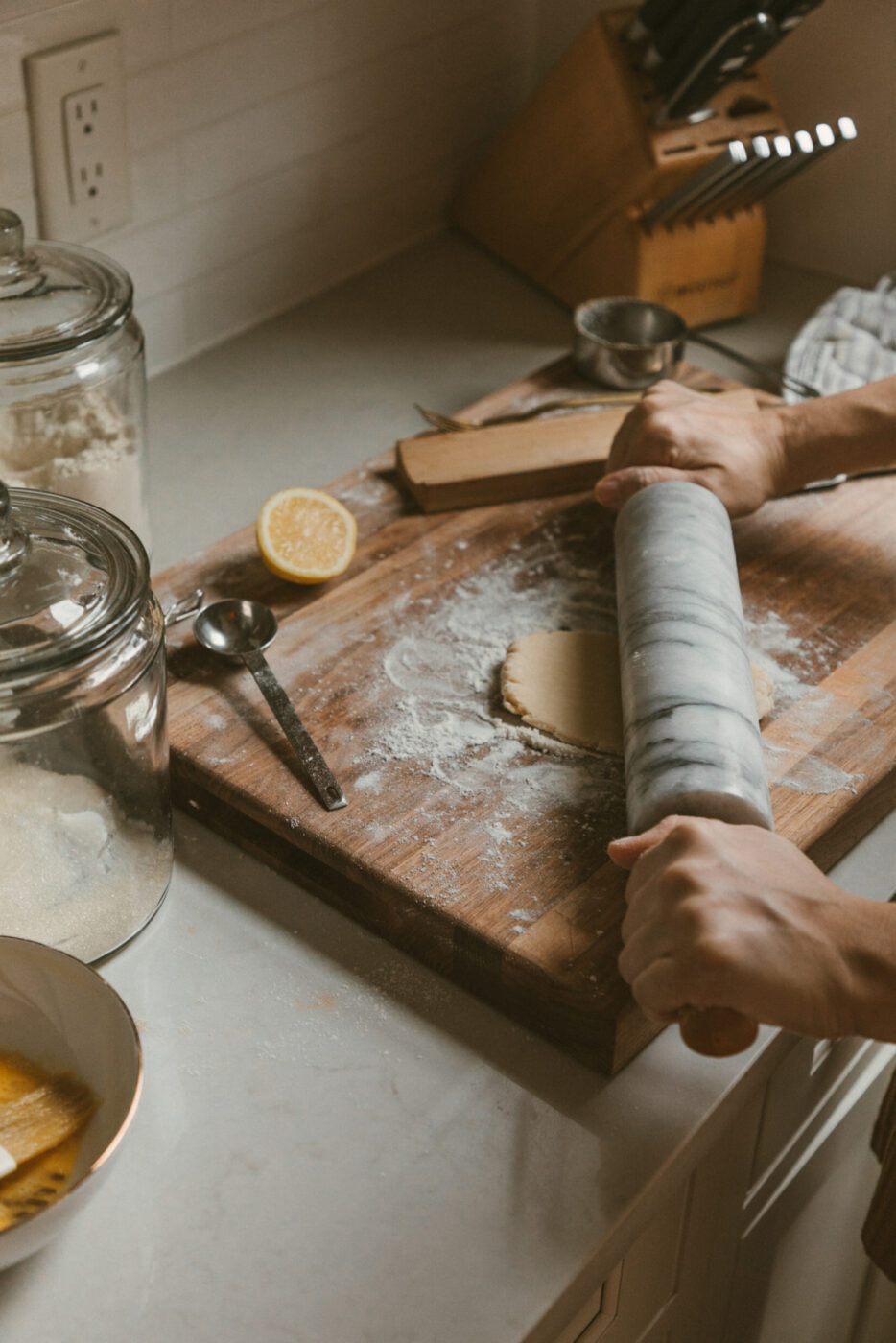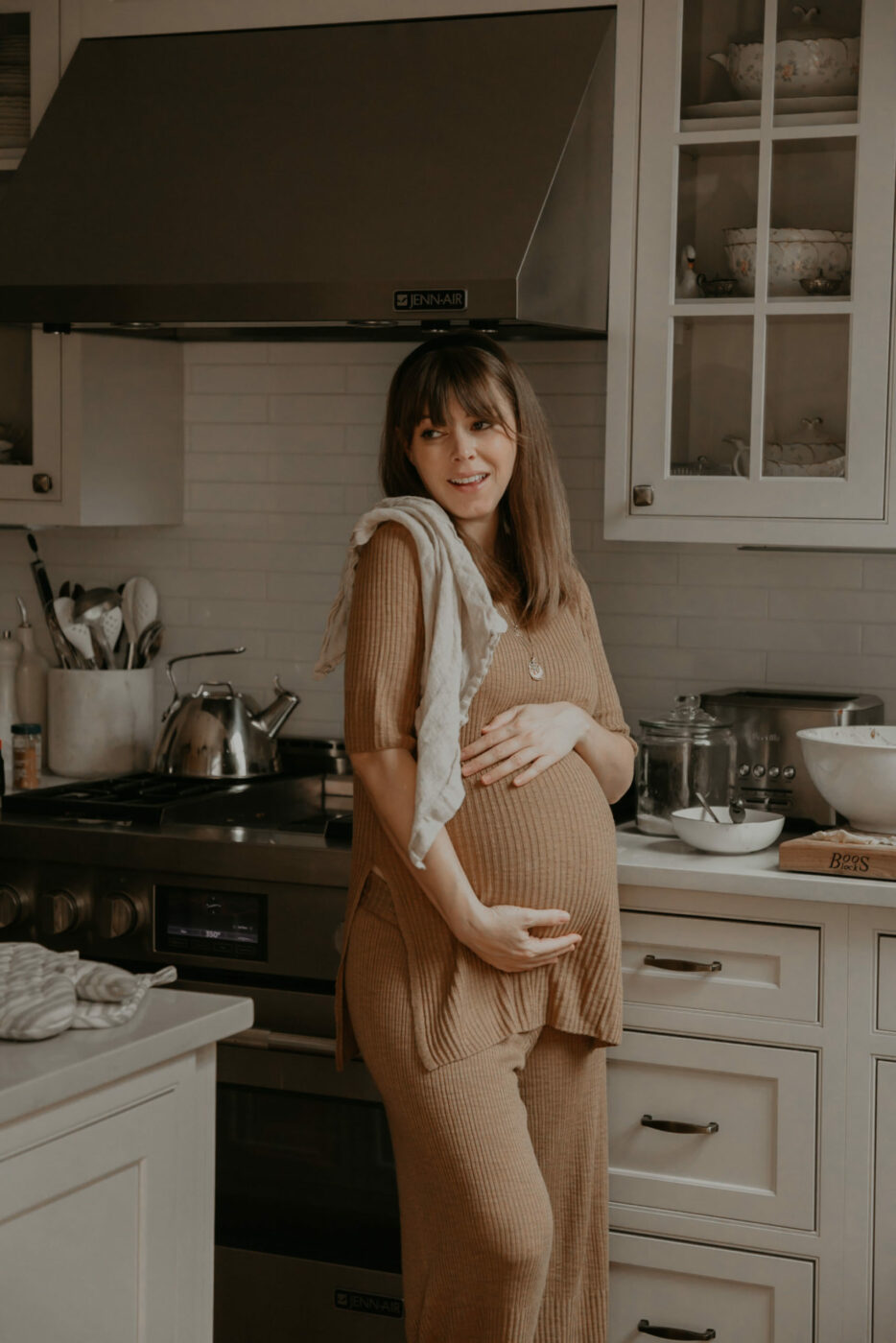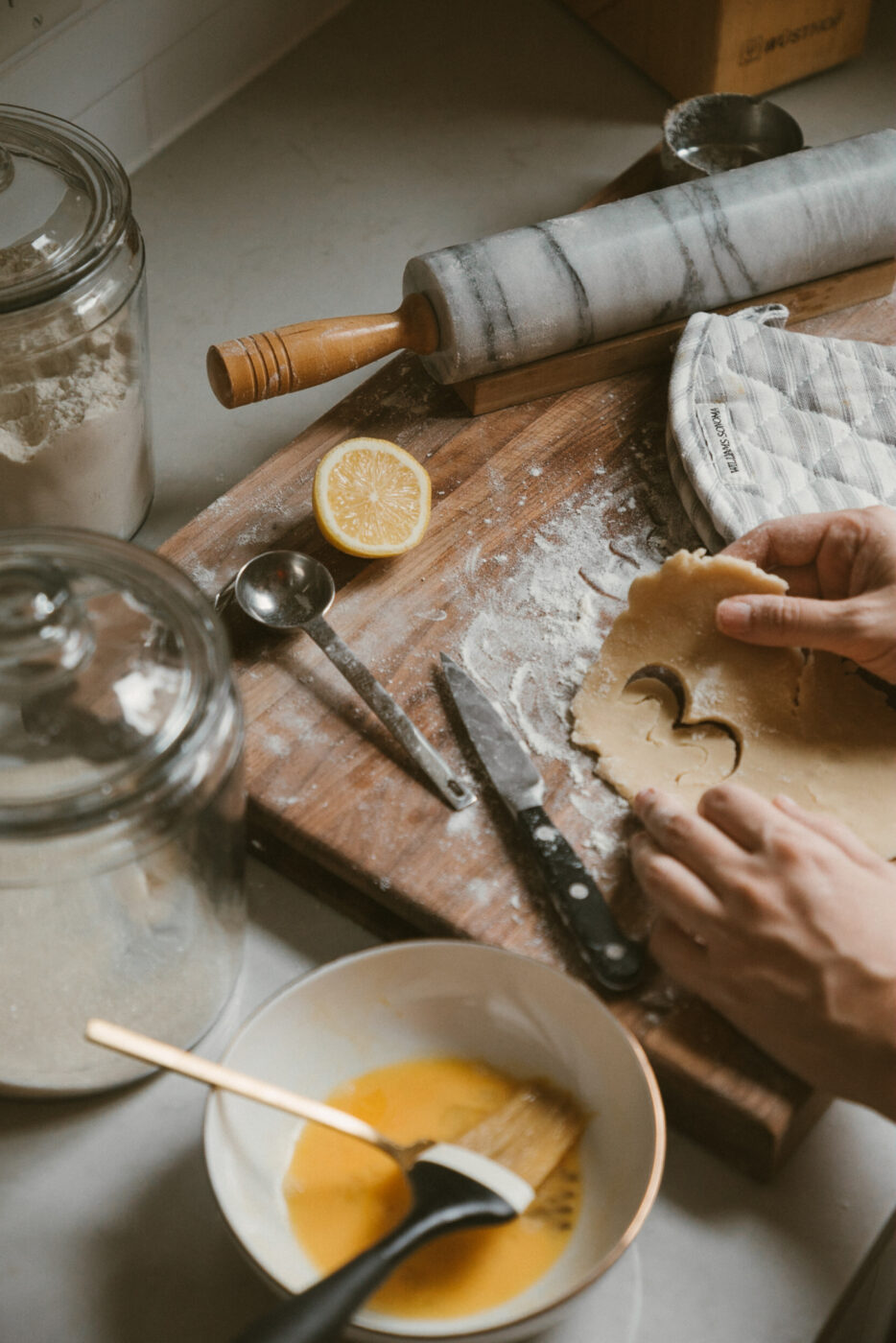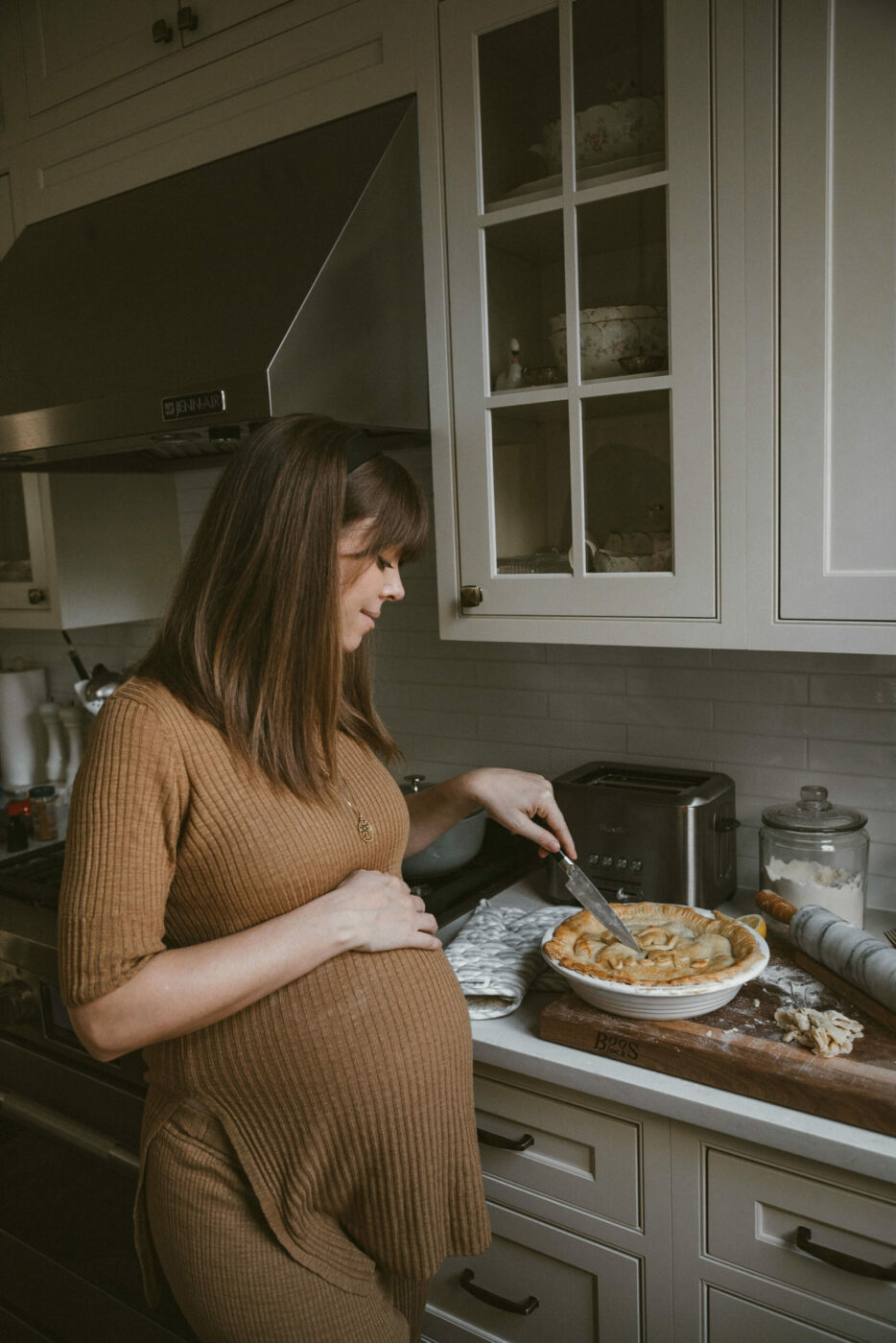 When it comes to thinking about labor, I've always felt a sense of calm surrounding it. I know the physical and mental challenges that I will endure but it's truly something I've always been ready and excited for.
At 35 weeks today, I would have never anticipated we'd suddenly be shifting our birth plan gears. I've never been one who's tied to a "birth plan" but certainly my it includes having my husband by my side while I labor and for the birth of his child.
Our current situation has propelled me into two stark mental states; one of emotion and disbelief and another of having to constantly center with myself so I don't get swept away in overwhelming thoughts.
"We have to change your next checkup appointment."
"Your doctor is not in the office, and she's going to be on call at hospital from now on, you have to see a different doctor."
"We are not allowing any visitors, which means no husbands or partners will be allowed, and you have to labor alone."
"They may have to take your baby once she is born and quarantine her once you give birth for two weeks if you are infected."
These are just a few things I've been hearing that have been swirling in my head over the past 24 hours, causing obsessive thoughts surrounding different scenarios of what giving birth in New York City looks like at the moment.
"Should we drive to a different state?"
"Should we opt for a home birth instead?"
"Are any midwives available anymore for an April delivery?"
"What are my nearest birthing centers, and can I schedule my delivery there?"
I have six weeks. Six weeks. Is what I keep repeating to myself. Every day there are new rules, regulations, hospital notices protests and petitions. Just yesterday, it was announced that there are no visitors allowed at any NYP hospitals, meaning that husbands and partners will not be able to be there for the birth of their child – this is inhumane and a human rights issue on so many levels. Limiting hospital crowding and virus transmission is crucial, but laboring alone in a crowded hospital with overworked nursing staff is not safe for mamas or babies. They are testing mothers before they enter labor and delivery, they should be testing fathers as well. I encourage you to sign this petition for women who are having to face this gut-wrenching moment in their lives right now.
Hospitals and doctors' offices are in a frenzy, and I can hear it in the nurse's voices when I call the offices to check in on that appointment they canceled but have still yet to call me back to reschedule. I'm not a high-risk pregnancy – thank God. But I am due to go in for my 36-week checkup, ultrasound, and strep B test next week and am currently questioning the decision to go through with that appointment based on not wanting to expose myself.
I wake up some mornings to her moving around, and I forget what's happening out in the world. I go back to a place when there was nothing but joy. I refuse to let this rob me of my joy and you shouldn't let it rob you of yours either. It's ok to feel nervous and anxious – I'm right there with you. However, regardless of how much I try to focus on the positive and growing this precious life inside of me, we are living in a new reality and in order to be prepared for that reality, we have to consider specific details that we didn't have to before.
A lot of you have been asking how our birth plan has changed since the rise of Covid-19, and the truth is, it's evolving and will continue to evolve until the moment she decides it's time to come into this world. We have been working very closely with our doula who has given us an incredible amount of insight and guidance for every scenario there may be. Knowing she is by our side through this, to advocate for us, gives me a tremendous amount of comfort. We were on FaceTime with friends and family all day yesterday who've done home births – exploring what this option would look like for us. Would I prefer to feel safe in a hospital in case anything went wrong? Of course! But I genuinely can not fathom the thought of Freddie dropping me off curbside and waving goodbye, "see you in a few days with our baby!" And I have a serious lack of confidence that the hospital environment at the moment is more safe than the creature comforts of my own home (with the right support of course).
Being alone in a room laboring for the first time and not having my support system is simply not an option for me, unfortunately. Jessica Pournarnas, the doula who started the petition, puts it perfectly; "Fundamentally, health risks for women laboring alone increase substantially. Not only can partners and spouses provide physical and emotional comfort during labor and postpartum, they are also essential in alerting staff when something has gone wrong and the laboring patient cannot notify nurses themselves, like in the event of an eclamptic seizure or a fainting episode. Timing is critical in these cases and monitors can be unreliable. We cannot expect nursing staff, already spread thin, to spend the limitless hours needed with each patient to ensure their health and their baby's health, to provide physical assistance and emotional support."
We are staying informed because informed decision produces positive and productive outcomes and we're being careful to not to make decisions based on rash reactions. It's something I hope all of you mama's out there can confidently do with your partners. We are choosing to focus on what we can control, not what we can't control, and our birth plan will continue to evolve as the pandemic and hospital policies do. We're keeping an open mind and in the meantime, not obsessing every thought over it and I strongly encourage you to do the same. Know your options, line them up and when it's time, make the best motherly instinct decision you can for you and your baby.
I know these photos feel rather cheery for the tone of the article, but it just goes to show how quickly things have developed. We shot this on Thursday for a Monday post which was before the hospitals made the announcement, I've had to re-write this twice due to changing policies. That's how quickly things are evolving.
Above all, the excitement of meeting our little girl still outweighs any worry in the world. In my heart of hearts, Freddie and I know and believe that our angles and God will be by our side through this. And I know each of you are supported and surrounded by this same love and support. And as my doula likes to remind me, "all IS well, and that all will be well".
And if you need a little distraction, here is a delicious apple pie recipe that you and your bebe will definitely love. Enjoy with some salted caramel ice cream on the side and all your worries will melt away.
Ingredients
1/2 cup sugar
1/2 cup packed brown sugar
3 tablespoons all-purpose flour
1 teaspoon ground cinnamon
1/4 teaspoon ground ginger
1/4 teaspoon ground nutmeg
6 to 7 cups thinly sliced peeled tart apples
1 tablespoon lemon juice
Pastry for double-crust pie
1 tablespoon butter
1 large egg white
Directions
In a small bowl, combine the sugars, flour and spices; set aside. In a large bowl, toss apples with lemon juice. Add sugar mixture; toss to coat.
Line a 9-in. pie plate with bottom crust; trim even with edge. Fill with apple mixture; dot with butter. Roll remaining crust to fit top of pie; place over filling. Trim, seal and flute edges. Cut slits in crust.
Beat egg white until foamy; brush over crust. Sprinkle with sugar. Cover edges loosely with foil.
Bake at 375° for 25 minutes. Remove foil and bake until crust is golden brown and filling is bubbly, 20-25 minutes longer. Cool on a wire rack.