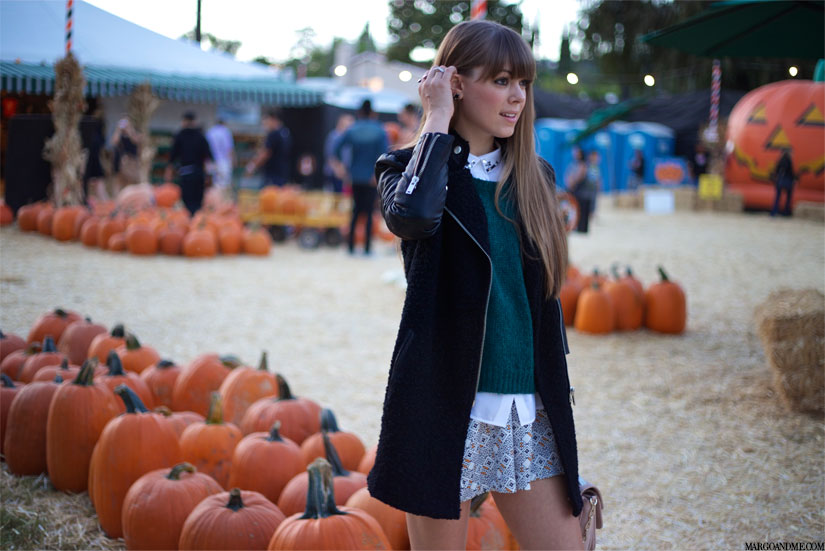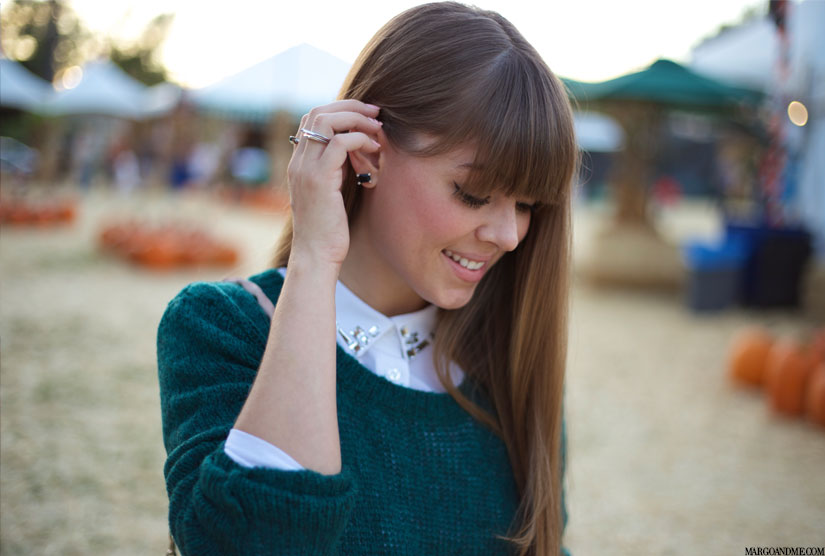 For the fashion minded, the month of October means one thing: sweater weather! We finally get to layer! Scarves, and hats, and boots, oh my! As a shopaholic, this season is especially dangerous because layering allows me to bring so much more to my outfit! It's an excuse to mix and match prints with textures which really gives a look it's wow factor! It's almost a challenge, how much can you layer on without looking like your piling up.
Being that I am a lover challenges, I jumped on the opportunity to participate in The Beverly Center's Blogger Style Challenge. Several other LA bloggers and myself were asked to shop an entire fall look, incorporating one fall trend, two items from our own wardrobe (Paul and Joe Boots (Similar her) + my bag, H&M ), and get this, all for under $125. And so the strategizing began!
I knew that my look would be centered around one of my favorite fall trends, the foulard print. In fashion speak, this print refers to a small geometric printed design in various colors and is traditionally printed on a silky fabric. Think Prada or Miu Miu Fall 2012 RTW. This bold artistic approach to pattern and color emerges again this fall season as a key trend. Micro geometric repeat prints and classic foulards lends a '70s vibe to fall favorites which evoke a retro sensibility that I can't get enough of. The look is new, nostalgic and fresh all at the same time. After finding the perfect foulard print skirt at H&M, the next step was to pull in those layering pieces to complement the print and to complete the look.
Not only was this a challenge, but it is also a competition! By participating, I am entering to win the grand prize but you can also win a prize by voting on my look! First, visit The Beverly Center's Facebook page here and keep an eye out for their Blogger Style Challenge album. Simply vote on your favorite look and voila, you have entered yourself to win! I'd also like to invite you to join us for the culmination event, Thursday, October 17th from 6-7PM where all winners will be announced. There, you will get to mingle with fellow fashion bloggers, have fun in the photobooth and meet event hosts: Chriselle Lim, Shea Marie and Liz Cherkasova. If you can make it, be sure to say hi!
:: Forever21 Biker Coat {$47.80} :: H&M Knit Sweater {$17.95} :: H&M Embellished Collared Shirt {$5} :: H&M Foulard Print Skirt {$7.50} :: Forever21 Rings {10.40} :: Bloomingdales Earrings {24.42} ::