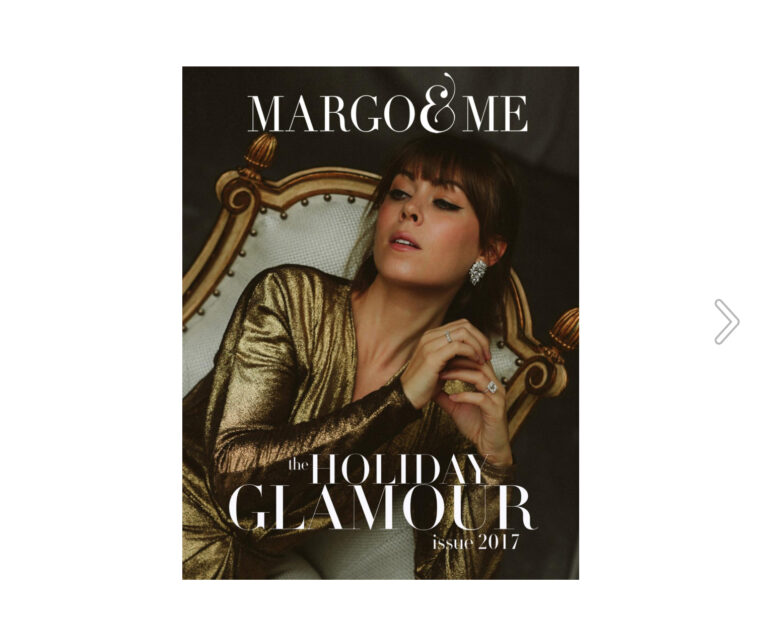 It's here! The Margo & Me Holiday Edit! In preparing this issue, which went from fun idea to labor of love, I realized that I was creating what was not only a holiday magazine for Margo & Me, but I was actually living, breathing and creating my dreams.
You see, all of my life (long before the Devil Wears Prada; although watching it 764 times may have inspired me a little more), I've wanted to create magazines. Perhaps I was born in the wrong time for publishing, but my path took me in a different direction and I've never looked back.
However, as I sat down to write this, it hit me. I remembered that fiery passion inside of me from when I was younger. From the pages of French Vogue to Harper's and Marie Claire, I so deeply admired and appreciated each and every curated page, font style, the way words were flirtatiously written, and of course, the images that would then end up torn and tacked carefully to my inspiration board. I dreamed of being on the cutting room floor; the chaos of it all thrilled me. And while the pages came together just how I imagined here, it all happened just a little bit differently than imagined years ago, and I am not the least bit mad about it.
So without further adieu, I present to you the Margo & Me Holiday Edit: 32 interactive pages curated and designed by me to inspire your holiday shopping experience. Prepare yourself, as each item you see is clickable so you can shop exactly what you're seeing down to what I am wearing in each phoot – just hover and click. There's even new video content, and so much more!
Please enjoy, and I can't wait to continue to make these seasonally for you. Thanks for helping to make my dreams come true; it's the best gift you could ever give.
Wishing each of you the most magical holiday season!
And special thanks to my incredible team, Freddie, Chelsea and Lorina for helping me throw this last-minute idea together in less than two weeks! Thank you for loving my ideas and always supporting my creative visions, no matter how crazy. It was also so great to finally be able to collaborate with Karen Rosalie on the flatlay image; she is a creative genius when it comes to these things. And of course, Cibelle Levi, who constantly amazes me with her illuminating captures and challenges me to raise the bar. You know what they say, "teamwork makes the dream work!"