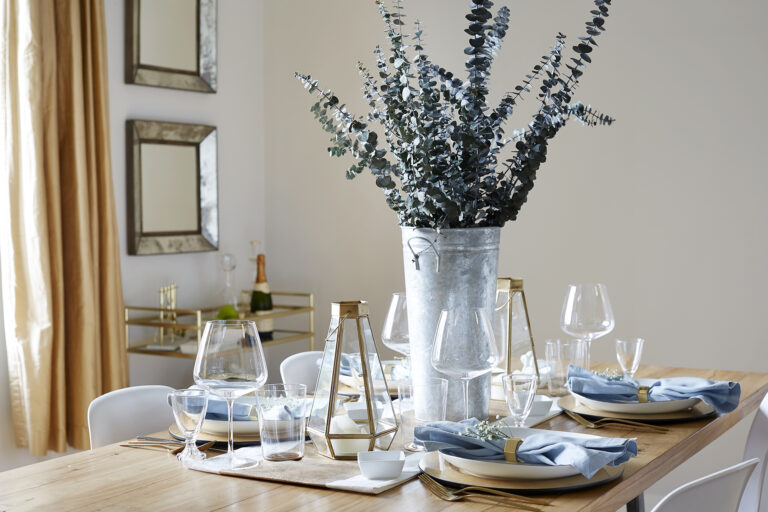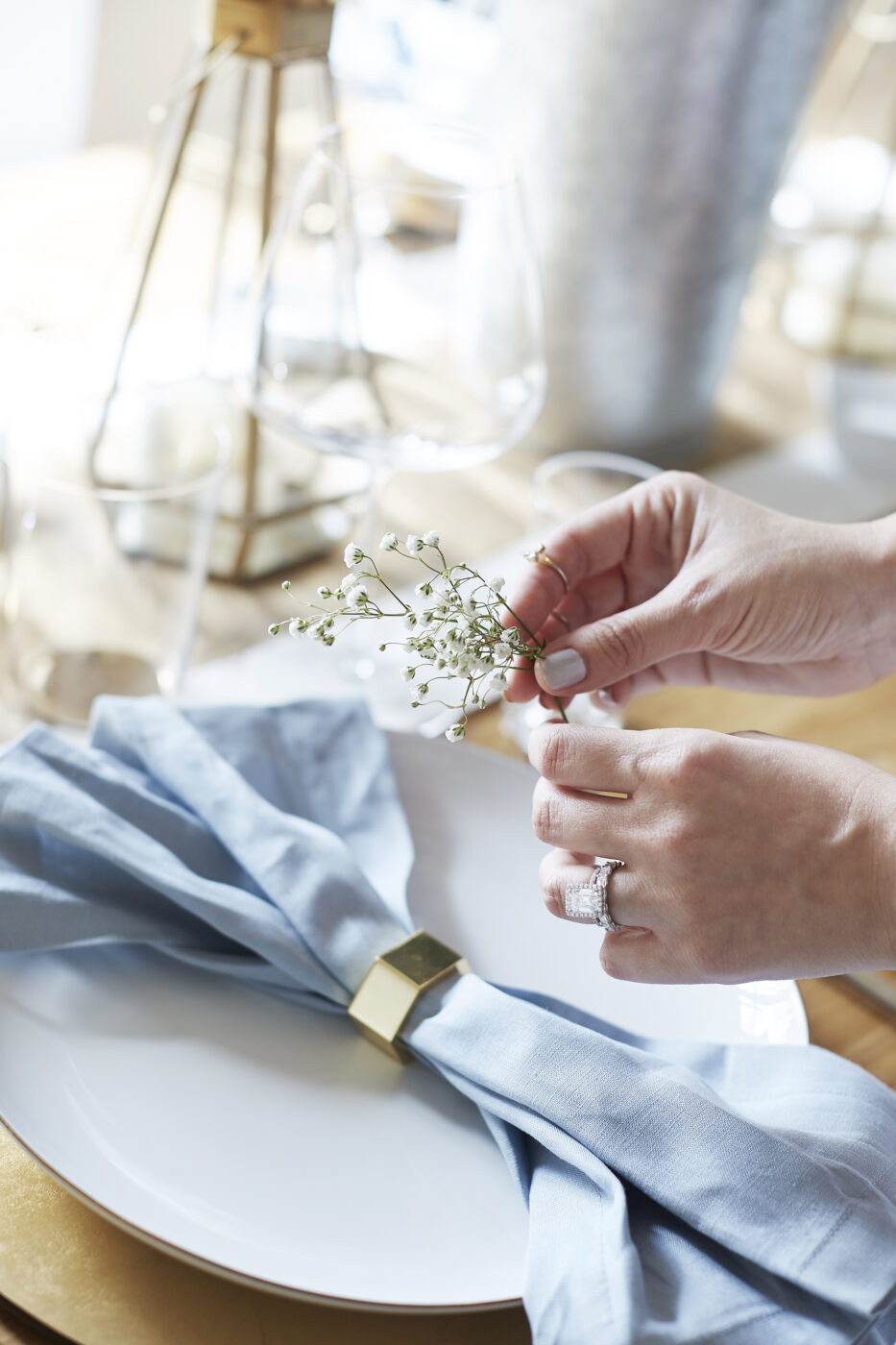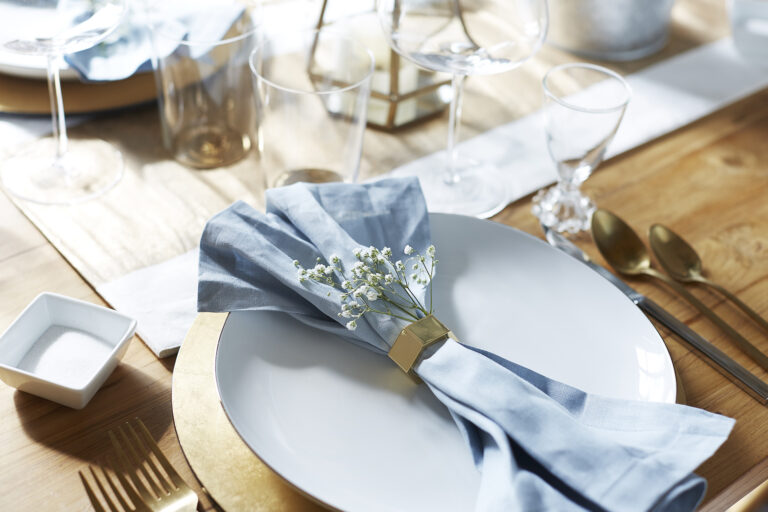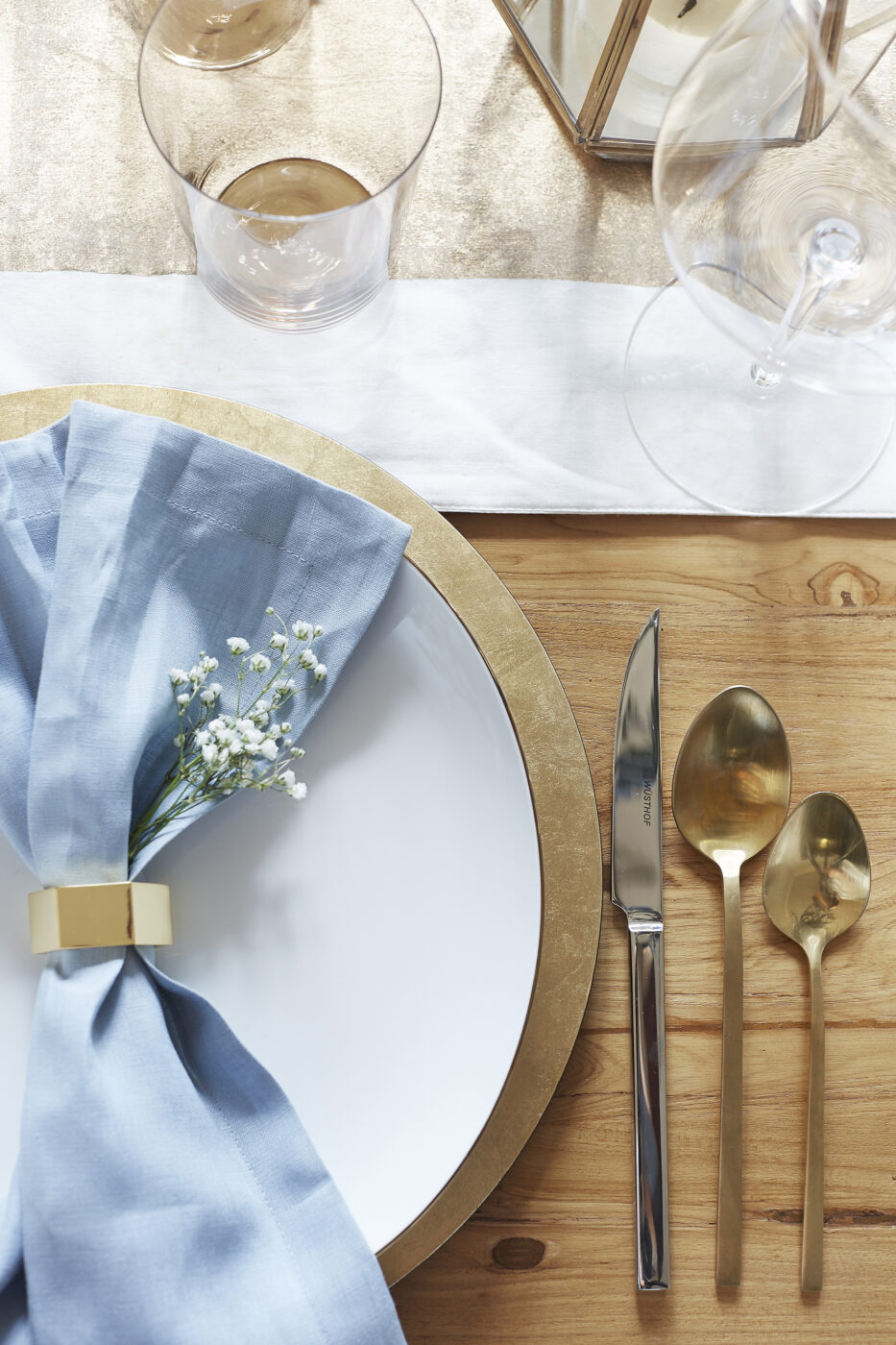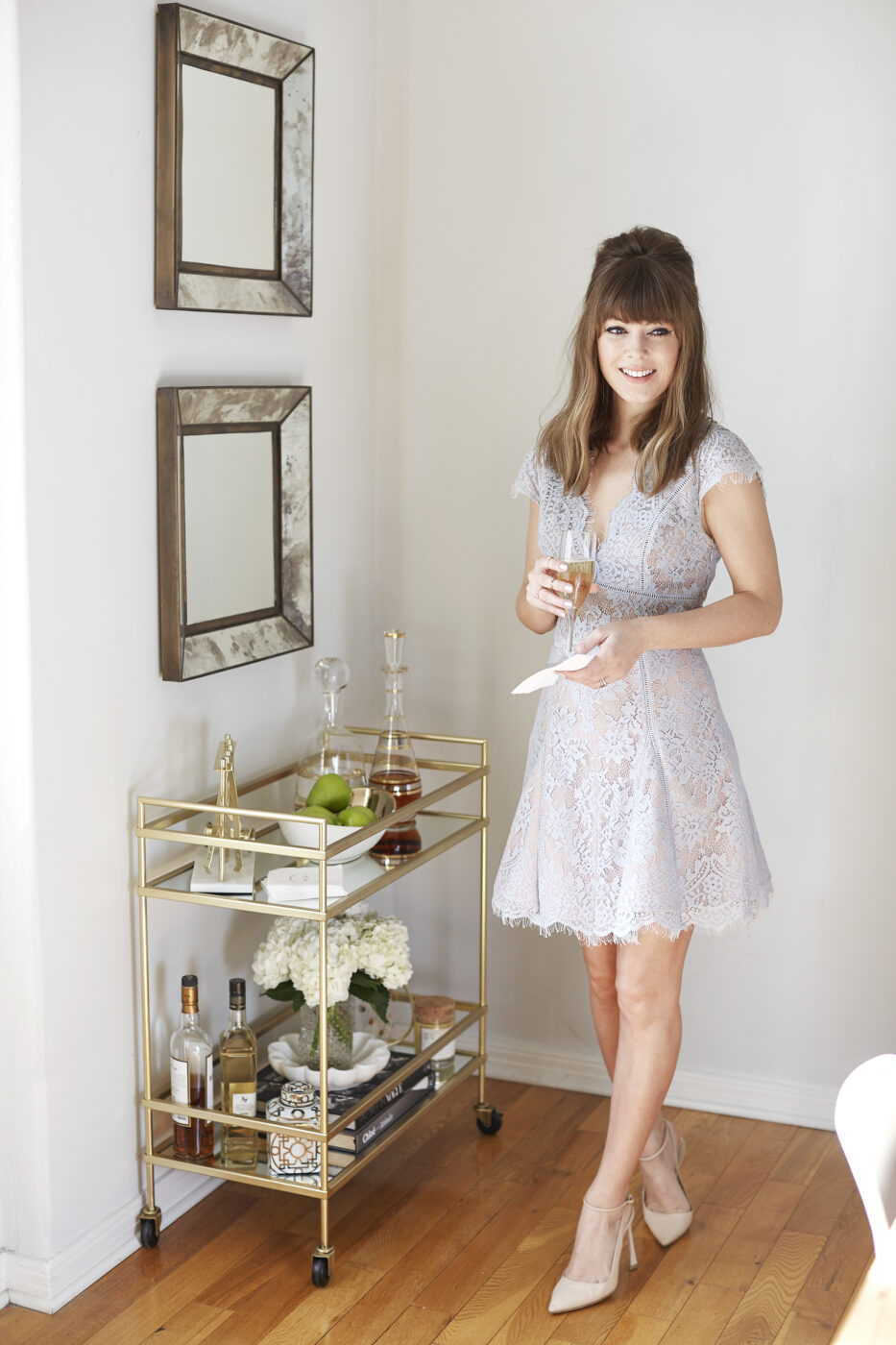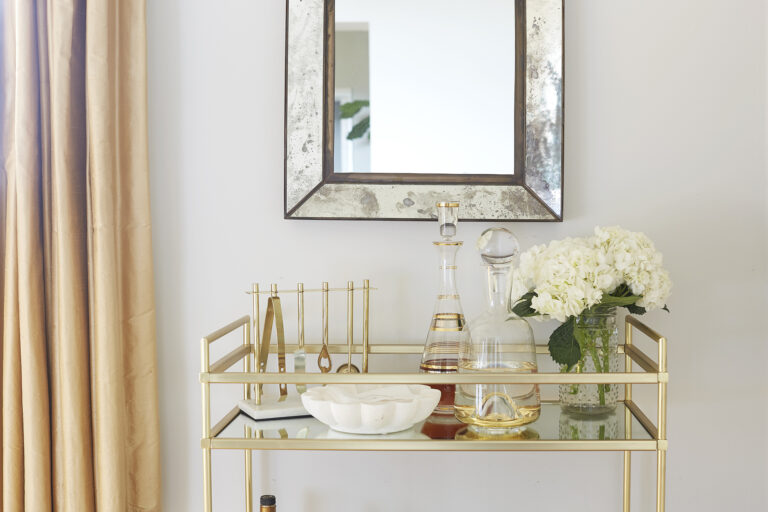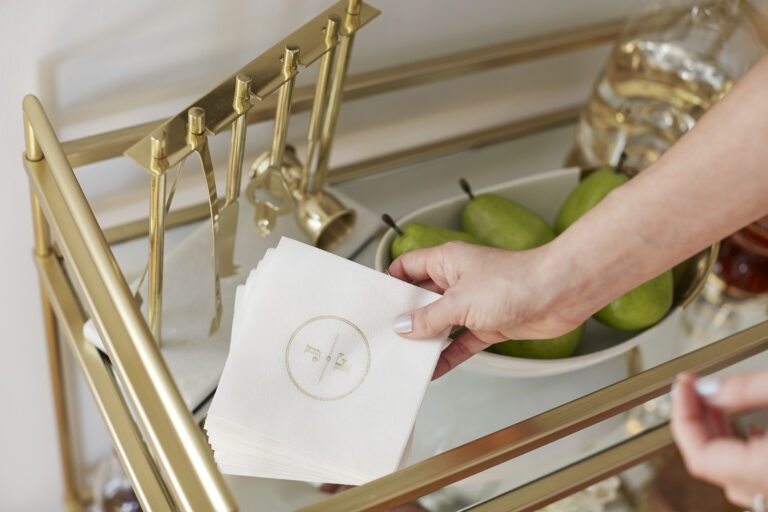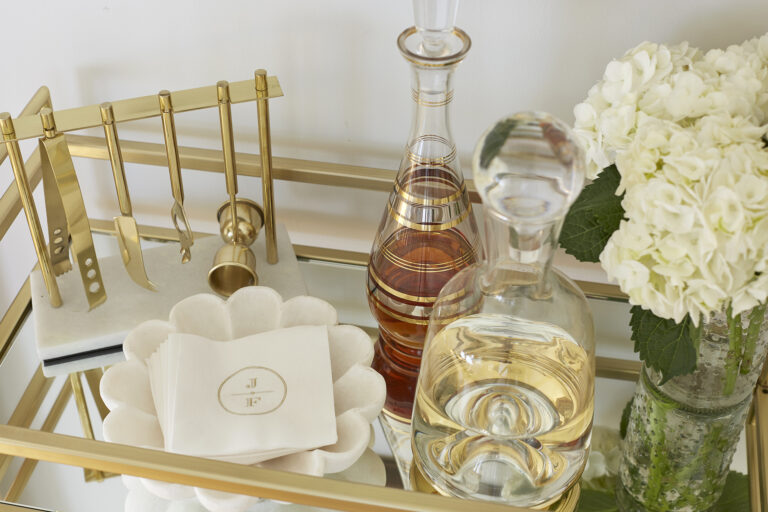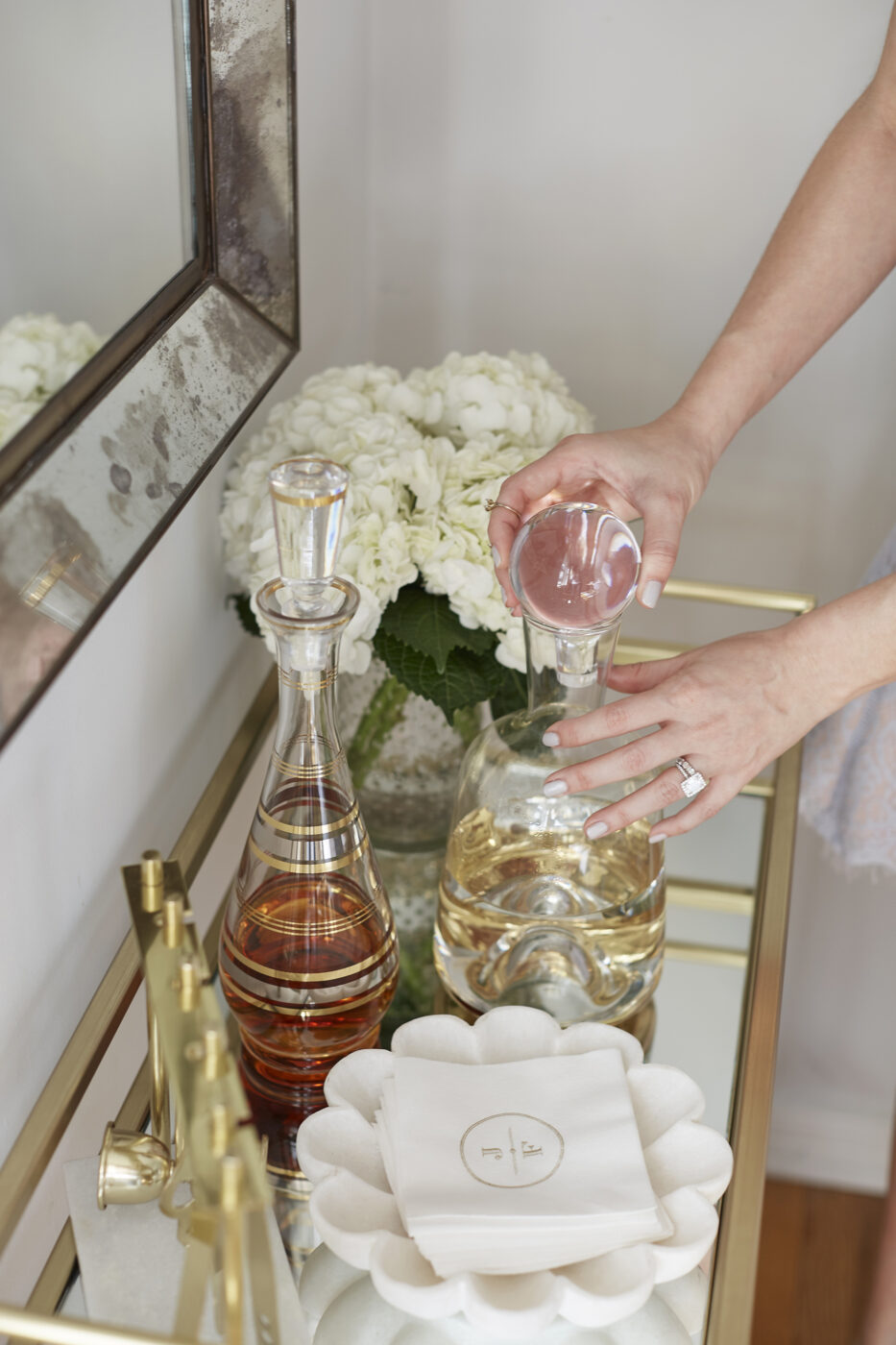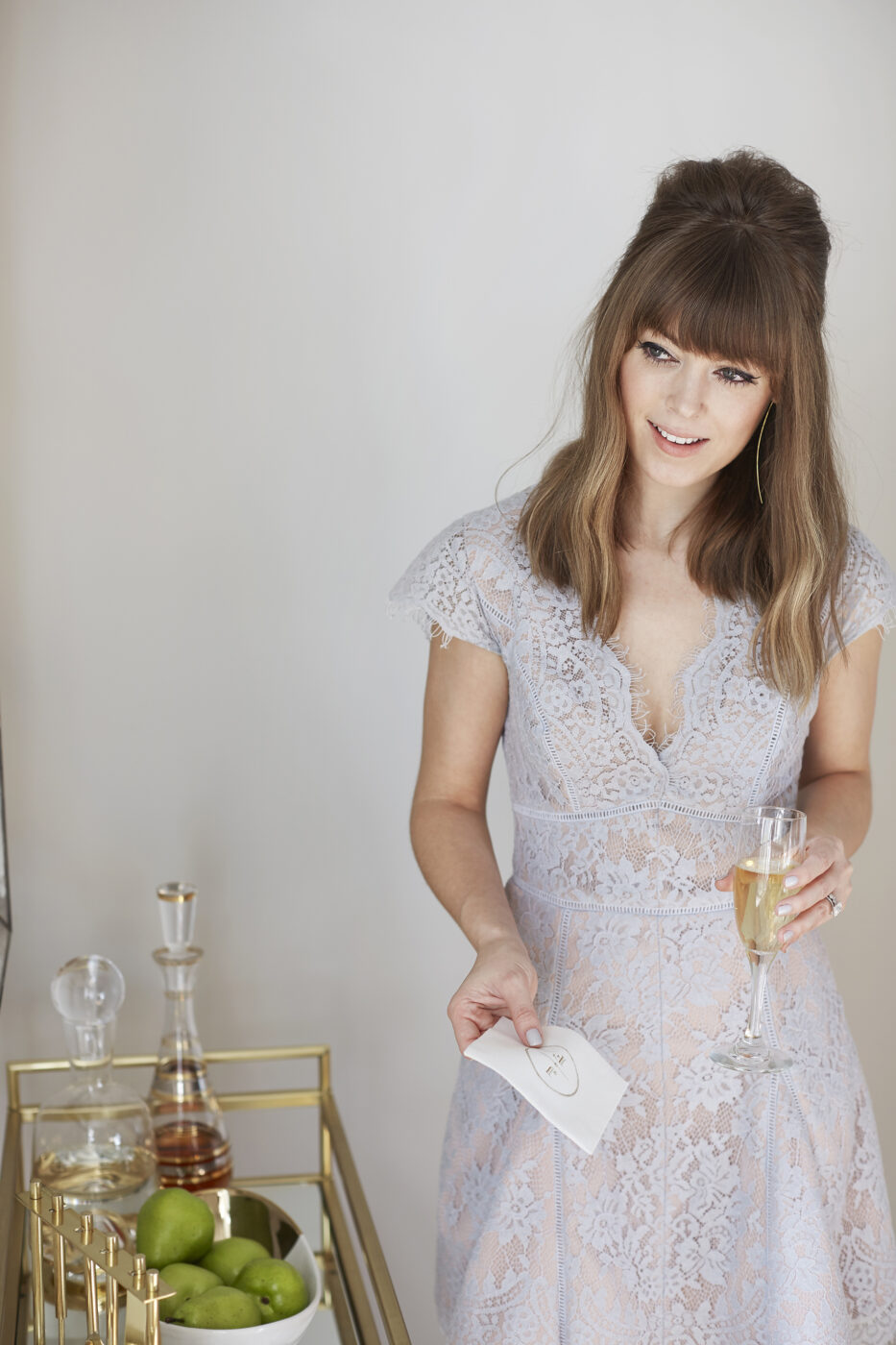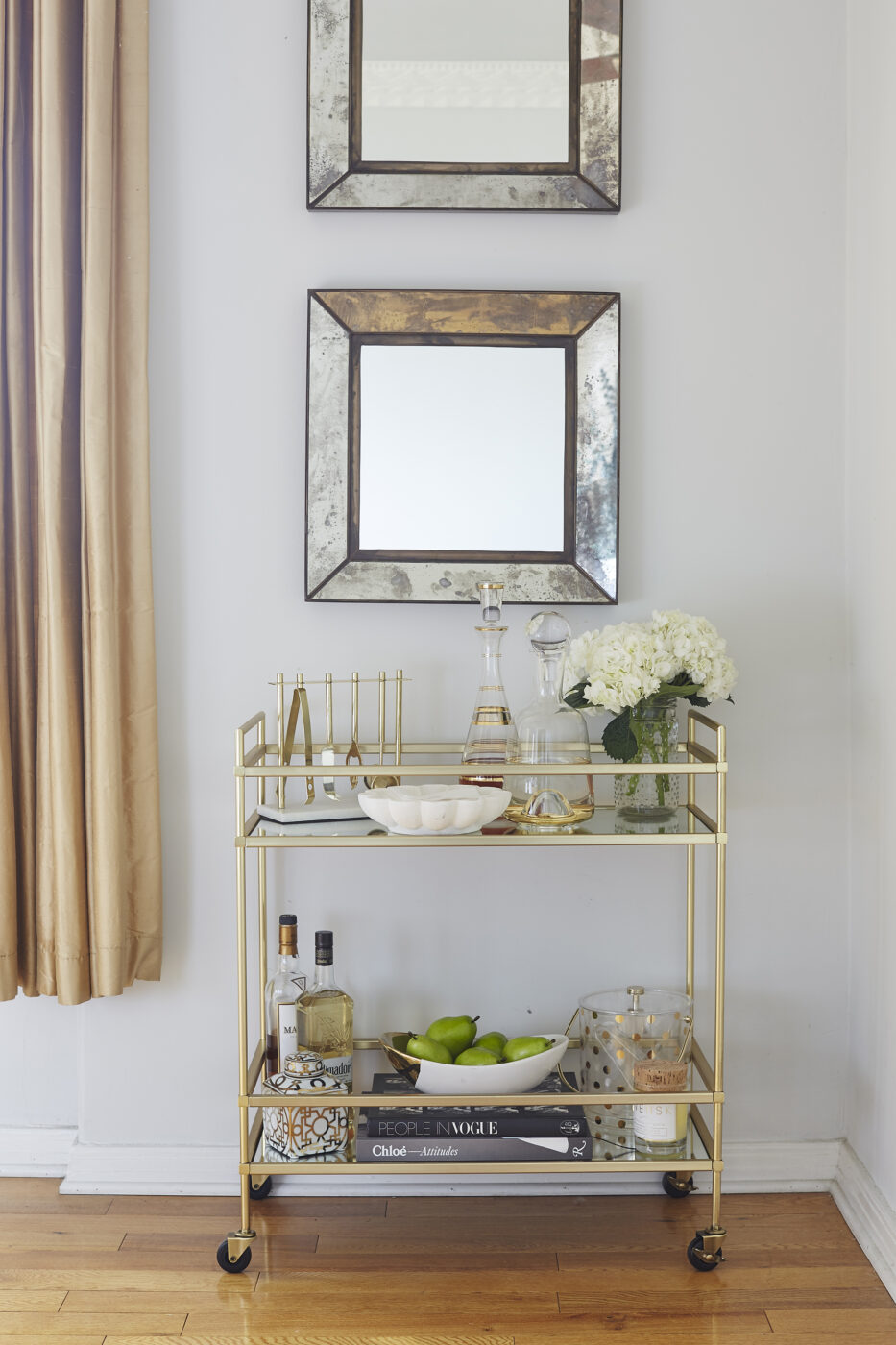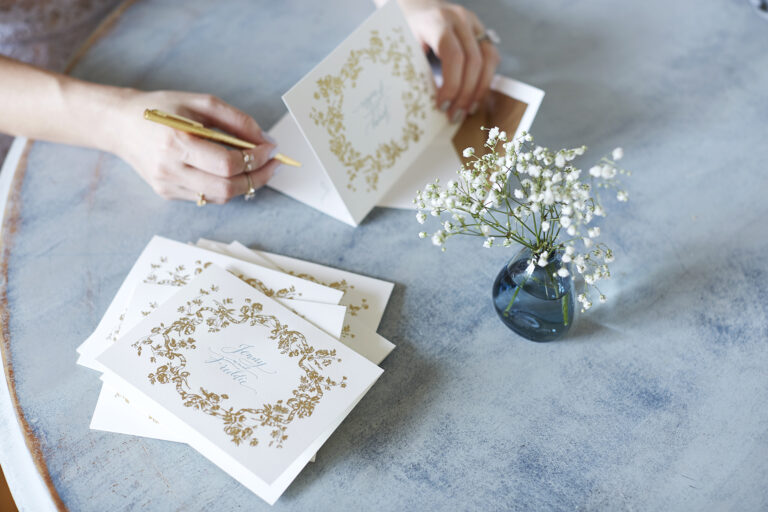 Like most couples, when Freddie and I first moved in together we combined a ton of our belongings. While some items were kicked to the curb, our kitchen somehow managed to become a melting pot. You can never have too many forks, right? It was a mix and match heaven; glasses, plates, and spoons, nothing was a proper set. It secretly drove me crazy, but I knew the day would eventually come when we would sit down and come up with our wish-list of all of the things a host needs to entertain properly.
Our wedding colors were French Blue and Gold so we envisioned that our pieces for entertaining would reflect this. Your wedding will fly by very quickly so to be reminded of it through your wedding colors when entertaining is a beautiful sentiment – or, at least, I like to think so. We had a handful of heirloom pieces created for our wedding, one item being white embroidered linen napkins with our wedding crest on it. I used these as a springboard when selecting other items to entertain with. White plates with gold trim led to gold flatware and gold trim champagne glasses. All gold everything!
It was about one year ago to date when we began this somewhat tedious process. I remember thinking, "How do I even determine what I need"? I have to be honest, in addition to everything else I had to think about, registering was one of the last things on my mind. Looking back, I do wish I spent more time so I thought it'd be helpful to give all of you brides-to-be a few tips on how to approach this process.
And for those of you that are going to be in New York this weekend and want to ask me wedding related questions in person, I will be speaking alongside Martha Stewart for a special Q & A for her annual Wedding Party Event! It will be taking place at Gotham Hall, January 24th from 10AM – 4PM.
Five Tips for Registering
Make it easy for your guests and start your registry at a familiar department store. Macy's has done an outstanding job at curating a beautiful selection of a broad range of designer who offer an eclectic mix of trendy and traditional wedding registry items. Marches, Waterford, Kate Spade, Martha Stewart, Ralph Lauren, Lenox, Wedgwood; designers that everyone from my grandmother to my niece would recognize and feel confident gifting.
Timing is everything! It's entirely acceptable to start registering as soon as you are engaged. This way, guests have an idea of what you are looking for and can give freely for any pre-wedding celebration like your engagement party, bridal shower or just a casual congratulations.
Keep returns in mind! One of the best things about ordering from a department store like Macy's is that they have an incredible return policy. Say you change your mind a few months down the road and now prefer silver to gold flatware! That way, you won't be stuck with something you don't like.
Do it together and politely decline if he gives you the go ahead to do it all alone. Carve out some time to curate the aesthetic that you two will be entering into married life with. You will be enjoying these items in your home for years to come so it's important that you both like everything. And if you prefer, divide and concur categories.
Write your thank you's early! Forget a list, as gifts roll in make it a priority to write thank you notes. Hand written personal notes are the best way to anyones heart.
Photos by Jessica Alexander